Get Involved
Every year, hundreds of alumni help Roanoke through recruitment, mentoring, fundraising and networking.
Recruit Students
With all the competition, recruiting good students is one of our biggest challenges. You can make a real difference—talking up Roanoke to students who are looking at schools; attending recruitment events; and sharing your Roanoke story really helps. Hearing that someone you recruited has been accepted feels great, too!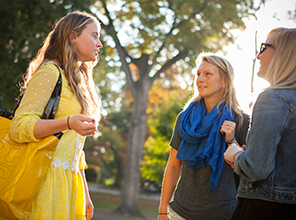 Be a career mentor
Your knowledge and experiences are priceless for Roanoke students who are looking at a career in your field. Imagine, if you could go back in time and talk to your 21-year-old self, how much it would help!
Not a gift, more like returning a favor
Were you transformed by your Roanoke experience—did it help you find your passion? If it makes you want to give back, you're in good company—most of us do, we just need a close friend or classmate to ask.
Get social on LinkedIn
Social media is indispensable to work today—would you make a hire without going to LinkedIn to look for and screen candidates? As a network, the alumni of Roanoke College are an invaluable asset to each other. Roanoke alums can help us all hire, sell, buy with greater confidence.
"My alumni mentor, CFO of Carter Machinery Dan Strelka, opened the door for me to question and observe any aspect of how Carter does business, giving me the real world perspective that I lacked as a student. The Alumni Mentor program helped me build relationships and knowledge that have continued to benefit both my career and my career choices."
Theodore Melnik '16, on his Alumni Mentor experience