Reformation 500 Observances
As the second oldest Lutheran college in the USA, the mission statement of Roanoke College declares that we "honor our Christian heritage by nurturing a dialogue between faith and reason." In this spirit, Roanoke College announces a series of special academic events from late 2016 through the anniversary year 2017 in commemoration of the 500th anniversary of the Reformation.
The design of these observances marking the posting of the Ninety-Five Theses by Martin Luther in 1517 is ecumenical and forward-looking as we seek to learn from Catholic, Pentecostal, Orthodox, Reformed, Evangelical, Jewish and secular perspectives. The free public lectures aimed at a general audience will be presented by internationally recognized experts, assuring the highest level of scholarly treatment of issues and questions involved in consideration of the heritage of the Reformation for us today.
The public is cordially invited to any and all of the public events listed below. As a rule, the public lectures begin at 6pm and run for 45 minutes. No tickets are required, unless otherwise noted. A half-hour dessert reception intervenes before a panel of Roanoke faculty and other invited guests respond to the lecturer. Then the floor is opened for audience questions and comments, finishing no later than 8:30pm. We expect this format to stimulate memory and advance critical appreciation of one of the watershed events of Western civilization and its religious culture.
A word about myself. I am the Tise Professor of Lutheran Studies at Roanoke College. I am a Christian theologian and a specialist in the thought of the 16th century reformer, Martin Luther. I have written books about Luther and I am presently senior co-editor of the forthcoming (2017) Oxford University Press Research Encyclopedia of Martin Luther. I will be your host throughout this special year of academic observances. I would be delighted to hear from you about our program, particularly if you have ideas or suggestions.
Professor Paul R. Hinlicky
Contact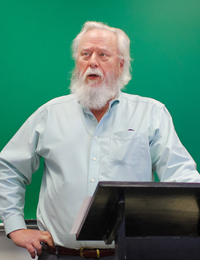 The Rev. Dr. Paul Hinlicky
Tise Professor in Lutheran Studies
hinlicky@roanoke.edu