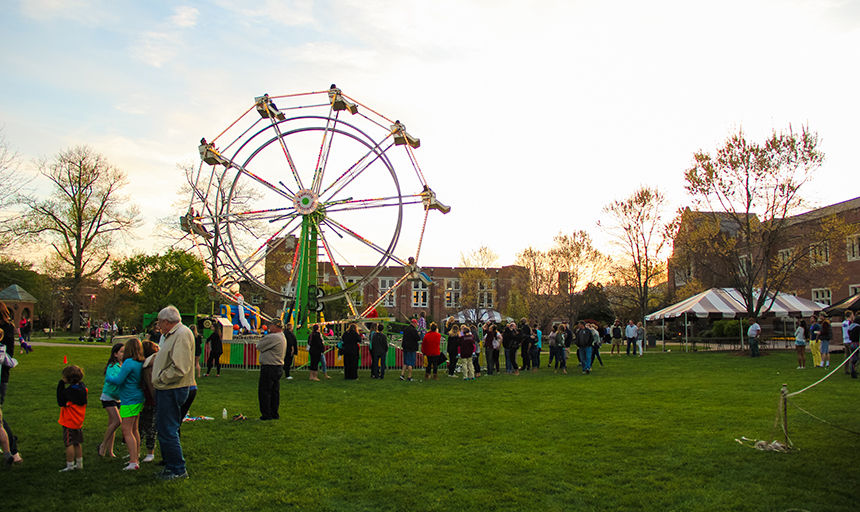 3.27.2017
By Roanoke College News
Come Home for Alumni Weekend
Roanoke College marks its 175th anniversary in 2017 and alumni from all over are planning to return home to campus to help celebrate this milestone anniversary. Many events are planned throughout the weekend with the highlights being Society of 1842 luncheon, presentations of the Roanoke College Medal to Norman and Jo Fintel and David and Susan Gring, several alumni named to the Athletic Hall of Fame, reunions, Theatre Roanoke College, dedication of the John Pirro Patio and much more. It's all capped off by a fantastic fireworks show on Saturday night.
Register today! See you soon, Maroons!
Friday, April 7
Society of 1842 Luncheon & Medalist Awards
12:00 Noon, Cregger Center Arena
Honors members who generously include the College in their estate plans as well
2017 Roanoke College Medal will be awarded to Norman and Jo Fintel and David and Susan Gring.
Friday On The Quad - Maroon Fest Edition
4:30 - 6:30 p.m., Back Quad
Alumni, students, faculty, staff, and families are welcome
Musical entertainment will be provided by Rutledge, featuring alumni Adam Rutledge '89, Jason Weeks '04, and Andy Neikirk '12 & an all-star cast of musicians playing country and original hits.
Art Majors Exhibition and Open House
5:30 - 7:30 p.m., Olin & Smoyer Galleries
Roanoke College fine arts majors will exhibit all media in an annual pre-graduation exhibition
Hall of Fame Induction Ceremony
7:00 p.m., Cregger Center Arena Recognizes 2017 inductees who have made history in the athletic programs at Roanoke College
2017 honorees are: Don Treacy '92, Matt Madalon '06, and John Mason '07 for lacrosse, Jill Hoffmeister DeMello '05 & Regi Francois '02 for soccer.
Theater Roanoke College presents "Becky Shaw"
7:30 p.m., Friday and Saturday, Olin Theater
2 p.m. Sunday, Olin Theater
Athletics Department Open House
6:00 - 7:00 p.m., Cregger Center, Athletics Suite
Join the Roanoke College coaching staff in the new Athletics Department space within the Cregger Center.
Saturday, April 8

Pirro Patio Dedication
10:30 a.m., Massengill Auditorium Outdoor Plaza
Dedication of the new patio in honor of former player and coach, John Pirro '77.
Kappa Alpha Rose Garden Dedication
11:30 a.m., President's Home, 535 N. Market Street, Salem
The Brothers of Beta Rho of the Kappa Alpha Order dedicate the newly established rose garden at the President's home, planted to honor the many sweetheart "Roses" of Kappa Alpha.
McMillan "Mac" and Marcy Johnson Outdoor Adventures Center Dedication
1:30 p.m., Bast Center, first floor
Dedication of the new Outdoor Adventures Center's new location.
Pi Kappa Phi Centennial Plaza Dedication
2:00 p.m., Chesapeake Hall Brick Patio
Pi Kappa Phi alumni dedication ceremony establishing the Pi Kappa Phi Centennial Plaza on the grounds of Chesapeake Hall, celebrating the 100th anniversary of the chartering of Xi Chapter at Roanoke College on May 5, 1916. This dedication is the culmination of a year of celebration of Pi Kappa Phi at Roanoke College.
175th Anniversary Celebratory Fireworks
9:00 p.m.
Fireworks will be released from Alumni Field
View the full schedule on the Alumni Weekend page.