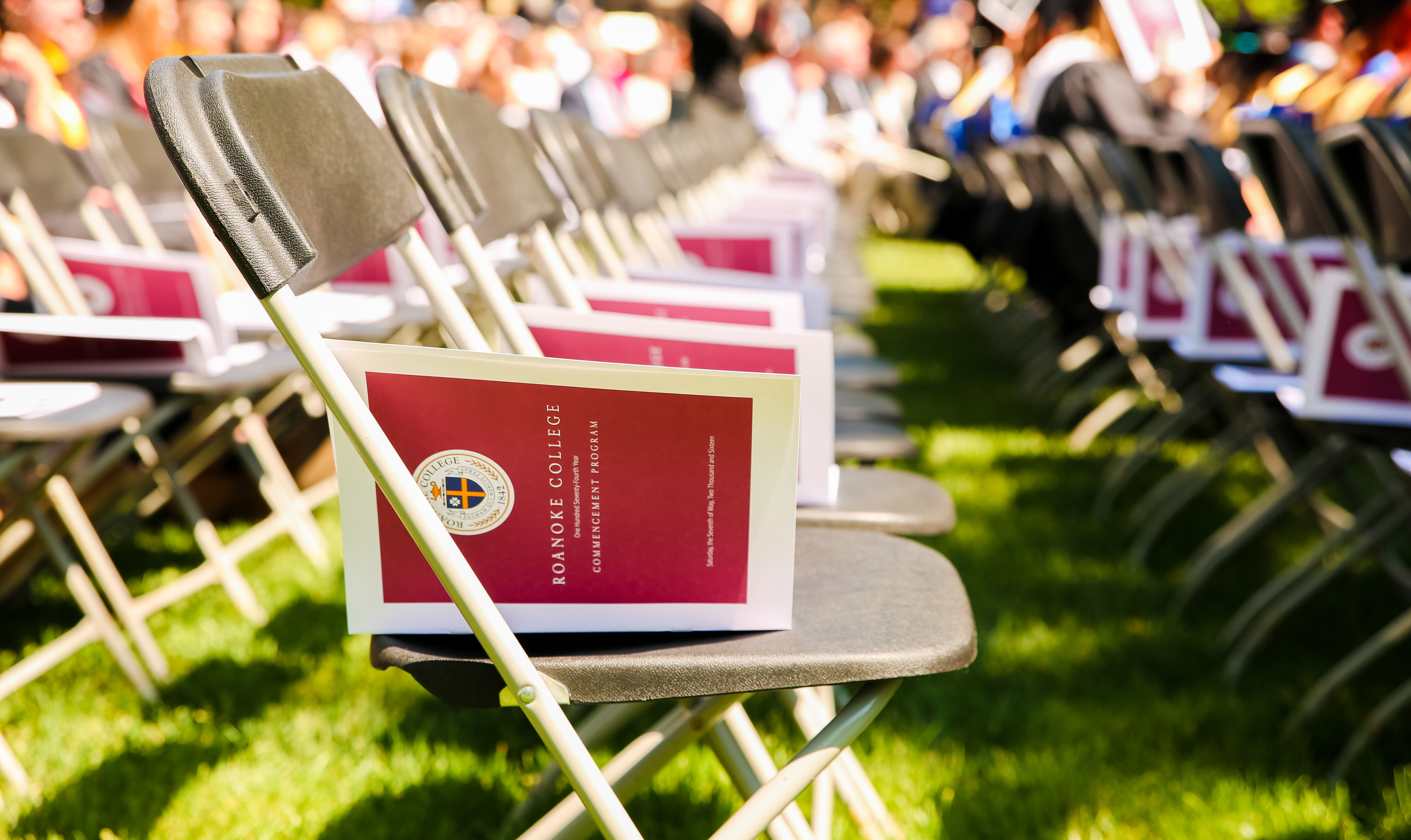 5.04.2017
By Roanoke College News
Details for Roanoke College Commencement
Friday, May 5:

· Activities begin on Friday for graduates. Most academic departments hold receptions Friday afternoon for graduates and their families.
· Baccalaureate service begins at 4:30 pm Friday, May 5 in the Cregger Center with Rev. Christopher Bowen as the featured speaker. Bowen is the Timothy Pickle Dean of the Chapel at Roanoke College. Mauney also will participate in Baccalaureate, along with Rabbi Kathy Cohen, from Temple Emanuel in Roanoke. She is the mother of Ariel Cohen '17. The service will include a memorial for Kevin Hartley, a student who died in 2015. No tickets are needed for baccalaureate.
· Olin Galleries hosts the closing reception for the Art Majors Show Friday from noon - 2 pm.
· The Roanoke College Choir will host its final concert of the year on Friday at 8 p.m. at Salem Baptist Church (103 N. Broad Street, Salem).
Saturday, May 6:
· Commencement exercises begin at 10 a.m. on the Turbyfill Quad, located off High Street on campus. In the event of severe weather, Commencement will be moved to the Salem Civic Center. No tickets are needed for commencement, whether outside or indoors.
· Mauney is retiring this year after serving as bishop for 18 years. The ELCA Virginia Synod includes approximately 40,000 Lutherans in 148 congregations across Virginia.
· Donald Kerr will receive an honorary Doctor of Commerce degree. Kerr, of Brentwood, Tennessee, is a 1960 graduate of Roanoke College and a former member of the Board of Trustees. He is the president and CEO of Kerr Industries, Inc.
· Beth Macy, of Roanoke, will be awarded an honorary Doctor of Letters. Macy is the author of two New York Times best-selling books, "Factory Man" and "Truevine." She also is a former Roanoke Times reporter. She has won more than a dozen national awards, including a fellowship at the Nieman Foundation for Journalism at Harvard University.
For all other information about Commencement and Baccalaureate, please visit roanoke.edu/commencement.