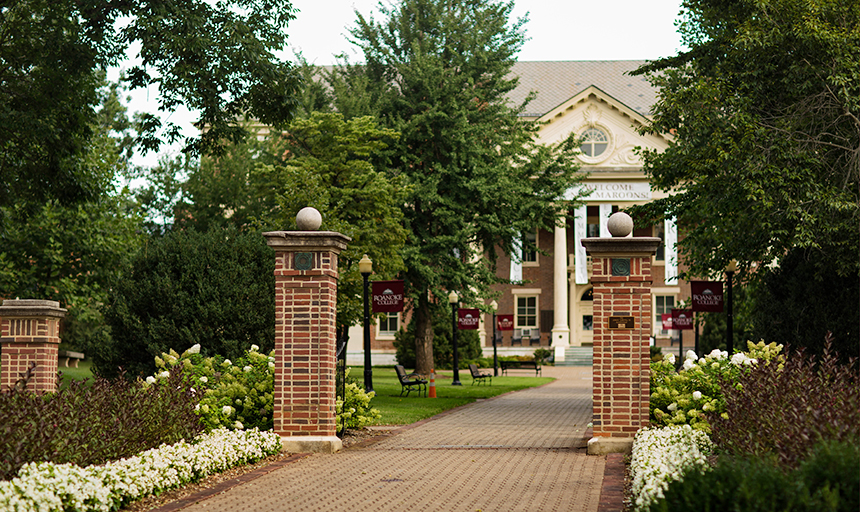 Return to Fall 2020: President Maxey Weekly Update Sept. 4
Dear Maroons -
Today I write to you with news of how we plan to continue the Fall 2020 semester at Roanoke College. As with all of our decisions and plans during these times, they are made with the prioritization of the health and safety of the entire community and the quality of the student experience at the forefront. Every decision is based on ongoing input from local public health officials, including the Virginia Department of Health (VDH), with whom we are in regular contact. VDH has indicated their support for the measures in the plan that follows.
After working through multiple scenarios and hearing from many of you, we have made the decision to allow students to choose between living on campus or staying home for the balance of the semester.
We will move forward with the following approach for Fall 2020:
Roanoke College will offer all classes online for the remainder of the semester, as they have been since we started the academic year. Classes will continue at their same scheduled class time, and students will need to attend classes at these times.

We also welcome all remaining students who are not currently on campus to return to residence halls on the planned weekend of Friday-Saturday, September 11-12. We expect that some students who are here will choose to return home, and others will remain at home, as they continue their studies online.

All faculty will continue to hold classes online. Faculty also have the option to teach a hybrid model of online and in-person class for students who live on or commute to campus. Some may choose to teach in-person but this is at the discretion of each faculty member.

Each student will have the choice to live on campus or not. Those who are currently on campus but would like to leave and participate in online learning at home, or elsewhere, have that option.

Of course, the financial implications for each scenario are complex. We have created a

Fall 2020 Financials information page

to help answer your questions.

The

academic calendar

for the semester will remain the same and the dates for final exams are unchanged. Synchronous class meetings on Friday, September 11 will be canceled to provide time for students and families to travel without missing class.
More details about academics and classes, may be found here.
During this time, with so much uncertainty, no decision is easy or perfect. However, this plan gives students the choice of staying home and taking classes online, and those who would prefer to return and remain on campus have the option to do so. We know that enrichment and important connections with friends, faculty and staff happen every day at Roanoke College outside of the classroom, which is why we are offering students the opportunity to be here.
Offering online classes with a choice of living in-residence is also a way to help students who need to be on campus and provide the choice for others who feel more comfortable remaining online. Fortunately, our size enables us to be a bit nimble during this time, and we are committed to a personalized approach to education for our students. Faculty are committed to provide high quality instruction and the personal attention students can expect from Roanoke College. Personal connections are what makes being a part of the Roanoke College community special, whether online or properly distanced and masked on campus.
"I am calling on all Maroons to do the right thing — remain respectful and kind, and take this moment to embrace the days ahead with strength and agility."
President Mike Maxey
COVID-19 status and expectations
With our first wave of students currently on campus, we have been assessing the spread of the COVID-19 and working through new ways of doing as much as possible to ensure an enriching learning environment as we care for those who are sick and work to prevent further spread.
As we have seen during our first three weeks of the semester, with nearly 800 students on campus, the ability to remain here will hinge on everyone in the community taking our health and safety protocols seriously. Following public health guidelines is critically important at this time; we expect students to comply with these guidelines. Noncompliance has serious consequences and places our entire community at risk. The case numbers will need to remain manageable in order for us to stay in-residence. Maintaining proper distances, mask-wearing, avoiding large gatherings, and reporting when you are sick, are all critical to the success of our plan.
There are currently 45 student cases with most of those students in isolation on campus. We have three staff members who tested positive and are in isolation off-campus. Thankfully, no one has been hospitalized. Currently, over 90 students are in quarantine in their residence halls.
Testing for new arrivals and commuters
As we proceed with additional students returning to campus on September 11-12, we will test all students as they arrive and anticipate a 48-hour turnaround on those tests. Commuter students may come to campus for testing on September 12 from 9 a.m. to 4 p.m. as well.
Additional testing for any student or employee will take place on:
Wednesday, Sept. 9 — 9 am to 12 noon

Thursday, Sept. 10 — 2 pm to 4 pm

Tuesday, Sept. 15 — 9 am to 12 noon

Wednesday, Sept. 16 — 2 pm to 4 pm.
Information needed from ALL students
All students must complete the September Move-in form by September 8. This informs the College about the choices the student has made regarding:
Living on campus, returning home or confirming status as a commuter

Preferences on staying with your roommate or requesting a single

Interest in breaking the housing agreement and living off campus (

for this semester only

)

Students who are moving to campus will receive their housing assignment, via email, from Residence Life & Housing on Wednesday, September 9.

More information about housing questions can be found on the Student Resources Fall 2020 page.
Flexibility
I know this news will be met with mixed emotions, but feel confident that it is the best option through the semester. As always, I must let you know that plans can change at any time based on a potential uptick in COVID-19 cases on campus or any other health matters that require critical attention. There may be a time where we have reached institutional capacity to care for the sick on-site and have to send students home. In a return-to-home scenario, which we sincerely hope does not happen, we will provide ample time for students to leave, and we will allow those who cannot return home to stay on campus. In that scenario, room and board charges would be adjusted with a formula used last spring.
Looking out for one another
As always, we ask you to be mindful of how we treat each other. As more students arrive on campus, we are likely to see more people test positive for COVID-19. Blaming and shaming someone for contracting the virus is not helpful. When stigmatized, people can be more likely to hide symptoms or illness, making it more difficult to control the spread of an outbreak. Additionally, Maroons support Maroons. We are a community that strives to live that standard and the COVID-19 challenge is a perfect time to live it fully.
We are constantly updating our resources with information, so please continue to visit roanoke.edu/returntoroanoke for answers to questions you may have. You will find a dashboard on our website roanoke.edu/covid19 where we will report Roanoke College COVID-19 cases on a weekly basis. Additional questions may also be sent to questions@roanoke.edu.
Reach out to Roanoke College Health Services at 540-375-2286 for your health and wellness needs. Wes Brusseau, Associate Director of Student Health & Counseling, is available at brusseau@roanoke.edu. Virtual counseling groups are also available, Let's Talk and TAO, is a self-help tool for mental health for all Maroons.
This will be a challenge for all of us, and there are no easy answers but I have faith in our ability to meet the challenge.
I am calling on all Maroons to do the right thing — remain respectful and kind, and take this moment to embrace the days ahead with strength and agility. Let's seize this moment to create a positive environment and wonderful memories of your Roanoke College experience.
Be well Maroons,
President Mike Maxey
P.S. All students returning to campus are reminded of the need to self-quarantine before arrival. As Labor Day weekend approaches, I am asking everyone in the Roanoke College community to please be safe and stay away from large holiday weekend gatherings and parties.