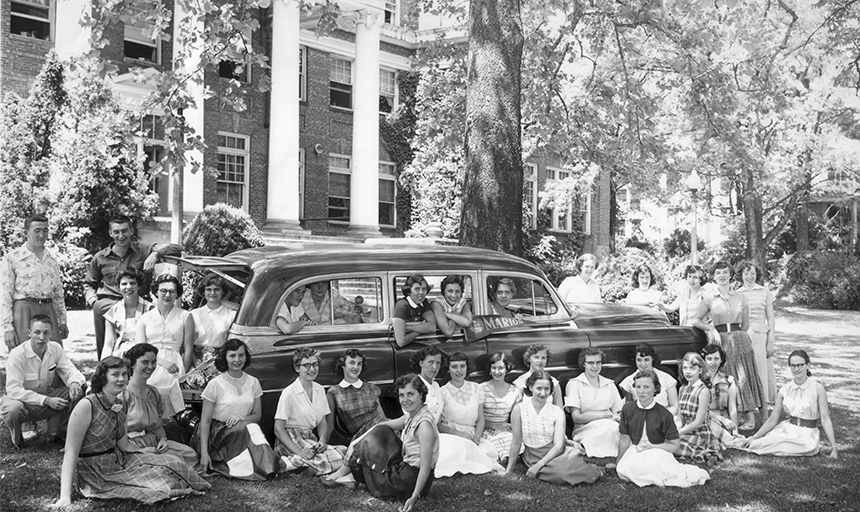 5.17.2017
By Roanoke College News
Marion College reunion marks 50 years since closing
Marion College's Alumni Association held a special reunion in May to mark the 50 year anniversary since the college closed in 1967. Located in Marion, Virginia, the college was founded in 1873. In 1967, the college closed and the last graduating class crossed the stage.
Marion was a Lutheran women's college and when they closed, fellow Lutheran school Roanoke College now manages the Marion Alumni Association and have worked with Marion graduates on an annual newsletter and reunions since that time. There are 674 known Marion alumni at this time. About 75 are expected to attend the reunion.
Reunion events include a return to the Marion campus, which is now home to the Job Corps office. Other events include a reception at the Holston River Heritage Center and paint party at the Wayne C. Henderson School of Appalachian Arts in Marion. Saturday kicks off with the tour of Marion College, followed by the alumni association program and lunch at the Henderson school. Marion grads will do a service project at Ebenezer Lutheran Church in the afternoon and then hold a banquet at the General Francis Marion Hotel. On Sunday, Ebenezer Lutheran Church has special recognition of Marion College in their morning worship service.
If you are a Marion alumna, or know of a classmate not receiving the annual Marion Ideal magazine or luncheon postcards, contact Marion College Alumni Association 540/375-5233 or marion@roanoke.edu.
The Marion Ideal is still the creed for Marion graduates.
Marion Ideal

To care for what is, rather than for what seems...
To be loyal to the traditions of the past, yet open to the discoveries of the present and the hopes of the future...
To find freedom in knowledge of the truth, beauty in the common sphere of daily living, joy in love and friendship, strength in constructive service...
To play happily and work honestly...
To believe in God and God's children...
To serve where service is the most needed...
This is the ideal of Marion College.