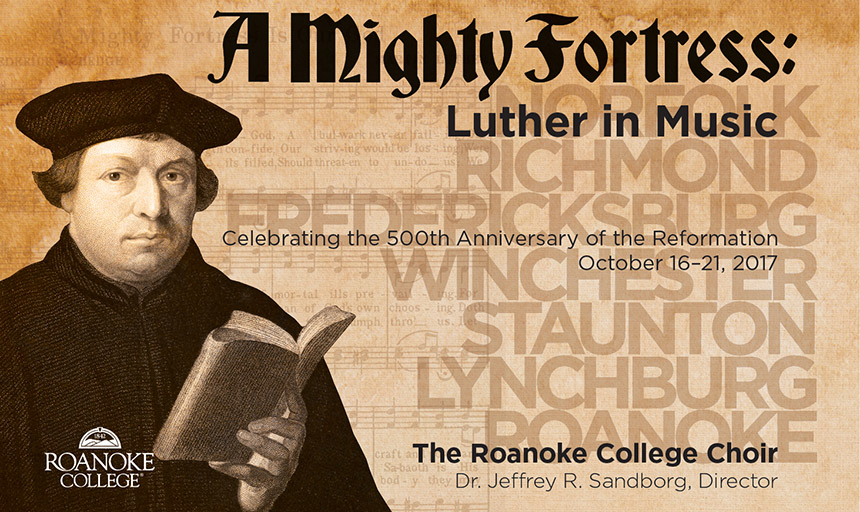 10.03.2017
By Roanoke College News
Roanoke College Choir on tour in Virginia presenting The Mighty Fortress: Luther in Music
The Roanoke College Choir, under the direction Dr. Jeffrey R. Sandborg, presents The Mighty Fortress: Luther in Music tour. The tour includes performances at several churches of the Virginia Synod of the Evangelical Lutheran Church in America.
This tour commemorates the 500th Anniversary of the Reformation and coincides with the 175th Anniversary of Roanoke College's founding. Roanoke is the second Lutheran College in the nation.
Each of the following concerts are free and open to the public.
Monday, October 16 at 7 p.m.
First Lutheran Church of Norfolk
1301 Colley Avenue, Norfolk
Tuesday, October 17 at 7 p.m.
Epiphany Lutheran Church
1400 Horsepen Road, Richmond
Wednesday, October 18 at 7 p.m.
Mary Washington University, Dodd Auditorium
1301 College Avenue, Fredericksburg
Thursday, October 19 at 2 p.m.
The Chapel at The Village at Orchard Ridge
400 Clocktower Ridge Drive, Winchester
Thursday, October 19 at 7:30 p.m.
Christ Evangelical Lutheran Church
2807 North Augusta Street, Staunton
Friday, October 20 at 7 p.m.
Holy Trinity Lutheran Church
1000 Langhorne Road, Lynchburg
Saturday, October 21 at 2 p.m.
Second Presbyterian
214 Mountain Avenue, SW, Roanoke College
Sunday, October 29 at 4 p.m.
Metropolitan Washington, D.C. Synod Reformation Service
Washington National Cathedral
3101 Wisconsin Avenue NW Washington, D.C.
At Roanoke College we help you find, build and live your passion. In 2017, Roanoke marks its 175th anniversary. Today Roanoke College is a place where students learn from an innovative core curriculum and specialize in majors that allow for depth of study and research. It is a place where virtually all students participate in internships, creative projects, research, community service or study away. Roanoke is one of just seven percent of colleges nationwide with a chapter of Phi Beta Kappa, the nation's oldest and most prestigious honor society. Follow Roanoke College on Facebook, Twitter, Instagram and SnapChat. For additional information, call the Roanoke College Public Relations Office at (540) 375-2282 or visit Roanoke.edu.