Career Center
Roanoke College is committed to helping every student who comes here find their passion, explore and deepen it, and, when they leave, be prepared to live it. At Career Services, we provide the tools, guidance and resources to identify connections that will help you go out into the world and live what you love.
Career planning is a process that we encourage you to begin in your freshman year with self-assessment and career exploration. During your sophomore through senior years, we recommend that you become involved in summer jobs, internships and volunteer work to build experience that will help you seek professional positions. You'll spend the latter part of your junior year and all of your senior year preparing to search for and find employment or advanced study commensurate with your goals and academic experience.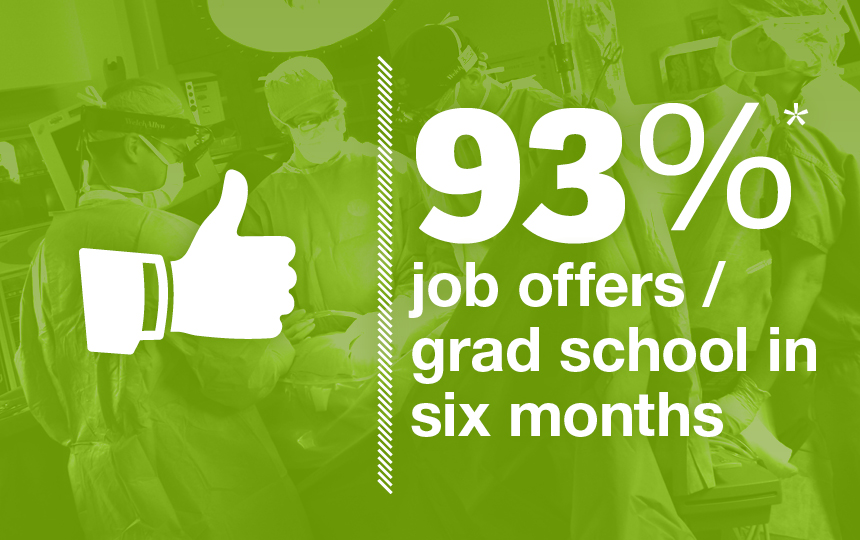 How we can help you
We offer an extensive set of services to help you turn your passion into a career.

Career planning. We can help you explore career options for your passion, determine what experience and credentials you'll need to succeed, and develop a practical action plan that will get your career launched.
Grad school and employment information. We have extensive online and printed resources that can help you make career, grad school and employment choices.
Career nights. Through our alumni chapters, you can attend career nights during school breaks, where you'll have an opportunity to meet with alumni, learn about their career paths, gain valuable career advice, and network with professionals in your chosen field.
Internships. We maintain an extensive database of organizations offering internships and can provide counsel on how to find and apply for them. We also offer events to help you connect with employers seeking interns.
On-campus jobs. Part-time jobs at Roanoke are an excellent way to gain experience, help fund your education, and demonstrate ambition and work ethic to potential employers. You can find hundreds of campus jobs posted at MaroonNet.
Networking. While some jobs are posted on Internet sites like Monster.com, the best jobs often come through connections. Because getting to prospective employers is hard when you're new to a field, building an extensive professional network is key. We can advise you on how to build and manage your network through social media and personal contacts, and how to use the Roanoke community-friends, parents, professors, alumni-to maximum advantage.
Alumni mentoring. Many among our 15,000 alumni are eager to help students who share their passion. We can arrange for you to speak with alumni to learn more about their career path, the types of jobs available in their fields, and how best to secure jobs. They may be available to provide coaching, help you build your network, and provide introductions. Some of our alumni have set up internships for Roanoke students in organizations where they work.
Job fairs. We can connect you to many in-person and online job fairs held in Virginia and around the country.
On-campus recruitment. We bring scores of employers and graduate school representatives to campus each year. You can learn from them what their organizations are looking for and make valuable connections that can help you with employment and graduate program applications.
Resume writing. Key to landing a great job is a great resume. We can help you write one, but you need to have experiences and skills to talk about-start working on it your freshman year and you'll have a killer resume when you graduate!
Interviewing skills. A great resume will get you in the door, but it takes good interviewing skills to land a job or grad school acceptance. We offer interviewing workshops and, through our peer and alumni counseling, can coach you through how to present yourself well.
Letters of recommendation. Letters of recommendation can be a critical final step in applying for grad school or securing a job. We can help you obtain these from Roanoke faculty, staff and coaches, as well as from organizations where you have done internships and service work.
From research to internship to career in marine biology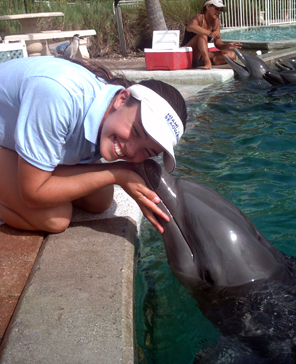 "I've been passionate about marine life for as long as I can remember, but Roanoke has pushed me in the right direction to find a job doing what I love," biology major Heather Duvall '13 said.
After graduation, Dr. Rachel Collins recommended Duvall for a very competitive internship with the U.S. Navy Marine Mammal Program, which led Duvall to work with pregnant dolphins-she even witnessed the birth of a dolphin calf. After two internships with the U.S. Navy, Duvall is now heading to a position as a trainer at the Texas State Aquarium, where she'll work with dolphins and otters.
Live what you love: a four-year plan to get there
Freshman Year: Awareness
Utilize popular tests offered by Career Services to help you learn more about your skills, interests and possible careers. These are offered during orientation so they can help direct you early on to classes and activities that best fit you.

Attend the "What Can I Do with a Major In ...?" events to explore fields of interest. Become an active member of the Roanoke College community to start honing your interests and building your experience.

Take full advantage of our MyResume program, to which you'll be introduced in orientation-this programs will help you identify the learning opportunities, experiences and skills you should acquire to get the most out of your time at Roanoke, and assure you have a resume that will impress employers and graduate schools.
Sophomore Year: Exploration
Define your passion. Include career and academic advisors, faculty, family and alumni in discussions to get different perspectives.

Select a major after clarifying your interests, needs and skills.

Visit the Office of Career Services to explore career opportunities related to your major.

Consider career-related activities such as job shadowing with alumni or other employers.

Explore the possibility of a summer internship, travel, service work or employment related to your career interests.
Junior Year: Experience
Review your MyResume progress, and make sure you fill in any gaps before the end of your junior year.

Utilize alumni network for career information.

Explore the possibility of an internship or other experiential learning activities through your academic department.

Attend our workshops on resume writing, interviewing skills, internships and networking.

Schedule an appointment with us to help you fine-tune your resume.

Begin networking with alumni in your field.

Conduct informational interviews.

Investigate possible graduate schools and their application requirements.
Senior Year: Decision-making
Work with us to update your resume.

Participate in mock job interviews.

Attend employer and alumni networking programs on- and off-campus.

Attend job fairs.

Complete internship or other experiential learning activities.

If applying to grad school, visit schools to make final decisions.

Apply for and complete necessary professional and/or graduate school examinations, such as Praxis, GRE, GMAT, LSAT or MCAT.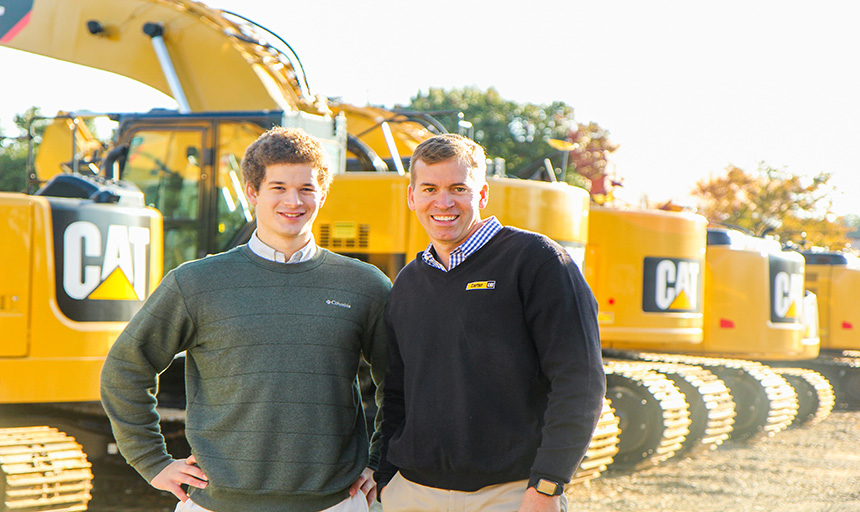 The Alumni Mentoring Program gave Roanoke College junior Ted Melnik an "in" with a major company and an introduction to business networking.