Coming Home
Alumni are an important resource for students-your experiences can help them find their passion and provide practical career advice.
Every year, dozens of your fellow Maroons come back to teach classes, meet with campus clubs and organizations, participate in Athletic department functions, and speak at large public forums, such as convocations and commencement.
In celebration of our 175th year, we'd like to see scores of alumni return to Roanoke and participate in our speaking program, "Coming Home." If you'd like to speak on campus, or know an alumnus you think would be a great speaker, please contact Jonathan Lee, Director of Alumni Engagement & Student Enrichment at jelee@roanoke.edu.
"Alumni helped me when I was getting started. This is my way of giving students the same career running start Maroons gave me."
Chris Turnbull '00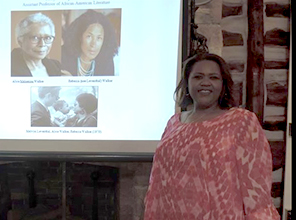 Giving back to those who helped her | Cheryl Hopson '95
"I taught as an adjunct at Roanoke in 1999-2001, and as an assistant visiting professor after I completed my PhD in 2009, and then came back in 2013 to do a poetry reading and help co-teach a class with my professor, Virginia Stewart. After my reading and talk, one of the students in the audience asked me how I went from being a shy 19 year old to the professional I am today. I told her it was professors like Virginia Stewart, Anita Turpin and Mike Heller who encouraged and guided me-they gave me the courage to do something I love."

"Students of color need to see the career paths that are open to them. I hope my example will inspire them to pursue their dreams."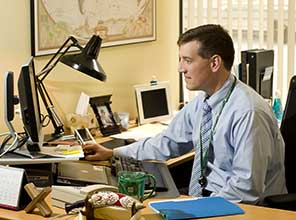 Offering practical advice on life and career | Chris Turnbull '00

"Working in Roanoke has made it easy for me to speak often to campus groups on opportunities in the communications field. I've taught classes for professors, participated in panel discussions, and met personally with students. I talk about a lot of practical things-networking, negotiating, balancing family and career. The best students always follow-up with me-I've been able to work closely with at least two dozen in the past year."
"Speaking to students is really a two way street-they get practical career advice, and we get to learn about the mindset of Millennials and absorb their energy and enthusiasm."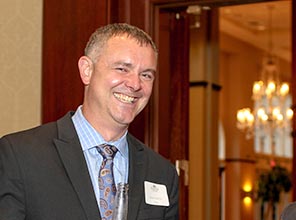 Connecting sports and business | Kevin Martin '94

"I played basketball at Roanoke, and then coached before starting my own AFLAC insurance agency. I worked with a student whose senior project involved interviewing alumni on the role of basketball in their careers. I also spoke to the Entrepreneurs Club about running your own insurance agency-I talked about how a liberal arts education helps you think out of the box, and how that helped me market and sell my insurance services. They were really interested in the basics of running an agency-what the day-to-day work was like, why I chose AFLAC and the benefits of sports marketing."
"I was really impresses by the maturity of the students I spoke to-they're taking their futures seriously! It was very reaffirming about the kind of students at Roanoke and the future of the College.
Last year, scores of Maroons came back to campus to speak to students about their careers.