Roanoke Recruits
Recruitment is the lifeblood of the College.
We meet with thousands of prospects, and through a program of careful nurturing, enroll about 550 new students each year. Finding the right prospects and encouraging them to visit, apply and enroll is critical to our future. The very best ambassadors for Roanoke College are you, our alumni. Your experience as a student, how Roanoke shaped you, and the life you've been living since graduation, are compelling testaments to the value of a Roanoke education.

Through Roanoke Recruits, you can help our Admissions team in many ways. You can:
Help identify good candidates
Represent Roanoke at College fairs
Attend recruitment events and speak with students and their parents, or host events yourself
Attend local high school scholarship nights and award scholarships to incoming students
Encourage good prospects to enroll through emails, phone calls and personal meetings.
Whatever level of participation you're comfortable doing will be much appreciated!
"Roanoke did wonderful things for me—it prepared me for career success and introduced me to great, life-long friends. I want to help students who are right for Roanoke find their way here so they can have these same opportunities."
Rick Oglesbee '95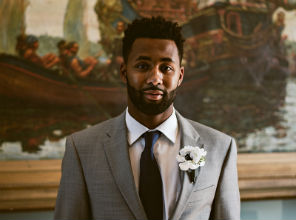 Telling our story to guidance counselors in Boston | Anthony Brantley '10

"I have been representing Roanoke at college fairs, where I've had a chance to speak to dozens of guidance counselors in the Boston area. They're interested in hearing what my experience was like and the type of students who attend Roanoke. I was raised in Rhode Island, so I can give them a good idea what it was like, as a New Englander, to go to school in Virginia. They're always pleased to hear how welcoming Roanoke is, and how diverse a student body we have."
"I really enjoy being part of Roanoke Recruits-it helps me stay connected to the school, and reminds me of how much I gained from Roanoke."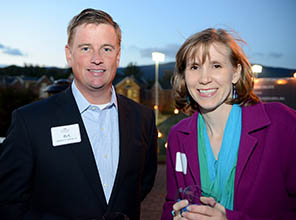 Making a personal connection with students and parents | Rick Oglesbee '95

"I help recruit in every way I can-college fairs, Accepted Student events, speaking with friends and neighbors whose kids at looking at schools. Parents, especially, are interested in what I got out of my time at Roanoke, and how the school helped me launch my career. I've also met with individual students, learned as much as I could about them, and then made personal introductions to admissions counselors. I think these one-on-one connections make prospects feel really welcome at Roanoke."
Each year, many Roanoke alumni help recruit future Maroons at Admissions events and through conversations with prospects and their parents.