University of Lyon 2
Lyon is one of the most attractive cities in France, creating a fresh combination of the bustle of a large, European city and the simplicity of French tradition. The Presqu'île of Lyon serves as the city center with towering business buildings, blocks of busy shops, and streets lined with cafés full of Lyonnais taking their afternoon break. The Lyon semester and yearlong program offers an intensive language approach at L'Université Lumière Lyon 2 (University of Lyon 2), where you will be able to earn up to 12 credits of French in one semester. Depending upon your language level, you will choose electives in culture, political science, cinema, economics, or literature taught specifically for USAC students.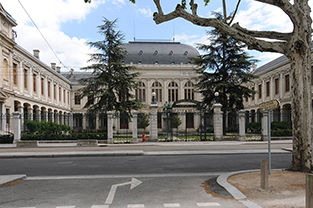 Cost
Roanoke College students pay Roanoke College tuition and fees. Qualified Roanoke College students may request to have their financial aid applied to the cost of one semester of tuition for study at University of Lyon 2.
Housing, meals, transportation, student visas, and health insurance, among other incidental expenses, remain the responsibility of the student.