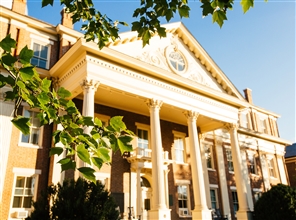 ROANOKE COLLEGE SUMMER CONFERENCES IS PREPARED TO HOST 1,000 GUEST THIS SUMMER.
By Brenda Prieto Velazquez
Many people are flocking to Roanoke College's campus this summer for camps and conferences. The Director of Community Programs, Tanya Ridpath, said that during this summer Roanoke College will have approximately 1,000 visitors alone for camps and conferences. In addition, the director said that this year, for the first time the College has created two summer programs geared towards high school students. The Roanoke Summer Institute and Theology for Teens, will allow high school students to take college level courses and get a feel of the college environment. Ridpath, also confirmed that the Roanoke Regional Chamber Ambassadors will have their monthly meeting on campus this July.
The office of Community Programs outreach remains an import part of the college. "Community engagement is part of the Roanoke College mission. Community involvement is highly valued at Roanoke College" Ridpath said. This value encourages the College to make accommodation available to summer travelers such as the United Methodist Church Mission Group from Pennsylvania, and Greenfield Hill Church Mission Trip from Connecticut.
Not only do religious groups enjoy Roanoke College's wonderful campus during June and July, but also youth sports camps, such as soccer, volleyball, tennis, lacrosse and basketball come and go during the summer. Ridpath, says that the Community Programs department provides many services throughout the year. Particular to summer, these services, include lodging facilities, meeting rooms, dining and catering services, and sometimes recreational activities for their guests. Roanoke College is the perfect destination for summer camps and conferences as well as group travelers needing a place to stay. It is located in the safe, small community of Salem, situated between the Blue Ridge Mountains and the Appalachian Trail, just 2 miles from Interstate 81 and part of the Roanoke Valley.