Languages Offered
Sprechen sie Espagnol? Oui!
Language is the key to understanding other peoples and cultures—their beliefs and practices, their history and future. In today's economy, all fields are global. Proficiency in multiple languages is your door to a world of opportunity.
Do you speak another language?
If you learned a language other than English at home, or studied one intensively in school, you may already meet our language competency standards.
Like a fitness center for languages
The Language Resource Center provides you with audio, video, and technological equipment to help you learn and practice foreign languages, including 32 workstations where you can master your language skills. It also features a seminar room where classes and individuals can watch modern language videos and presentations.
We bring languages to life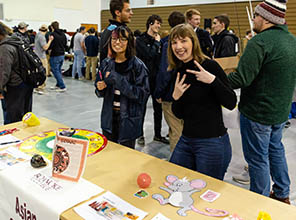 Asian Students United
Asian Students United is a forum for Asian and non-Asian students to gather and discuss, to provide a safe retreat, to provide support and fellowship for Asian students and other students of the community, and to educate one another on the topics of diversity, culture, and heritage.
H.O.L.A.
Hispanic Organization for Leadership and Development (H.O.L.A) is an open, multicultural, student organization whose goal is to preserve, promote and enhance an awareness of Hispanic cultural diversity and heritage at Roanoke College and the greater community.
Pi Delta Phi
Established in 1906, Pi Delta Phi is the French National Honor Society for undergraduate and graduate students at accredited public and private colleges and universities in the United States.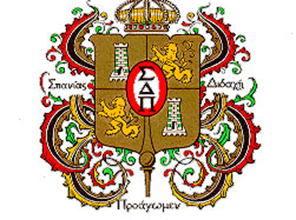 Sigma Delta Pi
Members of Sigma Delta Pi organize and participate in activities that promote Spanish language and culture. Sigma Delta Pi offers a number of scholarships for summer study in Spain and Latin America.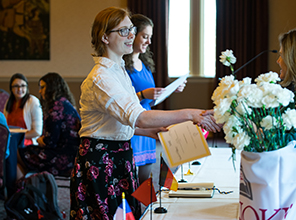 Xi Theta Chi
Founded at Roanoke College, Xi Theta Chi is open to all who study and promote languages.
Competency Standards
By meeting competency standards as described below, students are excused from taking some courses to satisfy the General Education requirements. The awarding of competency does not carry academic credit. Rather, it gives students more program flexibility by increasing their number of elective courses and allowing them to move to higher levels of study at a faster pace if they wish. If a student elects to take a course for credit after being awarded competency for that course, the competency is removed (except in foreign language where students cannot elect to repeat coursework for which they have earned competency).
Competency Measurements
Foreign Language Competency for the 101, 102 and 201 courses in a foreign language may be attained by students who earn:(1) a minimum score of 570 on the SAT II Subject Test in a foreign language or(2) a score of 3 on the Foreign Language Advanced Placement Test. (Academic credit at the 201 course level of a foreign language will be awarded for a score of four or five on the Advanced Placement Test.) Competency will be determined otherwise on an individual basis by scores on an examination administered by Roanoke College faculty. Students who successfully complete the 102- or 150-level foreign language course will be awarded competency at the 101-level. Students who successfully complete the 201-level foreign language course will be awarded competency at the 101 and 102-level.