Preparing for Pharmacy School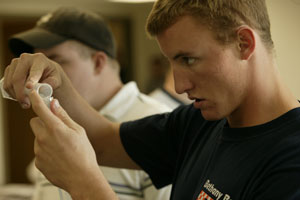 Admission to pharmacy schools is highly competitive; one should have at least a 3.3 grade point average, have spent considerable time shadowing a pharmacist, have significant volunteer hours, positive letters of reference, and satisfactory to excellent scores on the PCAT admission test. The average profile for students matriculating to pharmacy schools in 2005 is as follows:
GPA:
Science courses: 3.37
Non-science courses: 3.61
Math: 3.31
Cumulative: 3.47
PCAT:
78 % composite
Undergraduate Preparation:
Undergraduate students can major in any academic discipline, but most pharmacy schools require that the following courses be completed for admission:
2 semesters of Introductory Biology with lab
Biochem Major - Biol 210, 315
Biology Major - Biol 180, something 200 level
Other Majors - Biol 180, 210

2 semester of Anatomy and Physiology (Biol 230, 260)
1 semester Microbiology (Biol 235)

2 semesters of General Chemistry and lab (Chem 111, 112)

2 semesters of Organic Chemistry with lab (Chem 221, 222)

1-2 semesters of Physics (with lab)

2 semesters of English (your INQ or Honors freshman seminar courses will typically meet this requirement)

2-3 semesters of Mathematics, typically Calculus (Math 112 or 121-122) and Statistics (HNRS/INQ 240)

1 semester of Public Speaking (COMM 220)

1 semester Economics (check school websites - desired course varies)
Additional recommended coursework:
Additional biology courses: Cell Biology, Development biology, Genetics, and/or Immunology
Biochemistry (Chem 341, 342)

Behavioral Sciences (Psychology, Sociology)
(Caution: Every school's requirements are different. Please consult with HPAG early and often!)
Non-course recommendations:
Get health-related (preferably pharmacy-related) experience. Work as a pharmacy tech, or volunteer in a clinic, or shadow, or...
Learn more about issues related to pharmacy, pharmaceuticals, and health care in general. Read the health page of a major newspaper and/or choose INQ/HNRS class sections with a healthcare focus.
Stay connected with HPAG, SIHC, and AED. Attend personal statement-writing workshops, information sessions, school representative visits, etc.
As early as possible, students should research each specific program and admission requirements. Most schools recommend that students apply as early as possible for placement the pharmacy school class following graduation from an undergraduate program.
Additionally, most schools require applicants to take the

Pharmacy College Admission Test

(PCAT). Roanoke College students typically take the PCAT in spring of junior year or summer after junior year, so that they can apply in the summer between junior and senior year. You should have your Biology, Chemistry, and Math coursework completed before taking the PCAT.

Many Pharm.D. programs do not require students to have earned a Bachelor's degree before enrolling in Pharmacy school. However, HPAG recommends that students complete a BS or BA program as a fallback, should pharmacy school not work out. Most schools recommend that students apply as early as possible for placement in the pharmacy school class following graduation from an undergraduate program. The PharmCas web site has a calendar for applicants to use as they prepare their dossiers for pharmacy school admissions. See the Timeline for more details.