Salem Ambassadors
Program Overview: The Salem Ambassadors Program is designed to foster leadership development, especially servant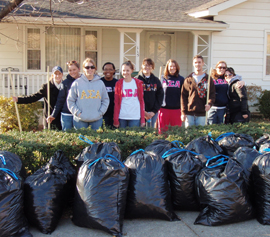 leadership, while also enhancing the College's town/gown relationship. The program provides student to student education regarding community expectations for off-campus conduct and increased sensitivity to residents' concerns.
Role of Salem Ambassadors:
Plan and implement service projects in the neighborhoods most affected by off-campus housing. Examples of service projects include road clean-ups, leaf raking and snow removal.
Create a newsletter for Off-Campus Residents each semester.
Represent Salem Ambassadors at weekly IFC and Panhellenic meetings.
Represent Roanoke College on the City of Salem Neighborhood Relations Task Force and attend all meetings.
Attend weekly SA staff meetings.
Maintain service directory of residents in need.
Educate students through neighborhood visits, special programming, etc.
Other duties as assigned by the Associate Dean of Students.
Salem Ambassadors Roster:
Nicole Trammell, Head Salem Ambassador, RC Junior (703) 927-7259
Christine Winder, RC Senior (804) 878-8178
Reece Kingery, RC Junior (540) 314-0344
Patrick Lilburn, RC Sophomore (703) 678-3588
Scott Ward, RC Sophomore (443) 890-0382