Rising Stars
When You Get That Spark | Sarah Matteo
Feel like you're on the upswing? At Roanoke, we'll help you become a rising star. Here's what we'll do together to assure your success:
Identify interests and strengths you'll turn into passion and talent.
Challenge you to know yourself and have confidence in the important decisions you'll make.
Push you to reach beyond-to see what you're really capable of.
Build determination and commitment to pursue a career you love and through it make a meaningful contribution to the world.
Put your growing skills and knowledge into practice through research, internships, service work, creative projects and study away.
Create your Master Plan-a blueprint for the life you want to lead and how you'll get there.
"Being able to work closely with my students, helping them discover their best selves, their true passions, everything they're capable of is the best part of this job. It's why I like being at a small school."
Professor Paul Hanstedt, English
Meet Some of Our Rising Stars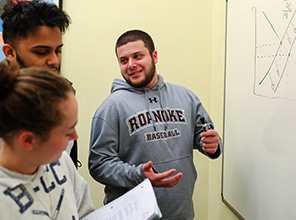 Challenge brings out the best in him
Kevin went to a challenging high school, but he's never worked as hard as he has at Roanoke. Kevin thinks that's a good thing-he was recruited to play baseball, but he wants to go into team management or sports marketing when he graduates, and knows academic achievement will help him find a good job and do well in the future.
"Coaches, professors, even your team mates," said Kevin, "will help you challenge yourself to do your best on the field and in the classroom."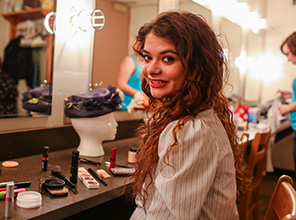 Free to focus on what she loves
Jac will tell you she was a good student who struggled with math in high school. She loved English, and hoped to make the most of that in college. With help from professors, she's found her passion. Her days and nights are filled with what she loves-literature and film classes, roles in campus theatrical productions, an internship at a TV station-she's doing everything she can to prepare herself for an acting career.

"Roanoke helped me focus my energy on what I love and do well." Jac says, "Nothing is holding me back now."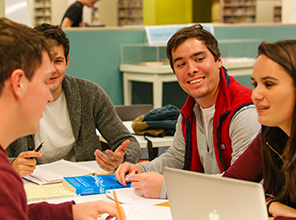 Discovering his innate people skills
Ryan has learned a lot about his strengths and how he can take advantage of them. In high school, he worked hard, but didn't try to stand out in class. His political science courses at Roanoke have challenged him to speak up, and through intelligent debate about the presidential campaign, he's found he understands and communicates well with all kinds of people.
"By encouraging me to engage in real dialog with my classmates, regardless of their beliefs, my professors have shown me how well I connect with people." Ryan is now planning a career in health insurance, where he feels his strong interpersonal skills will be a plus.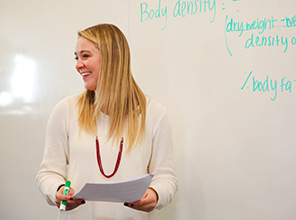 Gaining confidence as a leader
Finding a passion has transformed Sarah. A student-athlete in high school, Sarah is now driven by her love of exercise science. Her professors have challenged her to take leadership roles in research projects and the classroom.
"Professor Ackley asked me to help her teach one of her classes." Sarah says. "It was a little scary at first, but then I saw how hearing my research experiences was helping students learn. It gave me confidence I could teach others."
Sarah is going to use her research and teaching experience to get into a doctorate program in physical therapy when she graduates from Roanoke.