History
History is one of the three most popular majors at Roanoke College.
When you study history you gain strong research, critical thinking and writing skills through extensive projects and one-on-one work with professors. Roanoke's History Department boasts as many tenured professors as some large state institutions. They teach everything from Latin American and African history to European and public history.
At Roanoke, you'll get to experience history firsthand. The earliest residents of what would become Salem have been documented through archeological evidence going back to 8000 B.C. Salem was a Civil War stronghold and was once was marketed as the "Switzerland of the South." You'll search for artifacts during archaeological digs and intern with Virginia's Department of Historical Resources. You'll have opportunities to study in England, Germany, Argentina, South Africa, and many other places through Roanoke's May Term history classes and other study abroad opportunities.
If you enjoy the mental discipline history fosters, like analytical reading, library and archival research, writing and arguing interpretations, history can provide a great step towards careers in journalism, research, law and historic preservation. Studying European and world history can give you an advantage finding employment in international business and finance.
We offer both a major and a minor in history.
Hands-on history learning
Watch Video
"What's important is getting the whole world view."
"What I love most about Roanoke's history department is the interaction you have with professors and the passion they have for teaching and the subjects they teach."
John Stang '12
Student interns at United States Holocaust Memorial Museum
An internship at the United States Holocaust Memorial Museum meant Tyler Merrill '14 spent his fall days in downtown Washington, D.C., just a few blocks from the National Mall. Along with other participants in the Lutheran College Washington Semester program, he took classes, went on weekly field trips and volunteered with non-profit organizations. The Holocaust Museum was of particular interest to Merrill, a history major with plans to teach high school, coach a swimming team and possibly enter law school a little later in life.
Merrill says his most memorable experience in the nation's capital was volunteering as an advocate for homeless and runaway youths. "D.C. has wonderful programs for the homeless," he says. "It's phenomenal...I was left with a passion for getting involved and doing my part to help right some wrongs."
Professor John G. Selby | History
The long-lost papers of Civil War veteran George Bernard have been collected and annotated by Dr. John G. Selby, John R. Turbyfill professor of history at Roanoke. His book, Civil War Talks: Further Reminiscences by George S. Bernard and Fellow Veterans, was published by the University of Virginia Press. This book completes what Bernard had intended more than a century ago to be a two volume set covering his experiences with the Army of Northern Virginia. This volume, using key papers of Bernard's that were found by a collector in 2004, focus on the closing days of the Civil War, including the siege of Petersburg and a soldier's reaction to the surrender of the army by General Lee at Appomattox.
The Roanoke Times had high praise for Selby's work: "Roanoke College's Dr. Selby has done a masterful job of organizing and introducing the material. His annotations are as detailed as a reader could wish."
Our grads work at great organizations.
The Historical Society—Roanoke's oldest campus organization
Founded in 1875 by the College's first president, David F. Bittle, the Society is the oldest student organization on campus. It is devoted to preserving historical memory at the College, offering historically-grounded programming to our students and the campus community, and serving as the social center of the department's relationships with students.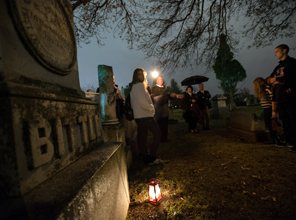 Founder's Day
On Founder's Day, the Society puts on a series of events to honor the first president: David F. Bittle. The evening begins with a trek to the cemetery on the Hill to meet Bittle face-to-face, and concludes on the back quad with a bonfire and lots of activities and ceremonies.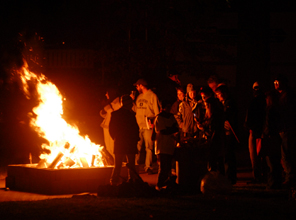 Bittle's Bash
After the sun sets on Founder's Day, the Society gets an opportunity to celebrate Bittle's Birthday in the Colket Center. Between the karaoke performances of the students and their faculty, it's always a night to remember.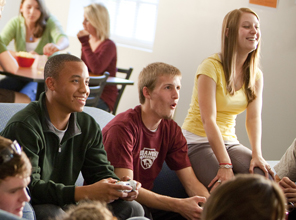 History Through the Lens
The Historical Society hosts a film series every year, with faculty introducing films dealing with, or from, the past. Recent films have included "M", "Daisies", "The Seventh Seal", and "Downfall."
Christmas Banquet
Chefs from the Commons create a fusion dinner for students. A recent example includes a semester with seminars on 1792 in the United States and on Latin America, with a dinner imagining a visit by an ambassador from a Latin American country to the White House in 1792.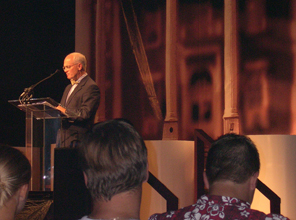 Departmental Colloquia
Every semester, the Historical Society hosts a series of events designed to promote historical understanding and the career prospects of our students. Typical offerings include "What Can I do with a History Degree", "Study Abroad Options", and a discussion on the importance of Hannah Arendt.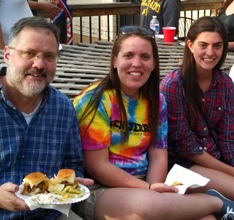 Spring Picnic
Each year at the end of the spring semester, the department and the Historical Society host a picnic for our students on the department's deck.