Student Profile
Character, not style, unites us
Roanoke students—Maroons—are a diverse lot. They come from around the world and down the street. Their fathers and mothers run small businesses and Fortune 500 companies. They wear Uggs, flip-flops and Chucks. If you join us, you won't have to conform to a stereotype.
What ties Maroons together are qualities that make this such a great place to be. Maroons are open to new ideas, new experiences, new friends. Maroons have what your grandparents might call "grit." They are determined, they work through problems, learn from mistakes. There's a sense of decency, too. People are fair and honest, they try to do the right thing. And of course, Maroons have passion. They bring enthusiasm and energy to what they care most deeply for.
Will I get in?
Roanoke College is considered a selective college by U.S. News and World Report, with an acceptance rate of 72.8%. Middle range GPA is 3.0-3.7, SAT is 1150–1270 (new SAT format), and ACT is 22–28. Successful candidates will complete 18 academic courses in high school, including four in English, two in each of social studies and lab sciences, at least two in foreign languages, plus geometry, algebra I & II.


Who thrives at Roanoke?
While many different students come here, we've found that four types do particularly well. If any of these, or a combination of them, sound like you, Roanoke may be a great fit!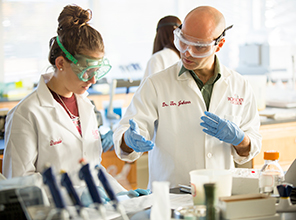 Focused Achievers
Focused Achievers enjoy learning, and take pride in academic accomplishment. If you're a Focused Achiever, you'll do really well at Roanoke. With small classes, a vibrant Honors program, and opportunities to do research as an undergraduate, you're given the tools and encouragement you'll need to excel. In our close-knit community, you'll the gain recognition you might miss in a large school. With support from faculty, most Focused Achievers get into good graduate programs immediately after Roanoke.


Up-and-comers
Something clicks for Up-and-comers in high school-it might be a great teacher, a sport, activity or cause they care about, or a career they want to pursue. Seeing what they want and are capable of, they start to shine. If this sounds like you, you could really take off at Roanoke. Professors and staff will work closely with you to help you recognize your talents, challenge yourself and build the skills, experiences and confidence you'll need to succeed in a career you love. With grit, tenacity and a strong work ethic, Up-and-comers turn into rising stars at Roanoke. When they graduate, they often prove to be our most successful and loyal alumni.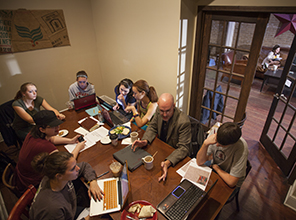 Seekers
Seekers are often inquisitive, creative thinkers. They may have many interests, but haven't found one yet that truly excites them. If you think you're a Seeker, Roanoke is a great environment for you—with a wide range of courses and activities, you're likely to find what you've been searching for. Our faculty are great talent spotters, and will work with you to help you identify your true passion and run with it. Many of our alumni came to Roanoke as Seekers, found their passion, and are out in the world living what they love.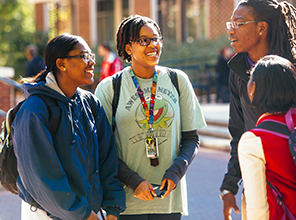 Connectors
Connectors are social beings. They like people—they're natural networkers who seem to know everyone, get involved in many organizations, and know how to get things done. If a Connector describes you, you'll be drawn to the family atmosphere of Roanoke on your first visit. Small classes, intimate campus and a friendly, supportive atmosphere will help you thrive here. Through group work in academics, athletics, clubs and organizations, Connectors find many opportunities to build leadership and networking skills that serve you well in life.