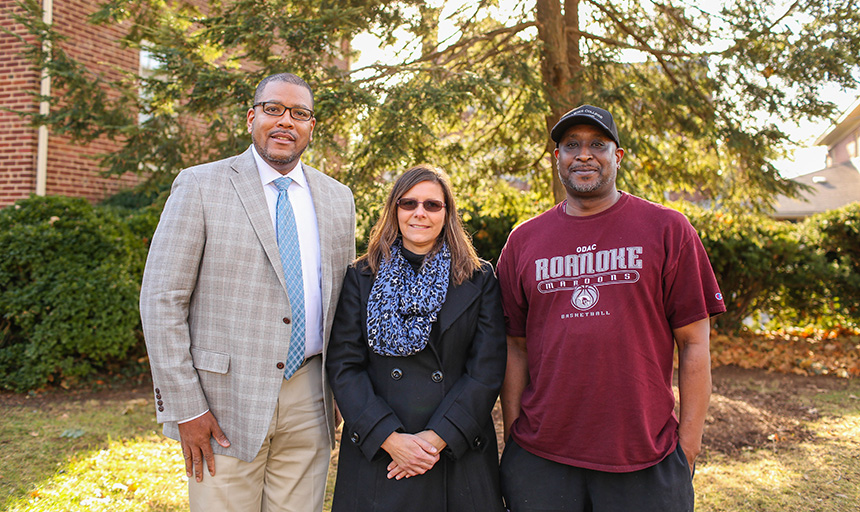 12.21.2017
By Roanoke College News
Roanoke College Employees Honored with 2017 STAR Awards
Each year during the holiday season, Roanoke College recognizes employees who go above and beyond the call of their job duties with the STAR Awards. STAR - Service to All Roanoke - Award winners are people who have a tremendously positive impact on the College community, whether interacting with colleagues or with students. The winners also contribute in some way to their local community.
STAR Award winners are chosen from throughout the campus in three employee categories: exempt, non-exempt and hourly.
This year's STAR Award recipient in the exempt category is Courtney Penn. Penn has been with the College since 2005 and currently is the associate dean for strategy and admissions. Colleagues describe him as a hard-working individual who invests long hours to help make the Enrollment Division successful. He is the first to the office each day and the last to leave, and he often comes in during off-hours as well to help other staff. Penn, co-workers say, is dependable, loyal, committed to his co-workers and is a great listener with a heart of gold. He gives his staff and student assistants the tools, time and guidance they need to be successful.
The non-exempt category STAR Award recipient is Shirlann Jones, who began her journey with Roanoke College as a part-time employee in the chemistry department before she moved to Resource Development, where she has been for six years. Co-workers say Jones sees the big picture in Resource Development and how her role as coordinator of development records benefits the mission of the College. She works behind the scenes to ensure that fundraisers on the road have the best information possible when visiting the College's friends and alumni. Jones, her colleagues say, is the first to raise her hand to volunteer to work during orientation weekend, convocation, commencement and many other events. Her colleagues also describe her as big-hearted and say that each morning she shows up with a smile on her face a funny story to tell.
Scott Coles, this year's Star Award recipient in the hourly employee category, has been a dedicated Dining Services employee since 1993 and is loved by his fellow employees. Coles has been the dish room coordinator for many years but wears many different hats for Dining Services. He has worked as a cook and as a beverage man; he's worked in the dining room, at the hearth, in catering and even in several other departments on campus. Colleagues say his willingness to serve the College community is second to none. His positive attitude also deserves mention: No matter the challenge, he maintains a positive and professional demeanor. It's the little things that separate Coles from most, whether it's a friendly hello to a student dropping off their dishes or his attention to detail when completing his duties.