A Community of Passionate Learners
Our Honors Program is designed for students who want to challenge themselves both inside and outside the classroom. If you've already demonstrated strong performance in academics and extracurricular activities, Honors may be the perfect environment for you. You'll be part of a community of people like you who are pursuing their own academic growth and making significant contributions to their disciplines and the greater community.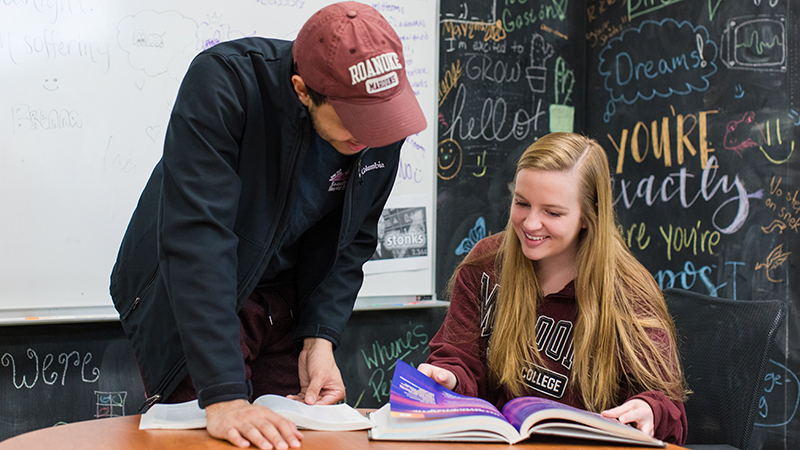 Your Honors Core Courses move you beyond the traditional classroom and put you in contact with those whose lives influence your understanding of today's critical issues.

Your Honors Distinction Project allows you to meld your knowledge and passions through a yearlong project that goes deep into an issue you care strongly about. The mentoring and financial support you'll receive will help you stand out to graduate/professional schools and employers.

Through orientation and the Honors freshman retreat, Honors trips and events, and the option of Honors Housing, you'll form strong personal friendships and bonds that encourage you to go beyond, to leave your mark, and to take full advantage of all that Roanoke has to offer.
Only 40–50 incoming freshmen are chosen for our Honors program each year. More than 80% go on to grad school, including institutions such as Cornell, Emory, UC Davis, Virginia Tech and Wake Forest.
Your Distinction Project Will Set You Apart
Holly Morrison '18 directed her love of animals and dream of being a veterinarian into a Distinction Project focused on equine pressure ulcers, or bedsores. Through an internship at an equine hospital and an independent research project with Dr. Meg Steinweg in the Biology Department, Holly characterized the bacteria found on the skin of horses with and without bedsores in order to help vets better assess equine skin infections and design more effective treatments. Holly is currently enrolled at the Virginia-Maryland College of Veterinary Medicine, where she is pursuing a Ph.D. in biomedical and veterinary sciences.

Owen Collander '23, a history major with a concentration in public history, believes history is made up not only of monumental stories, but of the little moments that truly make up a life. This inspired him to record the stories of Roanoke Valley veterans and turn them into a documentary for his Distinction Project. He worked with local veterans' groups and ultimately interviewed six veterans, weaving those interviews into "The Untold Stories of Roanoke Valley Veterans," which debuted at the Grandin Theatre in Roanoke. His full interview footage will be archived for future use by researchers and historians.
Study Together/Play Together
Participation in the Honors Program can do much more than challenge you academically — it can be your path to unforgettable college memories and lifelong friendships.