Honors Program
A community of passionate learners
Our Honors Program is designed for students who want to challenge themselves in and outside of the classroom. If you've already shown strong performance in academics and extracurricular activities, Honors may be the perfect environment for you. You'll be part of a community of people like you who are pursuing their own academic growth and making significant contributions to their disciplines and the greater community.
Only 40–50 incoming freshman are chosen for our Honors program each year. More than 80% go on to grad school, including institutions such as Cornell, Emory, UC Davis, Virginia Tech and Wake Forest.
Your Distinction Project Will Set You Apart
Nationally unique financial support and long-term mentoring to help you to design and complete a year-long project, such as these recent project proposals:


An oral history project entitled "War Pearls." Women my age have inherited, or will inherit, pearls acquired in South East Asia during World War II, the Korean War and the Vietnam War that were brought over by grandfathers who served in the military. A series of interviews and photographs. Research pearl trade in South East Asia.
A study of PTSD in elephants- Ideally, this project would involve the observation of both African and Asian elephants in natural habitats, in captivity, and in sanctuaries. I hope to expand upon current knowledge of stress disorders in the elephantine species and learn about how these animals communicate various types of trauma. I also wish to comparatively analyze deceased elephants' brains and those of humans to draw parallels between post-traumatic stress sufferers across a species barrier.
Write a short series of children's books to communicate important and commonly ignored lessons based on psychology studies. Girls and women, people of color, and disabled characters learning lessons about body positivity and self-confidence.
Math is art and art is math; the role of beauty in real life; symmetry; duality in philosophy and religion.
Sociological implications of eating disorders. Interviewing or surveying eating disorder patients at either a facility near Roanoke or one back home (Cambridge Eating Disorder Center). Different approaches to eating disorder recovery in both the North and South of the US.
Daniel Ayers: The Folk Storyteller
Watch Video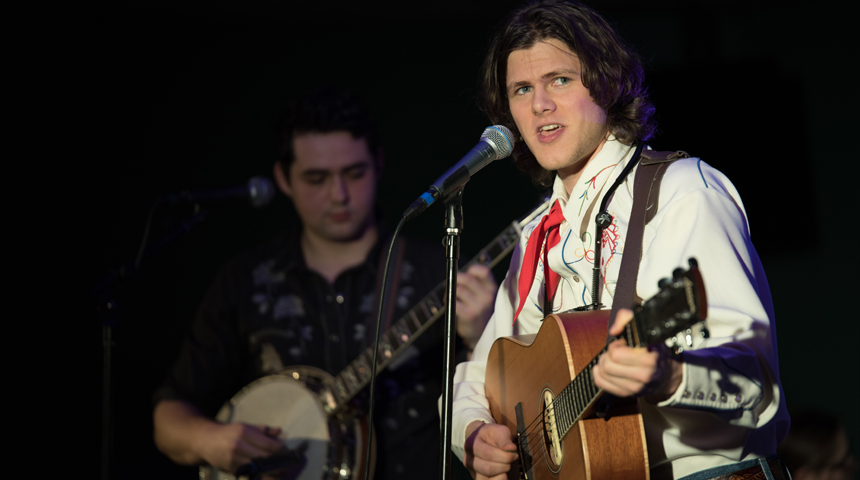 Honors student channeled his love for folk music into his academic work, which opened the door to earning a Fulbright Scholarship to study in Scotland.
Kaitlyn Bell
Watch Video
Kaitlyn was a Spanish major who is passionate about language, travel, teaching and the outdoors.
"A strong community of dedicated individuals is one of the best benefits of Honors for me. There's almost an instant connection from the moment you get to meet one another."
Rebecca Siar '15
Honors Core Courses
Your Honors Core Courses move you beyond the traditional classroom and put you in contact with those whose lives influence your understanding of today's critical issues.
Honors Distinction Project
Your Honors Distinction Project allows you to meld your knowledge and passions through a yearlong project that goes deep into an issue you care strongly about. The mentoring and financial support you'll receive will help you stand out to graduate/professional schools and employers.
Honors Portfolio
Your Honors Portfolio presents your talents, skills and experiences in a way that sets you apart from the competition when applying for jobs, fellowships, scholarships and graduate schools.
Honors Involvement
As an Honors student, you'll be an active participant in campus and community events and opportunities for volunteer work - both local and global.
Honors Social Connections
Through orientation and the Honors freshman retreat, Honors trips and events, and the option of Honors Housing, you'll form strong personal friendships and bonds that encourage you to go beyond, to leave your mark, and to take full advantage of all that Roanoke has to offer.