Sports & Recreation
We're an active, fit college—more than half of Roanoke students participate in athletic and outdoor activities.
NCAA Division III Intercollegiate Athletics
Roanoke College is a member of the Old Dominion Athletic Conference. The Maroons are consistently near the top of the conference. We offer baseball, basketball, cross country, field hockey, golf, track and field, lacrosse, soccer, softball, tennis and volleyball.
Club Sports are officially recognized student organizations that compete against other colleges in their respective conferences. We offer baseball, bass fishing, cheerleading, dance, esports, golf, powerlifting, riding, rugby, soccer, tennis and ultimate Frisbee.



Intramurals are a great way to play the sports you love while staying in shape and building lasting friendships. Any current student, faculty or staff member of Roanoke College can play.

The Outdoor Adventures program runs outdoor excursions throughout the year, including hiking, climbing, mountain biking, kayaking, hang gliding, whitewater rafting, skiing and snowboarding.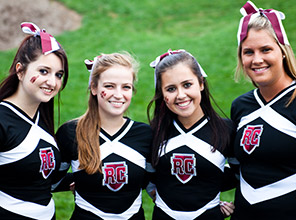 Spirit Team
The spirit team includes several different groups that cheer on and support our Maroon athletic teams including the cheerleading team, the dance team and our mascot Rooney.
The new Cregger Center includes a 200-meter indoor track, athletic training rooms, and a state-of-the-art fitness center.


Group Fitness is a great way to become more physically fit while exercising in a group environment. We offer group fitness classes such as Boot Camp, Yoga, Zumba and Insanity.
The pool is located in Alumni Gym and offers regular open swim hours. We offer kayak roll clinics and scuba classes. All Roanoke students have a free membership to the Salem Family YMCA, which has two pools, including a 25-yard heated lap pool. It's located on the nearby Elizabeth Campus, just a short walk from campus.

Games
An extensive Game Room is located on the lower level of the Colket Center, where you can shoot pool and play table tennis or the latest video games. Tournaments are hosted during the year, including billiards and ping pong as well as Madden, NHL, NBA2K and FIFA.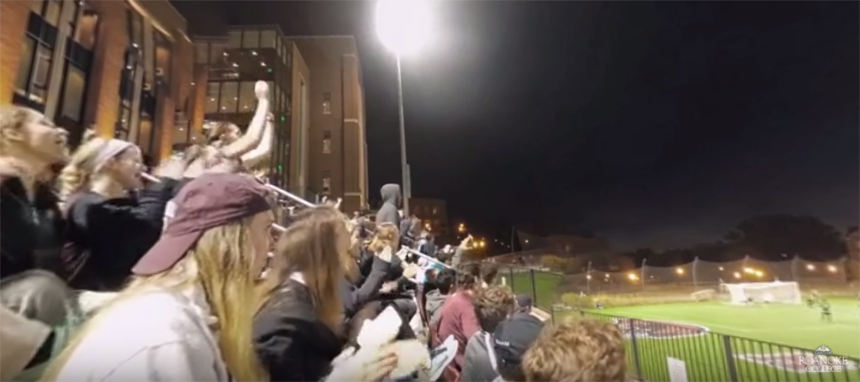 Experience the Cregger Center in Virtual Reality Video
The Cregger Center will be at the heart of your life as a student when you attend Roanoke. The Cregger Center houses a performance gymnasium; indoor track; Office of Athletics; and fitness center; as well as classrooms, faculty offices and labs for the Health and Human Performance department.