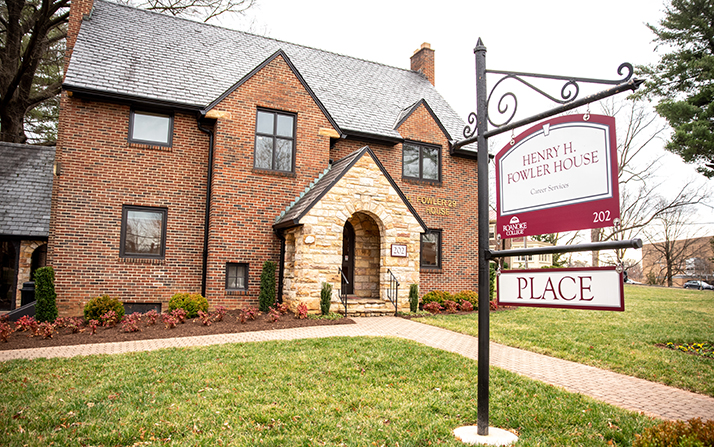 PLACE is the on-campus career center dedicated to helping students find their place through Purpose, Life And Career Exploration. Students can learn more, begin exploring their next steps, and receive career support throughout their entire four years at Roanoke College.
SERVICES
One-on-One Advising: Counseling to help you pursue purpose on campus and in life beyond.
Connections: Access to current jobs, internships, and meaningful experiences.
Alumni Access: Networking opportunities with RC Grads for mentorships and career connections.
Document Development: Guidance drafting a wide variety of professional documents, including resumes and cover letters.
Continuing Education: Assistance searching for and applying to graduate school, licensure programs, or specialized training.
Professional Coaching: Support to help students define and execute personal and professional career goals while further developing general employability skills.
Experiences: Assistance finding on-campus employment opportunities to help students gain valuable work skills and confidence, while becoming an important part of the campus community.
Roanoke College has partnered with Handshake, the leading career site for college student connections to full and part-time careers, internships, graduate school events, and on-campus employment! Students should take time to develop their Handshake profile, upload their professional documents, and explore resources the career center has available. PLACE offers appointments over the phone, through Zoom, and in-person.
Start discovering all that PLACE has to offer by using your Roanoke College username and password to log into Handshake.
(Instructions on how to schedule an appointment in Handshake are available here.)
The two-day workshop facilitated by trainers from Deloitte will help third-year students prepare to enter a rapidly shifting workforce and succeed on their future career paths.