Our students conduct graduate-level research as undergraduate students, which helps to set them up for success after graduation. At least 45% of our graduates go on to earn advanced degrees.
Roanoke College students choose from multiple pathways into research, whether they want to assist a professor with a semester-long project, spend a summer conducting research on or off campus, travel overseas, or even dedicate all four years of their college experience to working with a faculty mentor.
Can you see yourself conducting research for a full semester in Europe? Spending the summer at work with the National Park Service or National Institutes of Health? How about getting paid to work with a professor in an on-campus laboratory? This is just the tip of the pipette when it comes to research opportunities at Roanoke College.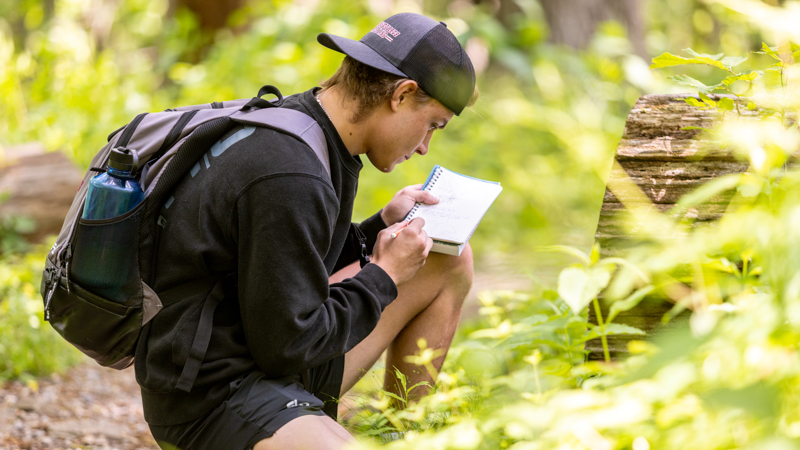 45% of Roanoke grads earn advanced degrees.
Real-world research experiences
For Charissa Roberson '22, French and creative writing came together for an immersive, bilingual experience.

Kavya Iyer '22 (pictured) and Bryn Haden '22 presented their research at a national conference about public health issues.

As an undergraduate research fellow with the Southwest Virginia LGBTQ+ History Project, Megan Reynolds '23 helped complete the digitization of the region's longest-running gay newsletter.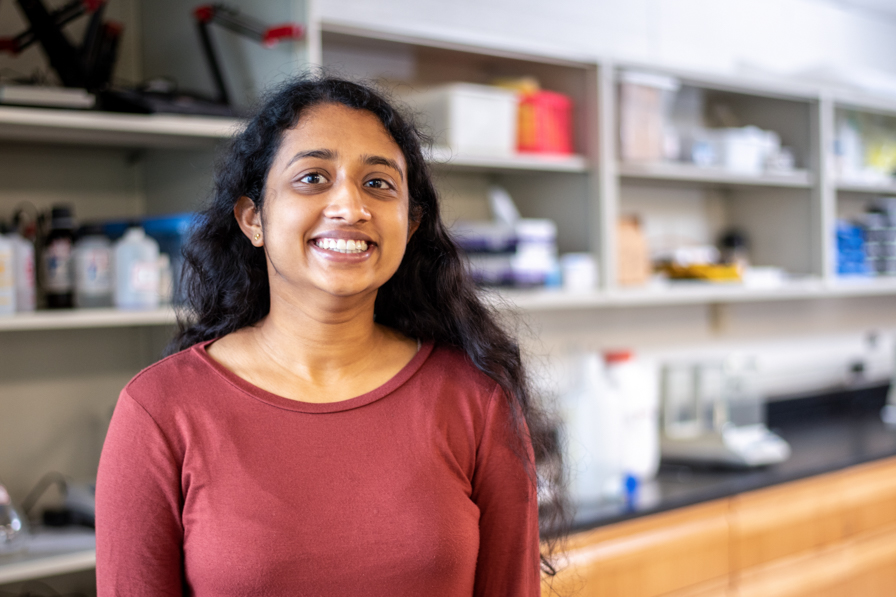 The competitive Summer Scholars program allows students to spend the summer working one-on-one with a faculty member on an important research project.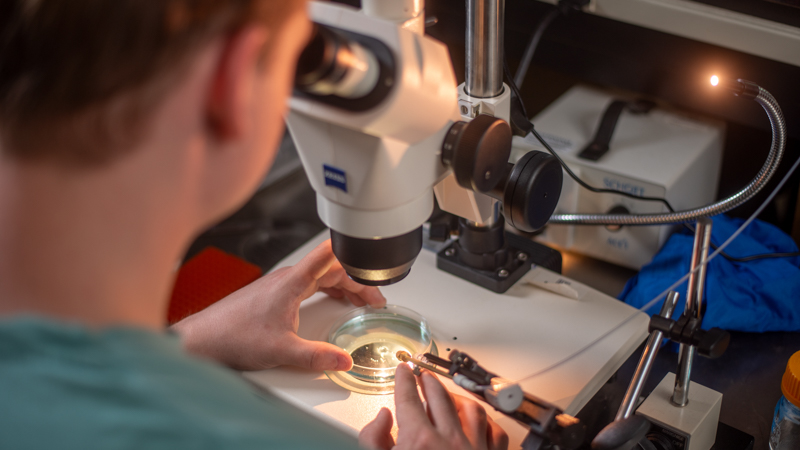 If that all sounds exciting but potentially expensive, rest assured that funding may be available to make your research goals a reality. Many research opportunities come through paid internships, while others are available to work-study students. Additionally, some programs may be accompanied by free housing, stipends and other incentives. Our faculty and staff are on hand to guide students toward research opportunities, including those made possible with scholarships such as the Fulbright or Gilman awards.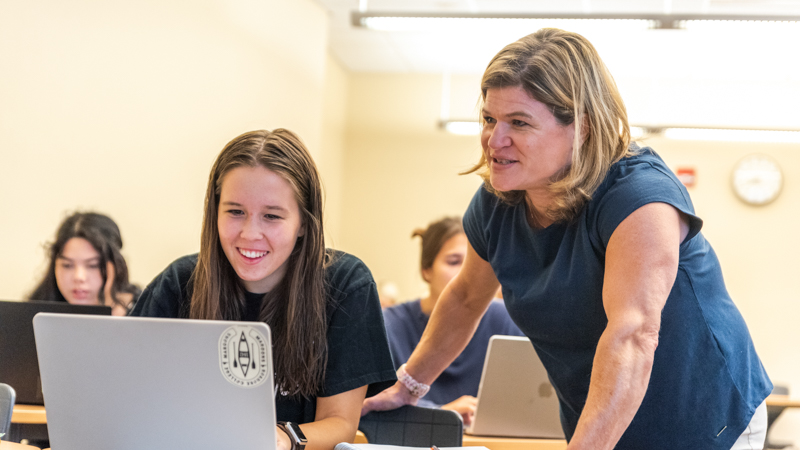 Teachers, Scholars and Mentors
Roanoke College faculty are passionate lifelong learners, and they love bringing student researchers along on their intellectual discoveries. These faculty members are just a small sampling of the Roanoke professors who offer research opportunities for students.
Daisy Ball

Daisy Ball, an associate professor in the Department of Public Affairs, is conducting research into the partners of formerly incarcerated individuals. During summer 2022, she and James Suleyman '24 conducted almost 60 in-depth interviews with people across classes, cultures and regions in order to chronicle their experiences. Suleyman also assisted with transcribing and coding the data. In the long run, they hope to publish articles about their findings and present their work at a criminal justice conference.

Rachel Collins

Biology Professor Rachel Collins has been studying smooth coneflowers, an engandered variety of the coneflower species, for nearly a decade. She recently collaborated with Shane Saunders '24 to study the population of smooth coneflowers at Denhill Preserve. Their research included counting, marking and measuring smooth coneflowers within small plots. Saunders and Collins seek to understand the issues contributing to the plant's endangerment, including forest fires and commercial development, in the hopes of preserving the species.

Chad Morris

Chad Morris, professor in Department of Sociology and Public Health, concentrates much of his research on the prevention of non-communicable diseases in the Republic of Palau, a small island country located in the western Pacific. In summer 2022, Selma Sosic '22 traveled with Morris to Palau, where she gathered qualitative data about breast cancer screening from Palauan women. She then wrote a preliminary report addressing key motivators, barriers and sources of information about screening on the island. Her report was shared with the Palauan Ministry of Health and the Non-Communicable Disease Unit to help spark ideas about screening rates in Palau.

Jesse Bucher

History professor Jesse Bucher, college historian and director of the Center for Studying Structures of Race, works with students to research Roanoke College history. One student, Ivey Kline '23, helped Bucher launch the Genealogy of Slavery Project, which is dedicated to uncovering information about enslaved people who helped build Roanoke College. She also spent a summer assisting Bucher with research into Georgianna Saunders, a Black midwife in Southwest Virginia between 1914 and 1940. Research by Bucher and students fills in the gaps about important Black figures, including midwives, who were left out of the history books.