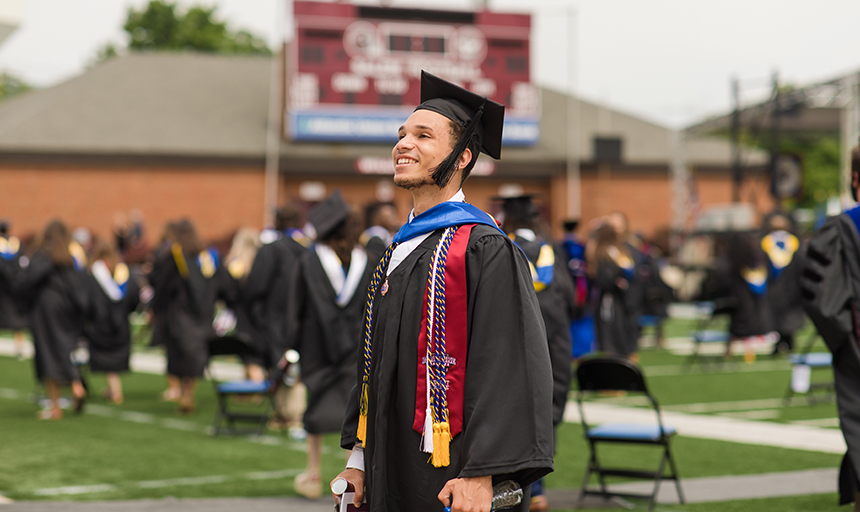 Finally, the Class of 2020 Commencement
After a delay of more than a year, the Roanoke College Class of 2020 walked across the commencement stage on Saturday, May 22. With their senior year disrupted by the COVID-19 pandemic, their commencement ceremony was postponed. Roanoke College conferred degrees in a virtual ceremony on their original graduation date, May 2, 2020. On Saturday in the Salem Stadium, the Class of 2020 returned to Salem for their in-person commencement ceremony.
President Michael C. Maxey referred to the Class of 2020 as "Roanoke College history-makers" and saluted them for their ability to stay connected to one another even as they finished their college careers from their homes.
"Never forget that you are twice graduated from Roanoke College," Maxey said. "No one has ever done that and I hope it leads to a special bond between and among you and between you and your college."
The Class of 2020 is comprised of 428 graduates from 30 states and five countries. The top majors (in order) are business administration, biology, communication studies, sociology, and health and exercise science. Two hundred and fifteen graduates earned the Bachelor of Arts, 80 obtained the Bachelor of Business Administration and 133 earned the Bachelor of Science.
Three students earned valedictorian honors in the Class of 2020 and though not all of them were able to make it to graduation Saturday, all three were honored during the ceremony.
Benjamin Allen Vester, an economics and political science major from Morgantown, West Virginia, delivered a speech at Saturday's ceremony. Upon graduating, Vester was a field representative for Sen. Joe Manchin, D-West Virginia. Since then, Vester earned a spot as a staff assistant with the U.S. Senate Committee on Energy and Natural Resources and now works in Washington, D.C.
Vester spoke about his favorite campus traditions, saying that even as the Class of 2020 didn't get to experience their final months on campus, the memories of those traditions shine brightly in his memory.
"We may not have had the opportunity to participate in the rituals of senior year and graduation the way previous classes have or hopefully future classes will," Vester said. "But through these traditions, through our favorite memories of our almost four years in sunny Salem, the class of 2020 belongs in its own unique way to what is bigger than ourselves — Roanoke College, our alma mater, which has indeed served us well."
Kyle Elizabeth Grohbrugge is a health and exercise science major and public health minor from Grantham, New Hampshire. Grohbrugge recently finished her first year at the University of Colorado, where she is pursuing a Doctor of Physical Therapy degree. She's working at an orthopedic clinic this summer, where she works with patients who suffer from neck, back, shoulder and other pain. She is on track to graduate in December 2022.
Grohbrugge wasn't able to attend Saturday's ceremony but she did write a speech, which Rev. Christopher M. Bowen read on her behalf. In it, Grohbrugge compared a college career to hiking a mountain — an experience to which many Maroons can relate.
"There is still so much to explore and I wish you all the best of luck in continuing to find your own adventures after Roanoke College," Grohbrugge wrote.
Kaitlyn Renee Hefele is a biology major and Spanish minor from Ashland, Virginia. She just graduated from James Madison University with a Master of Arts in teaching and recently accepted a position teaching biology at Nelson County High School in Virginia. She's teaching summer school in Augusta County this summer and starting her full-time job in August.
Click here for all the commencement videos.
"Never forget that you are twice graduated from Roanoke College. No one has ever done that and I hope it leads to a special bond between and among you and between you and your college."
President Michael C. Maxey
Three honorary degrees were conferred virtually as part of the Class of 2020 Commencement ceremony.
Doreen H. Fishwick received the honorary degree of Doctor of Commerce. Fishwick is the retired General Manager of The Hotel Roanoke. Fishwick and her late husband, John Fishwick, were supporters of many worthy causes in the Roanoke Valley. At Roanoke College, they endowed the Blair Wiley Fishwick Endowed Scholarship in memory of John's late wife and established the John P. Fishwick Professorship in English and the Doreen H. Fishwick Endowed Scholarship. Doreen Fishwick served as a consulting trustee for Opera Roanoke and was a member of the Roanoke Symphony Orchestra Board of Directors.
Tom T. Hall received the honorary degree of Doctor of Fine Arts. Hall is a songwriter, author and musician in Nashville, Tennessee. Throughout his career, his songs were recorded by dozens of country music artists, including Johnny Cash, George Jones, Loretta Lynn, Waylon Jennings, and Alan Jackson. Hall's own recording career included country music hits "I Love," "Country Is," and "I Like Beer." His song "(Old Dogs, Children and) Watermelon Wine," was included on Rolling Stone Magazine's list of the 100 greatest country songs.
Dr. Donald E. Morel, Jr. Received the honorary degree of Doctor of Science. Morel is the retired Chairman and CEO of West Pharmaceutical Services. Dr. Morel joined West Pharmaceutical Services in 1992 and retired as Chairman and CEO. He was selected by NASA's Astronaut Office in 1989 for training as a mission specialist. He served on numerous NASA scientific advisory committees focused on microgravity materials processing and stability of composites for large, deployable space structures in low-Earth orbit.