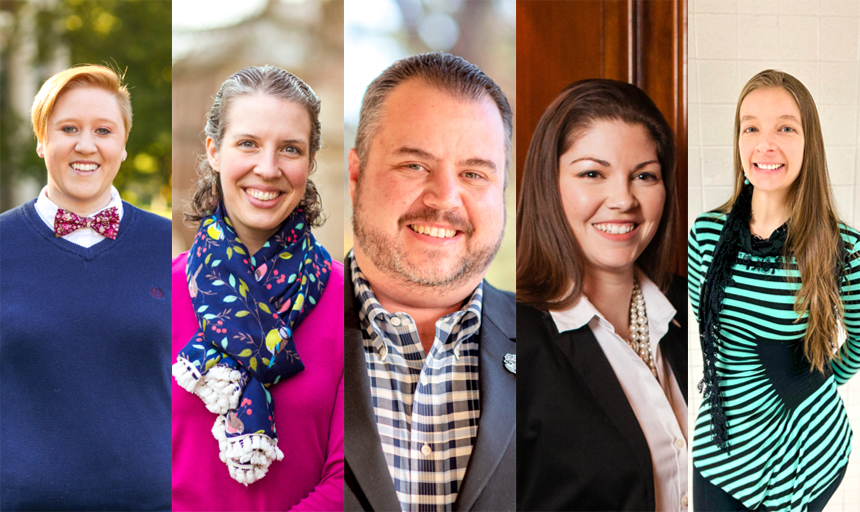 Rachael Clark, Dr. Alison Clifton, Cody Sexton '11, Lynsey Allie '08 and Melissa Carr '05
Employees, alumni make local 40 Under 40 list
The Roanoker magazine's annual 40 Under 40 list of accomplished young professionals in the Roanoke Valley this year includes two Roanoke College employees and three alumni. These individuals, who were chosen from a pool of 112 nominees, embody the College's mission to imbue young people with a sense of purpose and a desire to serve their communities.
The entire 40 Under 40 list for 2023 can be viewed here. Roanoke College is proud of the following honorees for the passion and dedication they show every day in their careers and community service.
Name: Lynsey (Crantz) Allie '08
Age: 36
Profession: Executive director, Botetourt County Historical Society
Professional highlights: Co-managed the Historical Society of Western Virginia Museum's move to the Norfolk & Western Passenger Station in 2016, merging the museum with the O. Winston Link Museum; managed Botetourt County Historical Society's move to its current location in Fincastle; launched Allie Archival Consulting in 2017 to assist local and national groups with projects.
Other involvement/accomplishments: Co-chair, fundraising and events committee, Roanoke Valley Preservation Foundation Board of Directors; board member at Kimoyo, LTD; volunteer archivist, St. John's Episcopal Church; volunteer with LGBTQ Religious Archives Network; former volunteer at the Roanoke City Library's Virginia Room.
Education: B.A., history, Roanoke College; Master of Archival Studies, Clayton State University
What nominators said: "Ever since [Allie] could remember, she has had an affinity for history, which she has shaped into a career that allows her to focus that passion toward the preservation of history for the benefit of future generations. She commonly puts other people before herself and others' causes before her own, and does this with glee, and in the most reliable of ways. People that have worked with her throughout her career will attest to how hard she works and how much effort she puts into everything she does. She can always be counted on to find a way to make things work and see a project through to the end."
What Allie said: "I think it's important to always know your history ... I have felt very strongly about how history has been recorded and how historically, marginalized groups like women, people of color, indigenous people, the poor, members of the LGBTQ+ community, have been largely left out for one reason or another; so if I can be of any help to better represent the story of those groups, I will do what I can."
Name: Melissa Carr '05
Age: 39
Profession: AP chemistry teacher, William Byrd High School
Professional highlights: Carr, a 17-year veteran of Roanoke County Public Schools, is also a consultant/study session presenter for the National Math and Science Initiative. She is passionate about recruiting more young women into science fields, which contributed to her nomination for Claes Nobel Educator of Distinction through the National Society for High School Scholars. Through her research leadership, her school was named the 2021 Science Fair School winner and six students advanced to the regional competition. She has been named Blue Ridge American Chemical Society Chemistry Teacher of the Year and received Roanoke County Schools' Golden Apple award.
Other involvement/accomplishments: Carr is a role model to her students through her volunteerism with organizations including Clean Valley Council, Obstacle Course Race Spartan Kids, the Go Outside Festival and Ironman 70.3 race. She also sings in her church choir and was previously a member of Roanoke Symphony Chorus.
Education: B.A., chemistry, Roanoke College
What nominators said: "Carr is very concerned about making the STEM field more and more accessible to women. She makes a concerted effort to recruit and mentor more young women in the field of science through her teaching with WBHS and through NMSI. Making science approachable, fun, and challenging is her goal. Carr knows that she serves as a role model for students whom benefit from seeing themselves in their teachers, especially in science ... She is smart, caring, productive, and a wonderful educator. I know this by how many students stop us out around town and are not only excited to see her, but to tell her how happy they are to see her and the impacts she made on their lives."
What Carr said: "Some of my most notable impact on our community stems from my being a role model to all students, helping my students find their voice and confidence, encouraging them to be the best versions of themselves, creating an environment of acceptance and safety, fostering interconnectedness, as well as providing a caring and listening ear when often they may feel there isn't one."
"My hope is that students feel so welcomed and included at Roanoke College over their academic journeys that they come to find this area to be 'home' to them."
~ Rachael Clark, associate director of residence life & housing
Name: Rachael Clark
Age: 30
Profession: Associate director of residence life & housing/LGBTQ+ coordinator, Roanoke College
Professional highlights: Clark is lauded for her leadership in the Residence Life & Housing office at Roanoke College, particularly during the pandemic and an office restructure, which left the office understaffed during a challenging time. She also serves as LGBTQ+ coordinator on campus, where she helps match students with roommates, connects them with mentors, and otherwise advocates on their behalf. She is sponsoring an intentional living community on campus for next fall that will house some students without regard for gender or sex.
Other involvement/accomplishments: Clark is a two-time recipient of South Eastern Association of Housing Officers (SEAHO) Outstanding Service Award for the Commonwealth of Virginia (2019-20); won "Advisor of the Year" for her work as the advisor to the student group RC Pride; and won the 2022 Garren Diversity Award from the Office of Multicultural Affairs. She is a member of Omicron Delta Kappa National Leadership Honor Society, Alpha Chi National College Honor Society and Psi Chi International Honor Society in Psychology.
Education: B.A., psychology (minor in sociology), Flagler College; M.A., student affairs administration in higher education, Ball State University
What nominators said: "I think the thing that sets Clark apart from other nominees is the fact that she does much of her work from a place of passion. Sure, she is paid for her position; however, she has a zeal for her job that is unparalleled. She wants the students that she works with to have more opportunities and fewer challenges than she has…."
What Clark said: "My hope is that students feel so welcomed and included at Roanoke College over their academic journeys that they come to find this area to be 'home' to them. I'd love to see students stay in the community to enter the workforce, serve the community and meet community needs, commit themselves to local citizenship and add to the vitality of the Roanoke Valley."


Name: Alison Clifton
Age: 39
Profession: Assistant professor of French, Roanoke College
Professional highlights: Clifton teaches a wide range of courses on campus, has been assistant instructor for two May Terms in Paris, and conducted fieldwork with students in Ireland. She leads students in research and encourages them to present their findings in professional settings. She makes connections with students on campus through engaging events, and she is passionate about community involvement, which she often turns into community-based learning opportunities for her classes.
Other involvement/accomplishments: Member of Phi Beta Kappa, Delta Phi Alpha National German Honor Society, and Omicron Delta Kappa National Leadership Honor Society; writer/presenter of multiple papers at language teaching conferences; book contributor; Curriculum Development Grant recipient; recognized for scholarly excellence by the Dean of the College; member of multiple professional organizations
Education: B.A., French and international studies, Stetson University; M.A., University of Florida; Ph.D., French and Second Language Acquisition and Teacher Education (SLATE), University of Illinois at Urbana-Champaign.
What nominators said: "Dr. Clifton challenges students to think broadly and about how they can do service for others while improving themselves. There is no greater example for a student than to see one's teacher not asking more of you than they do themselves. Dr. Clifton encourages her students to find their greatness while striving for her own and redefining what that means for her students and for herself. Dr. Clifton is an excellent educator who pushes herself to do the best she can for her students every day. She is kind, hardworking, passionate and a constant learner… She has fought every obstacle that teaching has presented her throughout her career and has triumphed."
What Clifton said: "In my role as an educator and mentor at Roanoke College, my passion for lifelong learning, the French language, and Francophone cultures has provided my students with opportunities at the national and international levels. Our Sister Cities program with Saint-Lô, France, enables my students to develop their potential as global citizens while giving back to our city. My students have presented cultural programs that enrich the lives of our residents and inspire them to learn more about our ever-changing world."
Name: Cody Sexton '11
Age: 34
Profession: Assistant town manager/treasurer, Vinton, Virginia
Professional highlights: Sexton helps provide leadership and vision to the town, directly overseeing the Public Works and Finance departments. He has coordinated the Western Virginia Water Authority's purchase of Vinton's utility system and the transition of a new finance director. He is the youngest local government senior administrator in the Roanoke Valley.
Other involvement/accomplishments: Former assistant to the county administrator in Botetourt County, Virginia; member, Virginia Local Government Management Association; chair, Roanoke Valley Transportation Planning Organization's Transportation Technical Committee; helped guide creation of two Regional Long Range Transportation Plans and worked to plan funding of transportation projects; community event volunteer; adjunct professor of public administration and state and local government at Roanoke College; Roanoke College Associate's Society member.
Education: B.A., philosophy, Roanoke College; Master's in Public Administration and graduate certificate in local government management, Virginia Tech
What nominators said: "Sexton is a calm and confident public servant. He is not flashy, and he will never be up front in any picture. However, he is the force that helps many of our communities realize their visions. He knows how to get funding, build organizations, and empower people to get the work of government done … In Sexton, I have witnessed firsthand a young person who is greatly respected not just in local government, but in our community because of the way he inspires others."
What Sexton said: "... I get to have an impact on everyone who calls the Town of Vinton and the Roanoke Valley home. Local government often does its job best when it is noticed the least. The trash gets picked up, the water flows, the potholes are filled, the 911 calls are answered and the streets are plowed … These and hundreds of other tasks go on every single day without notice but with great impact. We are the steady hand laying the foundation for our communities to thrive."
Also included on the 2023 list was Tyler Lyon, program coordinator for the Grandin Theatre Film Lab, who taught video production as an adjunct instructor at Roanoke College in 2022.
Also included on the 2023 40 Under 40 list was Tyler Lyon, program coordinator for the Grandin Theatre Film Lab, who taught video production as an adjunct instructor at Roanoke College in 2022.