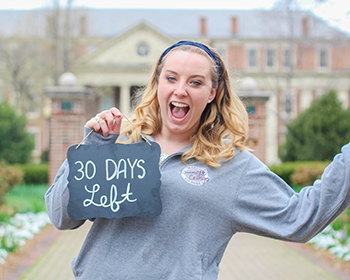 4.07.2017
By Roanoke College News
The Class of 2017 celebrates 30 days left of college
In celebration of the Class of 2017's upcoming graduation in a month, several seniors shared their favorite Roanoke College memories, their advice for future and present Maroons, and plans post-graduation. Read about each of them below and check out the photo gallery.
What classes do you think best equipped you for life after Roanoke?
Daniel Osborne, a History major, claimed that his class on the History of Advertising and Consumerism with Dr. Henold was most instrumental because it helped him to understand how society works, how it revolves around consumerism, and his role as both consumer and citizen.
Brianah Gouveia said that public policy, business law, and art history classes (as she is an Art History major) best equipped her for life post-graduation. "Each [class] gave me a better understanding of the world we live in today," said Gouveia. "It helped me to think critically of what I see and hear."
Plans post-graduation?
Ben Cowgill, a Religious Studies major, will be working as a youth missioner at the Episcopal Diocese of Southwestern Virginia in downtown Roanoke.
Gabby Gery, a Communications major, will be moving to Raleigh, North Carolina to be a marketing specialist for the University of North Carolina Physicians Network.
Daniel Osborne hopes to teach history in North Carolina at either a middle or high school level. He is also considering applying for a Fulbright scholarship, at the suggestion of his professors. Osborne hopes to continue with his love of music.
Brieanah Gouveia has a Fulbright award for graduate school at the University of Glasgow, with an interest in Art Law and Cultural Heritage Law.
Lydia Dey is going to join a publicity firm.
Zachary Wright will become a pastor.
Nick Dillon will be attending medical school after graduation.
Favorite Roanoke College memory?
Breianah Gouveia's favorite memory at Roanoke was during the spring of her sophomore year. "I had made a new group of friends after joining the Beekeeping Society, unfortunately many of which were seniors and were going to be graduating that May," said Gouveia. "I felt like I had finally bonded with a solid group of people, who were passionate and intelligent but still knew how to have fun."
Gabby Gery's favorite memory was her May Term where she traveled to London and Paris with two fellow Chi Omegas. The experience helped Gery to create close friendships with those sorority sisters on the trip that she had not had prior.
Katie Jensen says that her favorite Roanoke College experience was joining her sorority, Chi Omega.
Caity Ashley's favorite memory was winning the ODAC Conference meet for track and field twice.
Mitch Rothermel, Alexis Papa, and Madeline Sefcik's favorite Roanoke memories were those they made their freshman year while living in Bartlett Hall.
How has Roanoke's liberal arts education affected your education?
Ben Cowgill said, "It's a tool kit that allows you to do pretty much anything. It allows you to see overlaps and get a bigger picture that learning in one field cannot equip you for."
Gabby Gery said that the INQ classes put students in different departments and disciplines they may not have been enrolled in otherwise, allowing them to learn a great spectrum of things that only a liberal arts education could provide.
Advice for underclassmen?
Breianah Gouveia suggests that students take advantage of the various study abroad opportunities while at Roanoke. Gouveia did a semester in Washington D.C., a May term in Germany, and spent a month during the summer before her Junior year in England. "My freshmen year of college, I had no idea how many opportunities Roanoke had for travel abroad, and I'm so happy that I learned about them and participated in each of them," said Gouveia.
Daniel Osborne encourages underclassmen to take advantage of speaking with qualified and engaged professors. Additionally, Osborne suggests living in the international hall or getting involved with the international students because "you will meet mature and interesting people."
Advice for rising seniors?
Ben Cowgill says to go to class, do your work, and don't stress about what is coming next in life, because something will happen.
Gabby Gery advises rising seniors to say yes to everything. "You're at senior year, so don't worry if you don't get an A on everything. Enjoy your last year and do as much as you can with your friends."
30 Days Left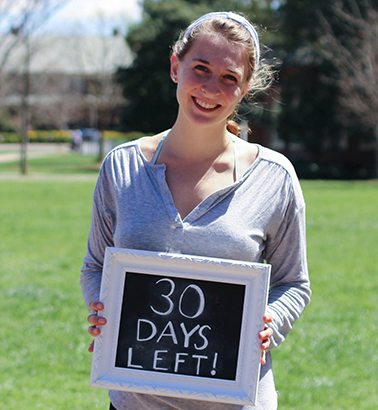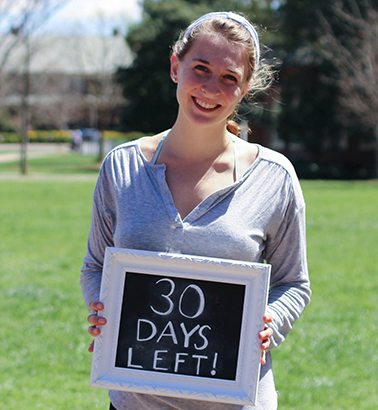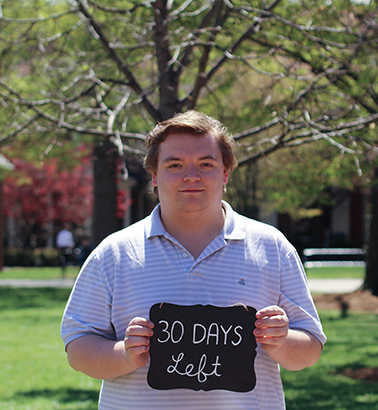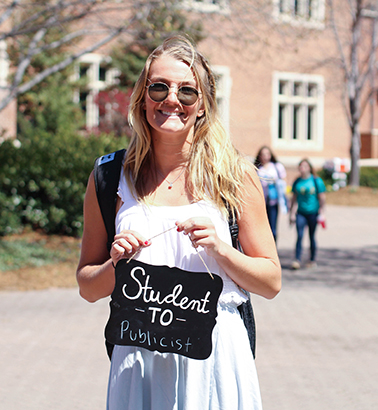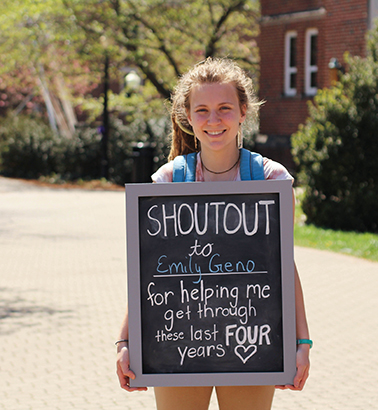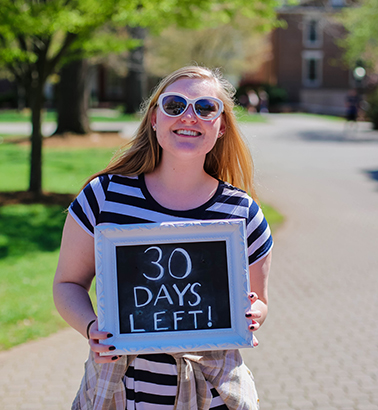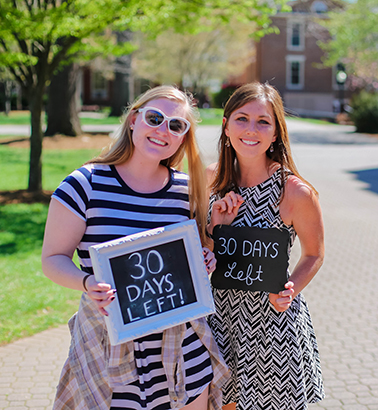 Caity Ashley and Clare Nelson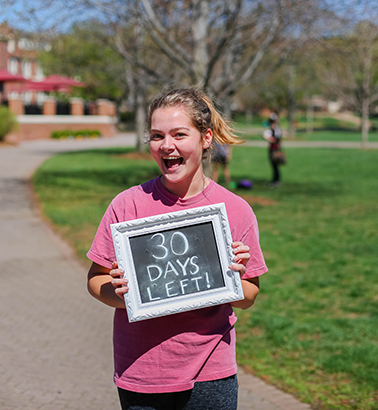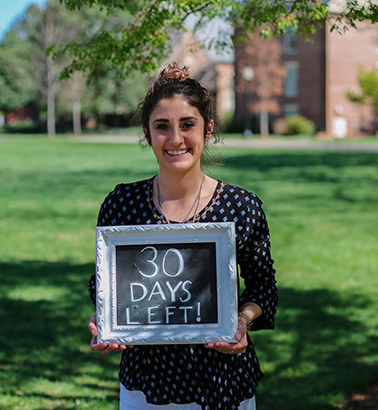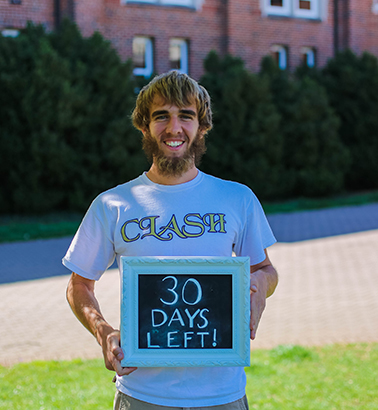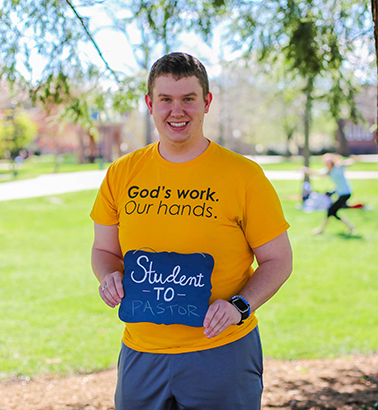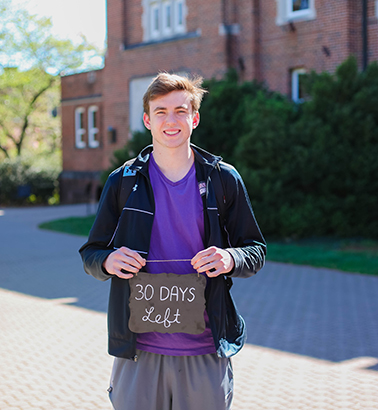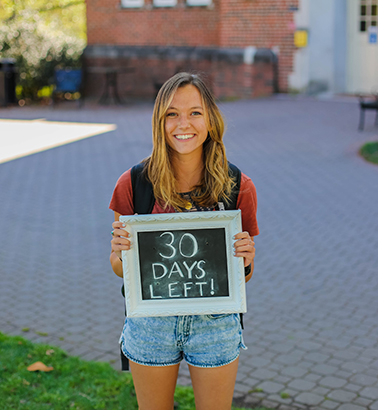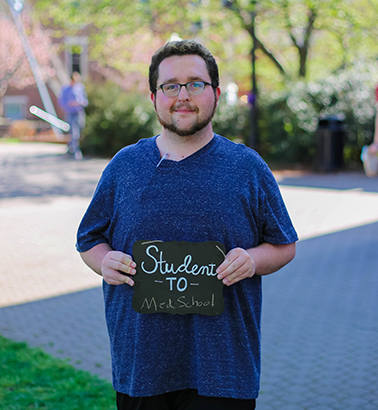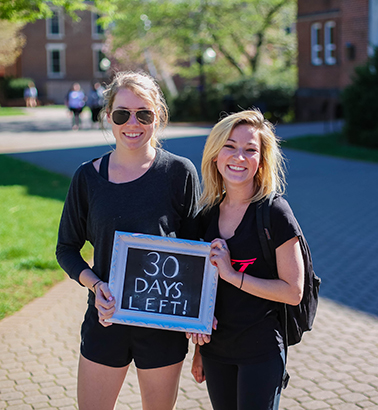 Clai Morrison and Paige Bartram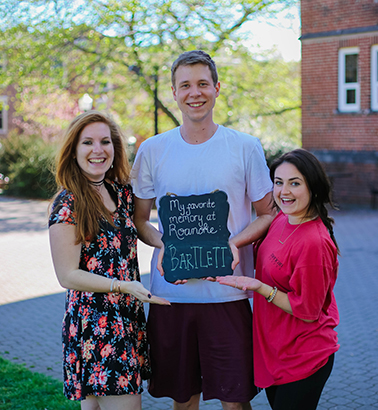 Alexis Papa, Mitch Rothermel and Madeline Sefcik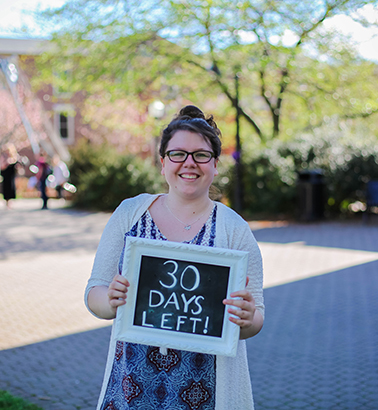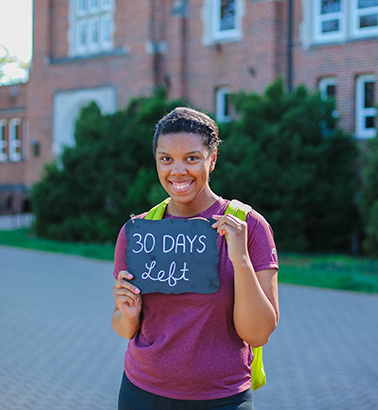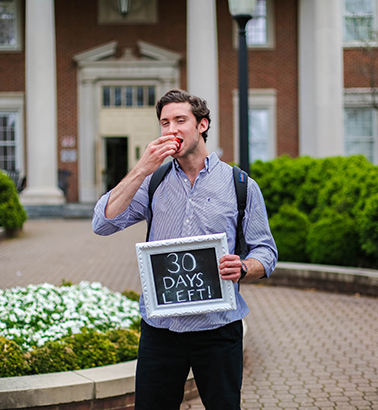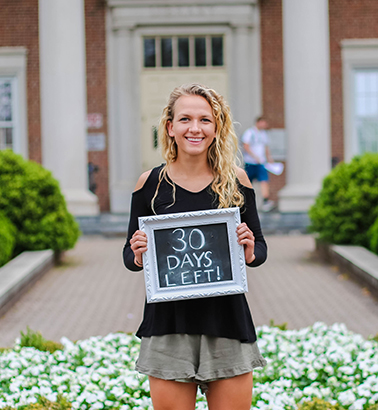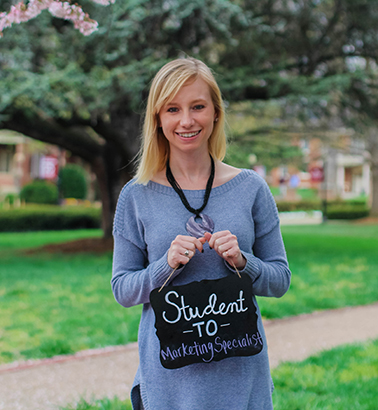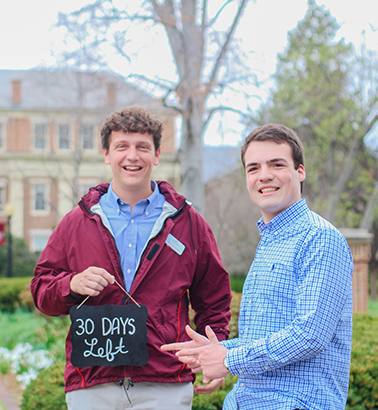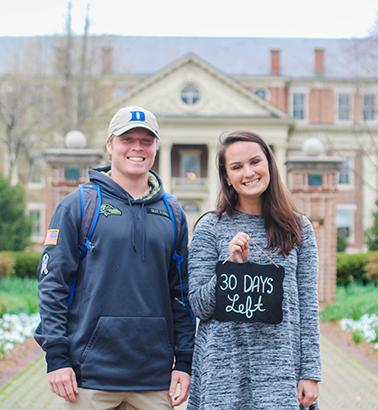 Kevin Jackson and Caitlyn Schmelz