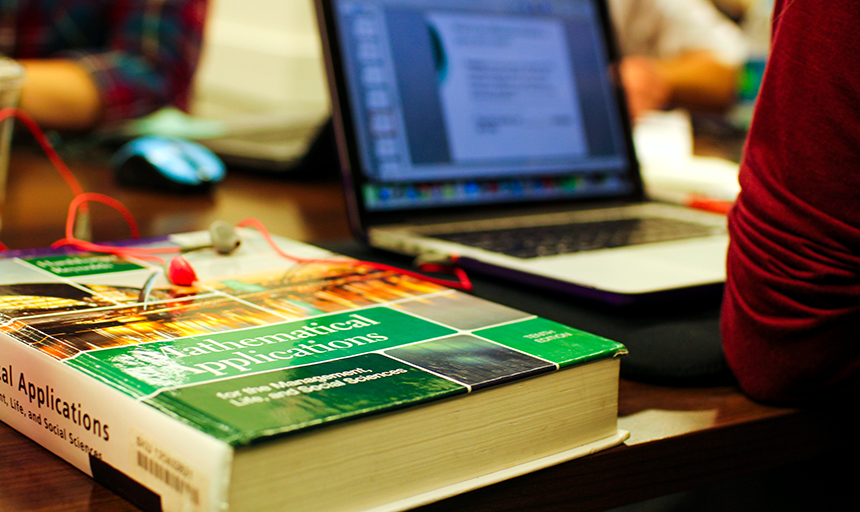 New academic policies for 2020
The following was distributed to students, parents, faculty and staff today (March 26).
Dear Students -
This has been a difficult time for all of us, but most especially our students. None of us envisioned an extended period of remote instruction at the start of this year and we certainly miss having everyone on campus!
In addition to keeping you safe and healthy, it is important that we keep you on the right track academically and help you all achieve your educational goals. We are working to be as flexible as possible, while we continue to maintain the excellent standards you deserve and expect from Roanoke College. After considering the many concerns we heard about the new remote learning environment, new policies have been approved. The new policies are outlined below and offer a new way forward for the remainder of this academic semester. We know, by working together, we can make the best of our situation. Thank you.
New Academic Policies for Spring 2020 Approved by Faculty
The Roanoke faculty have approved the following changes to academic policies in response to the challenges of attempting academic work under current conditions.
Please read the changes carefully and consult with your regular academic advisor before deciding whether you want to take advantage of any of these temporary policies. Some FAQs at the end of this document may help you start thinking through your choices.
No student will be suspended for grade point average reasons at the end of Spring 2020. Students who would normally be suspended will be placed on warning instead. Other students may be placed on warning if their cumulative grade point averages fall below the required minimum.


The deadline to drop a course or drop all courses and withdraw from the College is extended to 4:00 pm (ET) on Monday, April 20, 2020. Transcripts will show a notation of "W" (withdrawn) for such courses. Students who wish to withdraw from any course can do so by emailing registrar@roanoke.edu from their official Roanoke College email. The "W" notation has no effect on your gpa. Please read the FAQs and consult your advisor before dropping courses.


Students may choose Pass/Fail grading for any Spring 2020 course. You may choose Pass/Fail for any number of courses. Please read the FAQs and consult your advisor before choosing this option. IT is testing a new app that will allow students to designate any courses they wish to be graded Pass/Fail. When it is ready (in early April), we will send you a link. Until you get that email, think things through and talk with your advisor. You will have plenty of time to make your designation in April.


Courses completed Pass/Fail in Spring 2020 may count towards completion of any major, minor, concentration, general education, or honors requirement. Normally most Pass/Fail courses cannot be used towards these requirements.


Students completing Honors in Major or Honors Program Distinction Projects may be graded on a Pass/Fail basis if they request it. If the student elects to remain on an A-F grade scale, the minimum grades of A- for Honors in Major and B for Distinction Projects must still be met. For students electing Pass/Fail, if the project committee does not feel that the student's work on an Honors in Major project merits that notation, the committee may notify the student and the Registrar. The student's project will be re-registered under the equivalent Independent Study number for a Pass/Fail grade. Students should talk with their project supervisor about expectations and whether Pass/Fail makes sense.


Any courses taken Pass/Fail in Spring 2020 will be added to the total Pass/Fail you are allowed. Graduation requires a minimum of 33 academic units (as well as the HHP requirement). Normally at least 30 of these must be graded A-F. The others may be Pass/Fail. If you use Pass/Fail this term, you may graduate with fewer than 30 units graded A-F. Confused? Just let your advisor and the Registrar watch this one for you. Note that the number of units needed to graduate is NOT changing. This only affects how many may be Pass/Fail.


The College will not generate the Dean's List or President's List for Spring 2020.


A special option has been established to help seniors complete the IL requirement. Any student who has at least 20 units completed on April 1, 2020 and who graduates from the College no later than May 2021 may satisfy the IL requirement with any full unit of Internship or Independent study already completed or completed by May 2021. Students who qualify for this option will receive an email no later than April 3. Note that students who qualify for the option may still take an IL course if they prefer. This exception does NOT reduce the total number of units needed to graduate from the College.


All students currently registered for May Term 2020 will receive an email no later than April 3 noting whether or not their course will be offered online and providing information on other options.



Remember that summer school courses can be taken online if you wish to pursue this option. You register for summer school classes just as you register for fall classes.
FAQs
Can Pass/Fail grading hurt my gpa?
Only if you fail a course. A fail is the same as any other F. Consult your instructor to be sure you know what your grade is. If you are likely to fail, consider dropping the course.
Can a grade of Pass improve my gpa?
Generally no. If you get a grade of P, you earn a unit of credit, but your gpa doesn't change. If you are re-taking a course and earn a P this term, the last attempt drops out. In this special case, your gpa could go up slightly.
I need to improve my gpa to avoid suspension or keep my federal financial aid, is Pass/Fail a good choice?
Maybe, maybe not. Even though no one will be suspended this term, Pass/Fail doesn't improve your gpa. Talk with your instructor and academic advisor. A grade that improves your gpa is better than a Pass. By the same token, a Pass is better than a grade that lowers your gpa.
Could my financial aid be affected?
While the College does not intend to academically suspend students for the Spring of 2020, federal financial aid regulations will still require students to attain the required GPA standards for continuance of financial aid (1.7 GPA for Freshmen, 2.0 GPA for all others). Should your record require appeal, the Financial Aid Office will notify you in writing in May. Students who do not attain the required GPA will be encouraged to appeal directly to the Financial Aid Office in writing.
I'm feeling overwhelmed, should I just drop all my classes?
Lots of us are feeling overwhelmed. Please consider reaching out directly to your professors about the challenges you are experiencing. Reach out to others if you are experiencing anxiety. See the Health & Counseling section at https://www.roanoke.edu//covidfaqs. Reach out to the CLT for tutoring, Writing Center, or other academic support. Before you decide to drop courses, please talk with your academic advisor. Maybe dropping one class would give you the breathing room to finish your other courses, but you need your advisor's help to sort through the pros and cons of which course to drop. Dropping a course or two is better than failing them, but be sure you ask your instructor about your likely grade. Don't assume.
I hope to go to graduate or medical school, can I take a Pass/Fail?
Your academic advisor can help you think through which courses your graduate program may want to see graded A-F.
If I drop a course, will this stop me from graduating on time?
Your advisor can help you figure this out. Dropping the wrong course could delay graduation, especially if you are a junior or senior. If you have several semesters left before graduation and drop something that you can pick up next semester, you probably won't be delayed. You will just pick up an extra course in a future semester.
I was taking a travel IL course that got canceled, will I be able to take that course next year?
Maybe. You will get an email in a couple of weeks after we work through all of those details.
I really need to do my May Term this year, what are my options?
Hold on until April 3. Once we get seniors settled for May Term, remaining seats will open for others. Watch for an email with options.