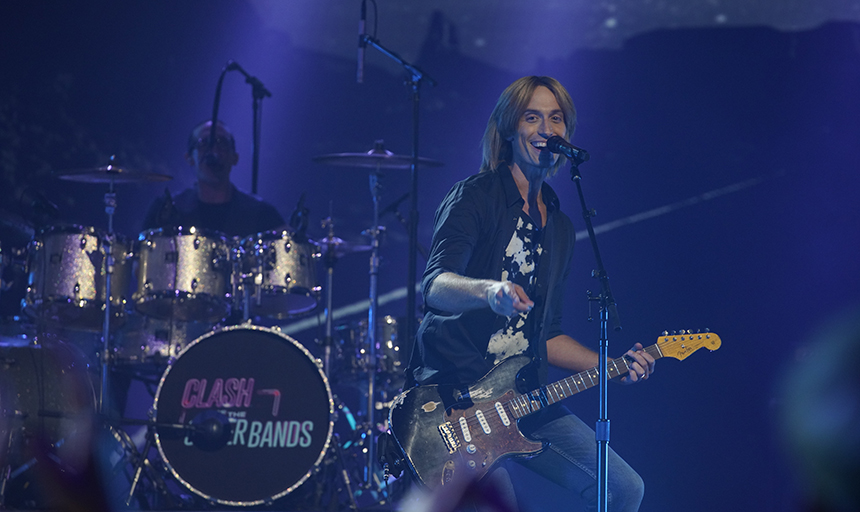 Adam Rutledge '04 performs as Keith Urban on E! show "Clash of the Cover Bands." (Casey Durkin/E! Entertainment)
Trio of alumni perform on national television
When Adam Rutledge '04 first got an email from NBC TV Network, he assumed it was spam and deleted it immediately. Then he got another email from the network.
It was a casting director hoping that Rutledge would appear on a new show on NBCUniversal's E! channel called "Clash of the Cover Bands" where performers dress up like famous musicians and play one of their songs. Rutledge, who has been writing and recording music for years, has also recently been playing in tribute bands. He plays in a Kiss tribute band but for the past few years has been the frontman for Days Go By, a Keith Urban tribute band.
NBC was hoping Rutledge would again transform into Urban for the show, and once he got over the initial surprise, Rutledge said yes. He and his bandmates — fellow Roanoke alumni and brothers Chris Neikirk '10 and Andy Neikirk '12 — flew out to Los Angeles in July to record the show. Though they were constantly meeting with producers and preparing for the show, Rutledge said the experience with NBC was "first-class."
"It was everything that I thought doing a TV show in Hollywood would be," Rutledge said. "It was just absolutely perfect. Everybody that we worked with was awesome, super friendly. And it was just the most amazing experience. I'm just so grateful to have been part of it."
They faced off against a Tim McGraw tribute band in an episode entitled "The Kings of Country." Rutledge described it as a "whirlwind," and that it was challenging to play a show meant for a television audience and a panel of judges instead of just a live audience. Rutledge and the Neikirk brothers had to stand in certain positions and be aware of the cameras. In the final "battle round," the two bands shared the stage, exchanging 30-second performances of songs by Urban and McGraw.
A clip of the band playing Urban's hit, "Somebody Like You," quickly made the rounds on social media, racking up more than 70,000 views.
"It's kind of one of those 'pinch me' moments."
Adam Rutledge '04
While tens of thousands saw their performance, Rutledge and the Neikirks were most interested in one viewer — Adam Lambert. Lambert, who rose to fame on "American Idol," has sold over 3 million albums and served as the frontman for British rock band Queen. He's currently one of the judges on "Clash of the Cover Bands."
"It's kind of one of those 'pinch me' moments," Rutledge said. "One of our main objectives going on this show was, could we get Adam Lambert to say something good about us on national television so we could have proof of it for the rest of our lives?"
That's just what happened, as Lambert said both performers "totally brought it" and specifically to Rutledge, he said, "I can tell you mean it and feel it."
"And I remember when he said that, I looked over at Chris and Andy and we were like, 'Yeah, we're good. No matter what happens, we're good. We got that piece of footage of Adam Lambert complimenting us,'" Rutledge said.
The judges ruled that the McGraw tribute band was the winner, but Rutledge said it was an extremely positive experience all around. Rutledge, who currently lives in Fincastle, Virginia, said he's enjoying making music and raising his children at the moment. He's happy to stay flexible and see what happens next.
"If I learned anything from this 'Clash of the Cover Bands' deal, it's that I have no idea [what's next]," Rutledge said. "I love music. I love playing music, love writing music, love performing. So I'm never going to stop doing that."