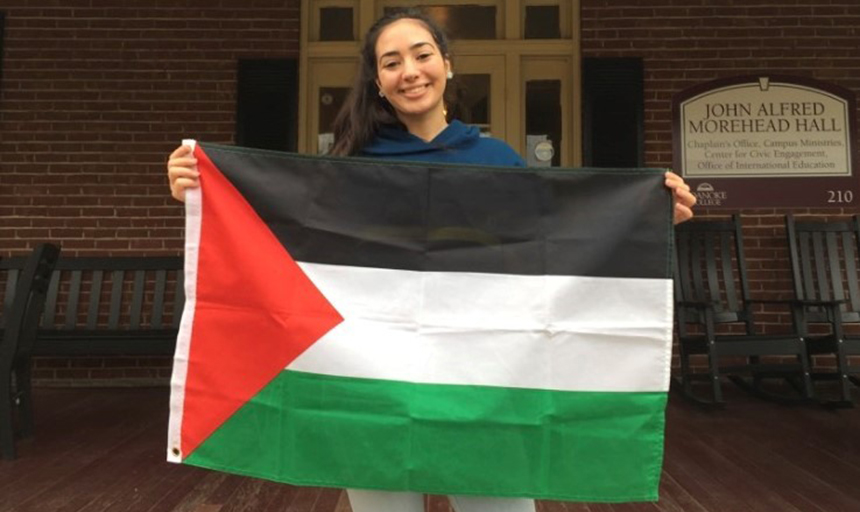 Alumna hopes to bring expertise back to home country
Agnes Handal '20 has taken a long, international journey to where she is today, and she hopes that path ends up where it began.
Handal, who is the first Roanoke student to graduate with honors in Actuarial Science, is originally from Palestine. She came to the United States in high school as part of AMIDEAST — a nonprofit that connects students in the Middle East and North Africa with international educational opportunities — and she enjoyed her year in Amboy, Indiana.
She wanted to come back to the United States for college, and found that with the help of the Hope Fund — an organization that connects Palestinian students with American colleges and universities — and Roanoke College's Financial Aid Office, coming to Roanoke ended up being fairly affordable for an international student.
"I got accepted and I was so excited," Handal said.
As a freshman, she changed her major from International Studies to Actuarial Science, because her talents for math and science matched up with that better with that field of study. It proved to be a challenging path, but Handal was able to get plenty of assistance.
She developed a tight bond with her advisor, mathematics Professor Roland Minton, who also directed Handal to tutoring services. She said tutoring helped her a great deal and pushed her to get better. Handal then connected with Roanoke alumni for internships, including one at the Atlanta office of Morneau Shepell, a human resources and technology firm.
She also did an Honors project, working with economics Professor Alice Kassens to write an in-depth study on whether factors such as marital status, education, age and other factors affect a person's chances of having health insurance. She completed that project, and became the first Actuarial Science major at Roanoke to graduate with honors.
"Professors at Roanoke College help you. They want you to do well."
Agnes Handal '20
Handal also secured a job before graduation, working full-time at Morneau Shepell as a calculation configuration analyst, working in the areas of pension and quality assurance. She said classes at Roanoke prepared her for what she's now doing every day.
She chalked up her success to working hard and to the efforts of Roanoke faculty members.
"Professors at Roanoke College help you," Handal said. "They want you to do well. Dr. Minton made sure I got a job before I graduated, because professors, especially Dr. Minton, make sure you have a job before graduation, which gives you some motivation to actually do better."
She's also motivated by the difference she can make in her home country. Palestine doesn't have much in the way of health insurance, Handal said, and she wants to be part of changing that.
"Hopefully in the long run, after I've gained some experience here, I can help back home and be able to provide them with some kind of insurance that will work for our country," Handal said.