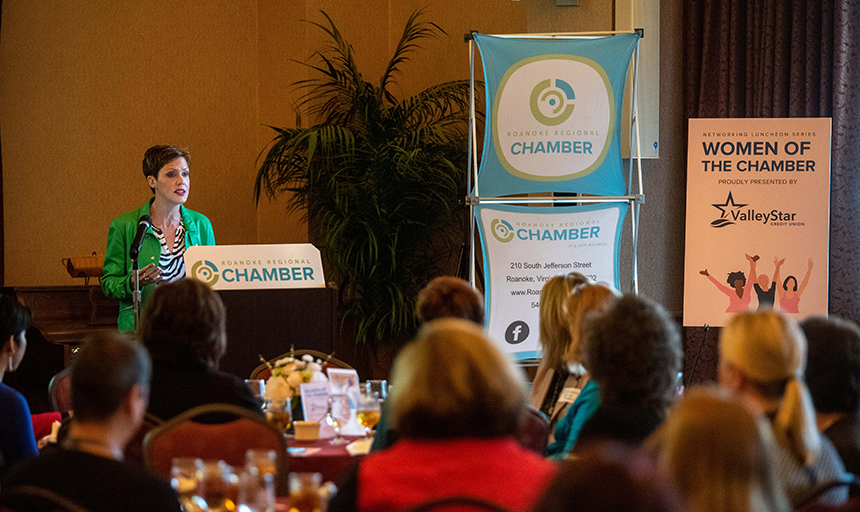 Kassens addresses "Great Resignation" at Chamber of Commerce luncheon on campus
As part of the Roanoke Regional Chamber of Commerce's Women of the Chamber luncheon series, Dr. Alice Kassens addressed a sold-out crowd of women economic leaders on campus Thursday.
Kassens, the John S. Shannon Professor of Economics at Roanoke College, focused her talk on the "Great Resignation," which is the massive wave of employees voluntarily resigning from their jobs starting in about February 2021. The luncheon was held in the Wortmann Ballroom at the Colket Center.
Kassens, who is also the director of the Center for Economic Freedom at Roanoke College, sought to answer two questions: How did we get here and how long is it going to last? She said a confluence of events revolving around the COVID-19 pandemic were obviously a huge factor, and leverage has shifted from employers to employees over the past two years as demand for jobs has increased.
As for how long it will last, Kassens estimated it could take two to three years for the economy to return to normal. That's great news for those seeking employment, she said, but not so good for employers.
"I tell my students, I know I have two of them in here at least, this is a great time to find a high-paying job," Kassens said. "But from the employer's perspective, this is very frustrating."
Audience members were extremely engaged, taking photos on their phones of Kassens' charts and graphs. The event concluded with a lively question-and-answer segment.
The luncheon was sponsored by ValleyStar Credit Union and the Roanoke-Blacksburg Regional Airport.