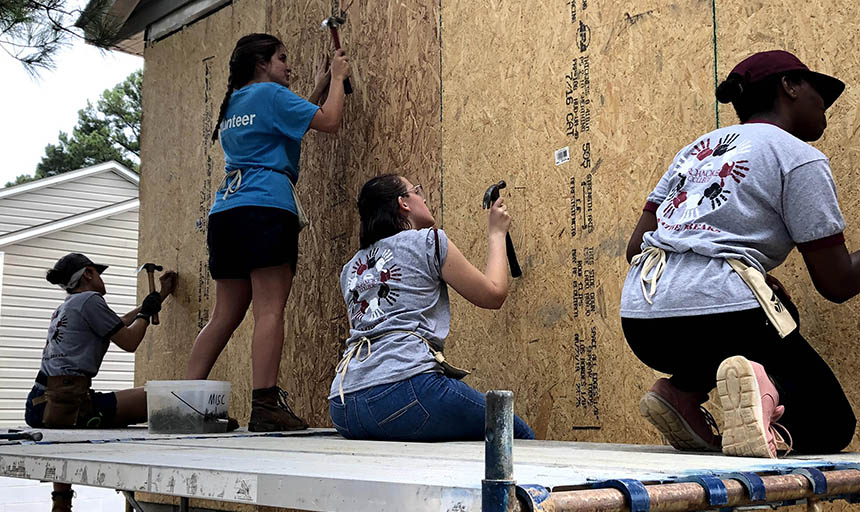 10.30.2019
By Roanoke College News
Annual break trip to Columbia, SC supports Habitat
The Chaplain's office has a long tradition of spending college breaks with the Habitat for Humanity chapter in Columbia, S.C. The volunteers at the Columbia Habitat chapter are an integral part of the College's annual R House effort so this gives the College an opportunity to go to their neighborhood to repay the favor.
Chaplain Chris Bowen, the Timothy Pickle Dean of the Chapel, led the trip to Columbia with a crew of several students.
Olivia Kitt '20:
"I have participated in the Habitat trip to SC for the last three years, it remains to be one of my favorite trips at Roanoke," Kitt said. "I love the opportunity I have to travel with new and old friends, learn new skills from the Habitat crew, and explore the city of Columbia. There is nothing like the end of week where we look at the house we have been working on and see how much we have accomplished in such a sort timespan. This is a trip that continues to fill my passion to serve and allows me to work with others who have also dedicated their lives to service."
Jenna Novosel '20:
"While many students might not think of Habitat for Humanity break trips as "breaks" at all, I can assure you that the very opposite is true," Novosel said. "Often, during the school year, it feels like you are treading water with wave-after-wave of assignments and commitments coming at you. Though I love my major, I get bogged-down with the workload. The HfH break trips give me the opportunity to feel like I am moving forward in a meaningful way. I spend 5 days on a worksite putting up houses for people who need them, with progress that I can see and be proud of. I learn new skills on the worksite and get to expend all the pent-up tension that accumulates from my Roanoke schedule. The Fall Break group also does fun activities off-site like bowling and going to the movies. There is even time to do Fall Break homework. But most importantly, I value these trips because they give me the opportunity to serve and give back to others with time I wouldn't have during the school week. I cannot recommend these break trips enough; they are an aspect of Roanoke that I will miss the most when I graduate."
Kayla Coursey '20:
"The Habitat for Humanity alternative fall break trip is a great opportunity to go places, meet people, and challenge myself in ways I normally wouldn't be able to," Coursey said. "It's amazing to be able to physically see how you are making a positive influence and very plainly helping someone become a homeowner. As a sociology major, I also have enjoyed getting to learn more of the behind-the-scenes aspects of Habitat. It makes me feel useful and like my actions can help to create a final product."
Congratulations to the Habitat students and Chaplain Bowen for completing a meaningful week of work in Columbia, S.C.