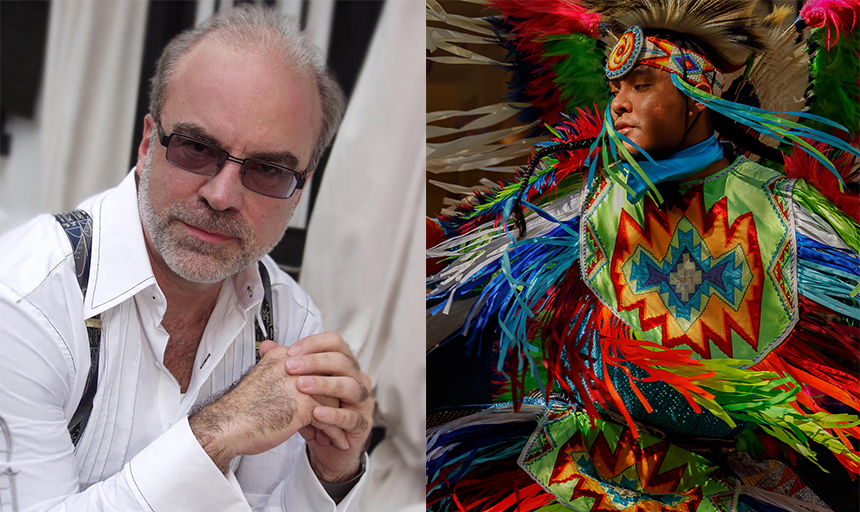 Craig Lefebvre '74 is pictured alongside his award-winning photo "Indigenous Swirling Colors."
Alumni News - April 2022
Craig Lefebvre '74 has been awarded first place in the American Experience Category of the 19th Annual Smithsonian Magazine Photo Contest. His image, "Indigenous Swirling Colors," features a member of the Indigenous Enterprise intertribal dance troupe dancing through the sun and shadows in Tlaquepaque, a village in Sedona, Arizona.
The contest received more than 47,000 photographs taken in more than 180 countries. Winners were announced on April 4.
To capture Indigenous Swirling Colors, "part of the trick was figuring out where [the Indigenous Enterprise troupe] would be moving around," Lefebvre told Smithsonian Magazine. "I was trying to work with the light and shadows that were dancing around that courtyard the entire time," he said.
"Indigenous Swirling Colors" was first exhibited in the Annual Juried Members Exhibition at the Sedona Arts Center, where it sold, and later at the LA Artcore Annual Photographic Competition and Exhibition, in Los Angeles, where it received an Honorable Mention Award.
Lefebvre holds a B.A. in psychology from Roanoke, and a Ph.D. in clinical psychology from North Texas State University. Lefebvre, who said he spends much of his leisure time "leaning into photography," is a thought leader, leading practitioner and researcher in the application of marketing principles to public health, environmental and other social issues. He is a founding member for the International Social Marketing Association and serves on editorial boards for two leading social marketing academic journals. He has received awards for his work on improving international public health through social media.
"I was trying to work with the light and shadows that were dancing around that courtyard the entire time."
Craig Lefebvre '74, photographer
Richard Owen '92
More Alumni News
Richard Owen '92 has been promoted to Executive Vice President – Mortgage Banking & Corporate Sales Director of Carter Bank & Trust, headquartered in Martinsville, Virginia.
Owen, who has more than 25 years of experience in the financial services industry, joined the bank in 2017. He was instrumental in starting the Bank's Mortgage Division, previously serving as senior vice president.
In addition to growing the mortgage portfolio to over $400 million, Owen has expanded the Carter Bank's mortgage services throughout Virginia and North Carolina, and has introduced tools such as Mortgage2Go, an interactive digital tool that helps customers stay engaged throughout the mortgage process.
Owen, who holds a B.B.A from Roanoke, has also helped launch new programs ranging from traditional mortgages to new construction solutions.
Elizabeth (Ciskowski) Hall '14, right, and B. Reid Hall '13
Elizabeth (Ciskowski) Hall '14 is the program coordinator and educational support at the NASA Wallops Flight Facility Visitor Center in Wallops Island, Virginia.
Husband B. Reid Hall '13, is the director of IT and physics instructor at Broadwater Academy in Exmore, Virginia.
Elizabeth Hall received B.S. in physics from Roanoke; Reid Hall earned a B.A. in physics. The couple live in Wachapreague, Virginia, with baby Isaac.
Out to dinner
Maroons cross country/track and field alumni gathered April 15 for dinner in Salem with former Head Coach Finn Pincus. From left to right, Dr. Melissa Bauerle '16, Claire Brooks '17, Margot (Warner) Fintel '17, Ellen Bauer '18, Hannah (Cline) Curtis '15, Jed Curtis '13, Haylee McGuire '19, Caity Ashley '17, and Coach Pincus, who served for 25 years as head coach for men's and women's cross country, and track and field at Roanoke.
Have news to share? Send it to us at rcmagazine@roanoke.