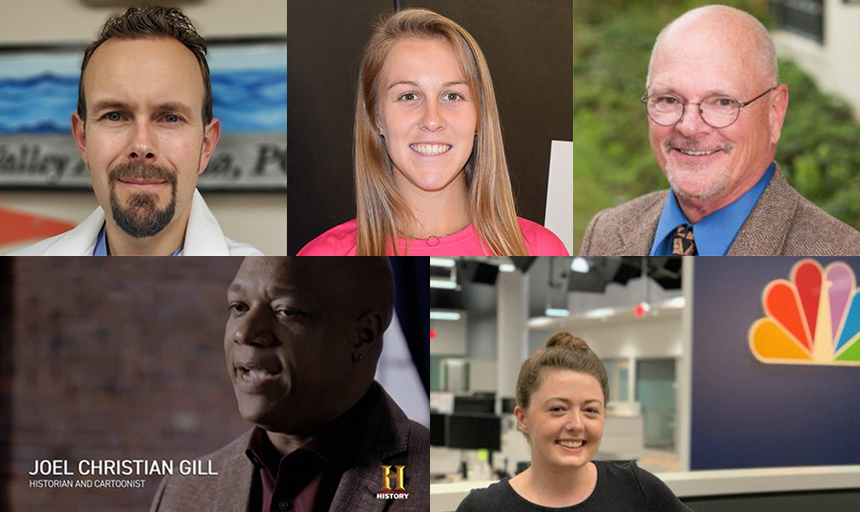 Top row, left to right: Dr. Trevor Wilkes; Kelsey Goodman and Thomas Mays. Bottom row: Joel Christian Gill and Shannon Allen. Have news to share? Send it to us at rcmagazine@roanoke. (Photo credits: LewisGale Regional Health System; Mitchell College Athletics; Humboldt State University; Joel Christian Gill)
Alumni News - August 2021
Dr. Trevor Wilkes '00 has been named this year's best anesthesiologist in the Roanoke (Virginia) Valley in The Roanoker magazine's recently released "Top Docs" poll. For its 2021 polling, the magazine contacted nearly 10,000 nurses and other health professionals in the Roanoke Valley to select the best doctors in 52 medical specialties. The results, published in the magazine's July/August 2021 issue, ranked Wilkes #1 in the "Top Anesthesiologist" list. Wilkes moves up in the biennial poll, having been ranked #3 in The Roanoker magazine's 2019 "Top Anesthesiologist" list. Wilkes, who is on the staff at LewisGale Medical Center in Salem, Virginia, holds a B.S. in biology from Roanoke and an M.D. from the University of Virginia School of Medicine.
Kelsey Goodman '19 is the new head coach of the women's volleyball program at Mitchell College in New London, Connecticut. Goodman most recently served as an assistant coach at Randolph College in Lynchburg, Virginia. Prior to joining the staff at Randolph, she worked summer camps at Midlothian High School, Richmond Volleyball Club, and STAR Volleyball Camps. Since 2018, Goodman has also given private lessons to high school volleyball players. A native of Chesterfield, Virginia, she was a four-year letter winner in women's volleyball at Roanoke and a member of the College's SAAC (Student-Athlete Advisory Committee) all four years. Goodman holds a B.S in health and physical education from Roanoke and an M.S. in sports management from Liberty University.
Joel Christian Gill '01, associate professor at Massachusetts College of Art and Design and award-winning author and cartoonist, was featured in History Channel's "The Machines That Built America," Episode 4, which aired on Aug. 1. "If you are so inclined to watch The Machines That Built America Season 1 episode 4 on the @history you may see a certain historian, cartoonist," Gill posted on Facebook. View Episode 4, "Motorcycle Kings," here.
Shannon Allen '16 won an Emmy Award for "Outstanding Evening Newscast in a Medium Market" from the National Capital Chesapeake Bay Chapter of the National Academy of Television Arts Sciences in June. Allen, producer of Roanoke, Virginia-based WSLS Channel 10's 11 p.m. newscast, shared that she received the award for her work covering protests in 2020 in Lynchburg, Virginia. Allen graduated from Roanoke with B.S. in environmental studies and communication studies.
Dr. Thomas Mays '90 was honored by the Times-Standard newspaper in Eureka, California, as "Humboldt Hero" for the month of June. Mays, a professor of history and former department chair at Humboldt State University in Arcata, California, served in the U.S. Navy for 26 years on active duty and reserves, beginning in 1979. Mays later earned a B.A. from Roanoke, an M.A. from Virginia Tech and a Ph.D. from Texas Christian University. Currently, he teaches early American history at Humboldt State. He has written four books and several articles, and has done work for the History Channel television series "Washington's Generals," for the movie "Gettysburg" and for the television miniseries "North & South Book II." "Humboldt Heroes" is an ongoing Times-Standard program honoring local veterans.
LCWS reunion: A group of Lutheran College Washington Semester alumni gathered in Washington, D.C. on July 29 to celebrate the retirement of Doug Clark '72. Clark, who began his tenure as dean and executive director of Lutheran College Washington Semester in 2016, retired at the end of July. Pictured below are, starting from far left, back row: Gaston Ocampo '20; Joshua Roberts '19; Clark; Olivia Kitt '20; Katie Wojciechowski '20; Alli Hunter '19; and Adrian Gillem '15. From row, from left: Simone Assaley '17; Addy Whittington '18; Marie Brown '18; Emma Webb '15.