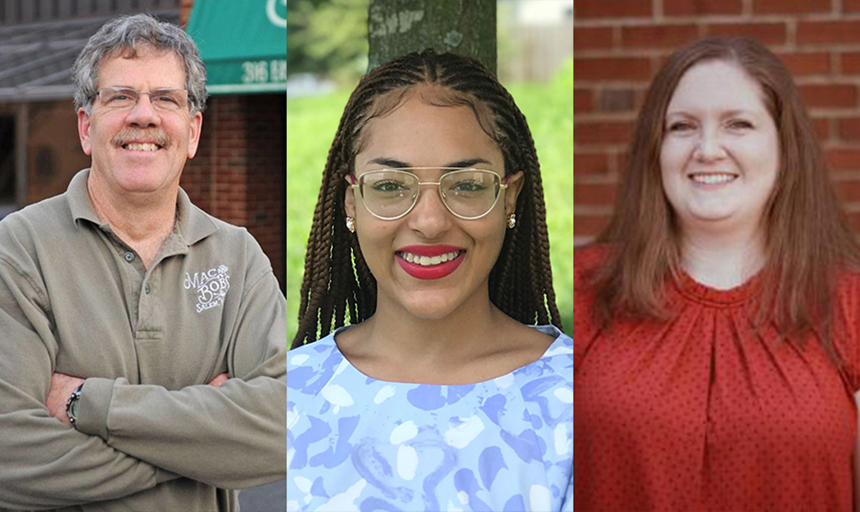 From left to right, Bob Rotanz, Michelle De La Cruz and Chastity Chartier.
Alumni News August 2020
Michelle De La Cruz '20 wanted to do something "unique and generous" for deserving students at George Washington High School in Danville, Virginia, where she works as a college adviser.
So she created a scholarship.
This summer, De La Cruz launched a GoFundMe fundraiser called "Addressing the Gap in College Access 4 HS Students." She plans to use money raised to award scholarships to three deserving students at George Washington High who have obtained their high school diplomas and initiated a successful post-secondary plan.
De La Cruz's position at the high school is part of a joint public service venture of the University of Virginia and Americorps that seeks to address the widening gap in college access for low-income, first-generation and under-represented students.
"Our mission is to increase the number of these students entering and completing higher education," De La Cruz says. "I am excited to start helping the youth of my community and state."
De La Cruz, who majored in criminal justice with a concentration in legal studies at Roanoke, spent the fall 2019 semester studying criminal law, advanced French, and law and technology at Vesalius College in Brussels, Belgium as a Benjamin A. Gilman Scholar.
"The campus was small, similar to Roanoke College, so it was fairly easy to create bonds with staff and faculty," she says. "The best part of the school had to have been the cafeteria sandwiches. Those were some of the best sandwiches of my life!"
To donate to the "Addressing the Gap in College Access 4 HS Students," click here.
Chastity (Vangosen) Chartier '07, Ph.D., has joined the Austin Hatcher Foundation for Pediatric Cancer as its new licensed clinical psychologist. Chartier, who has practiced for more than 10 years, comes to the Chattanooga, Tennessee-based foundation after practicing as a licensed clinical psychologist at Saratoga Center for the Family in Saratoga Springs, New York. Chartier holds a B.A. in psychology from Roanoke, and an M.S. and Ph.D. in clinical psychology from Antioch University.
Bob Rotanz '78 has been appointed to the Board of Directors of Visit Virginia's Blue Ridge Board of Directors, the region's official destination marketing organization. Rotanz is co-owner of Mac and Bob's Restaurant in Salem, Virginia.
Have news to share? Send it to rcmagazine@roanoke.edu.