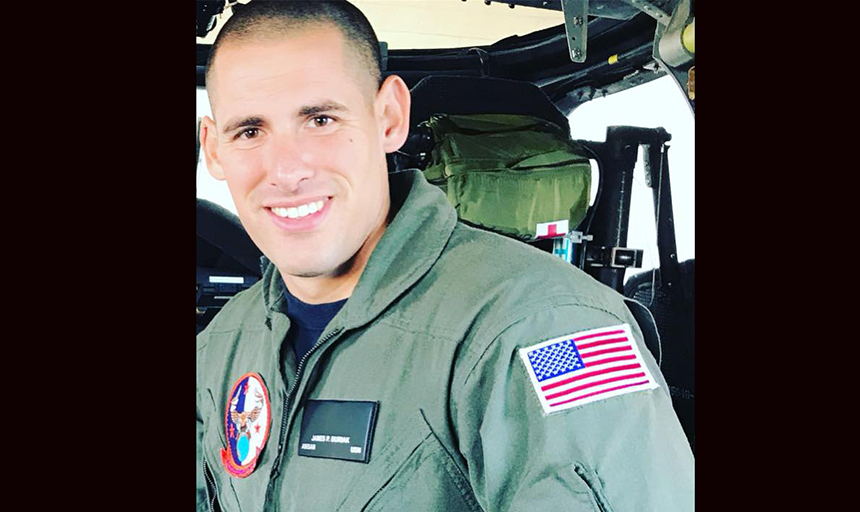 Alumni News - February 2020
Naval Aircrewman 2nd Class James P. Buriak '12, a rescue swimmer for the U.S. Navy, said he's trained for all types of recoveries, over land and in the sea. Earlier this month, he put that training to test while in Guam. Buriak, who majored in Sports Management at Roanoke, was walking along the popular Gun Beach when he was approached by two people who told him someone was screaming for help out in the water. Buriak quickly leapt into action and swam his way toward a man who Buriak could tell was swept up in a rip current. Buriak was able to pull the man from the current and get him to shore, difficult in part because of the man's exhaustion and the coral reefs that surround the island. (Buriak cut his foot while walking the man down the coral toward shore.) "Truthfully from here on out when I think of my first visit to Guam, running into the water and saving that man will be pretty high on the list of memories," Buriak told the Defense Visual Information Distribution Service. "For the rest of your life, you never forget something like that." To read the full story of Buriak's heroic rescue, click here.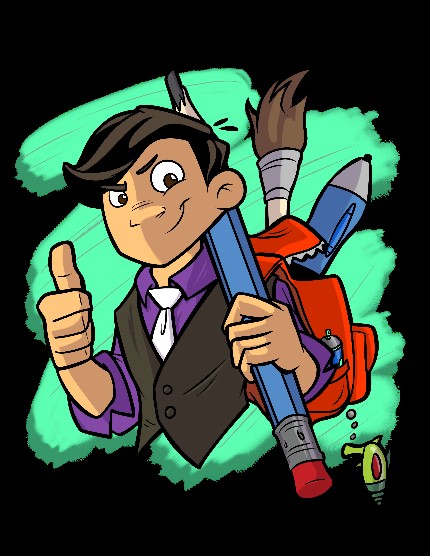 Kenneth Tryal '16 is working as a contracted character artist for Disney Parks, Experiences and Products. His job involves creating stylized and on-model versions of Disney, Pixar and Marvel characters, to be sold on merchandise in the Disney parks and in The Disney Store. "I would like to personally thank all of the staff of the Fine Arts Department [at Roanoke], as they were instrumental in starting my career path," Tryal, who majored in art at Roanoke, wrote in an email. "I hope that they continue to inspire and encourage young creatives to follow and create their dreams at Roanoke College and beyond." Tryal previously interned at Walt Disney World and has worked as an instructor/advisor in the art of cartooning and comics.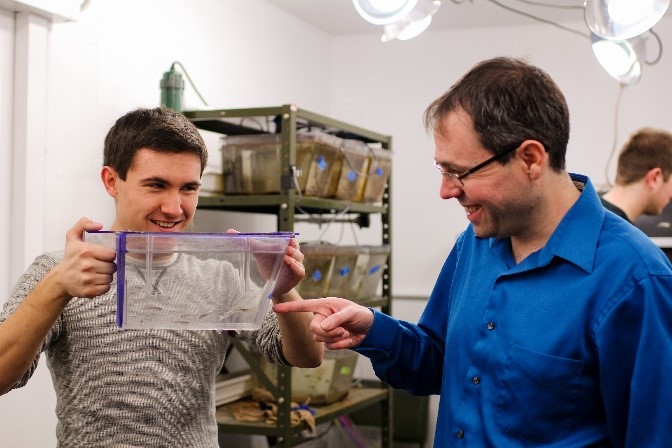 Sean M. Ryan '18 (a biology major shown here in a 2016 photo with Dr. Chris Lassiter, professor of biology) is part of a team of scientists that has been working to understand how the brain function of the fruit fly can help us understand how all brains function. The team, working as the FlyEM Project at the Howard Hughes Medical Institute's Janelia Research Campus, has traced a path of neurons in a portion of the female fruit fly brain they have named the "hemibrain." With more than 20 million neural connections pinpointed so far, "it's the biggest and most detailed map of the fly brain ever completed." Janelia has reported. Ryan's contribution specifically involved manually mapping and tracing neurons, and helping to teach a computer algorithm how to trace the neurons. Click here to read more.