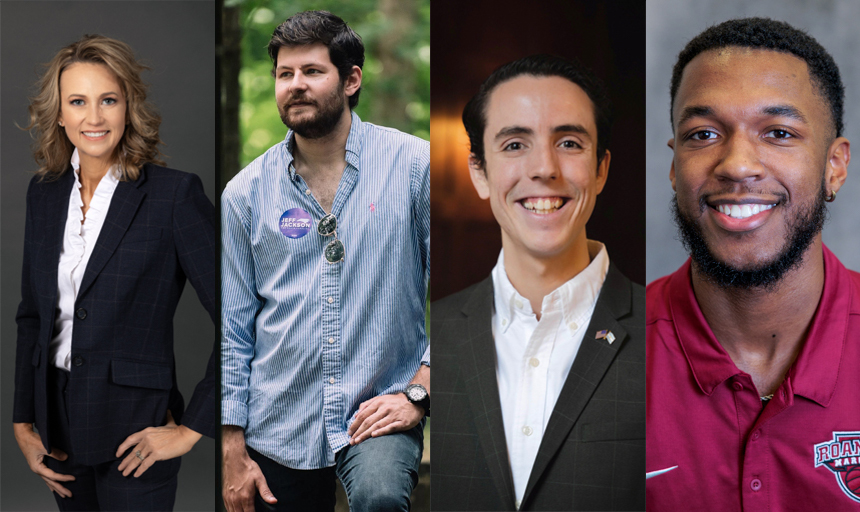 Alumni News – February
Crystal (Wilson) Cline '96 has announced her bid for sheriff in Warren County, Virginia. Cline earned a degree in business administration at Roanoke, where she was inducted into the Athletic Hall of Fame for her performance on the women's basketball and volleyball teams.
She has served the town of Front Royal in law enforcement for more than 22 years and is currently an operations captain in command of the patrol and investigations divisions. She also supervises the SWAT Team, Crisis Negotiation Team and Civil Disturbance Unit. Cline, who was the first woman to achieve the ranks of sergeant and captain in her department, is currently completing a Master of Science in criminal justice administration at University of the Cumberlands.
Tyler McEachern '17 recently served as press secretary to U.S. Sen. Richard Blumenthal (D-Conn.) on the senator's successful re-election campaign. He previously served as press secretary to U.S. Rep. Jeff Jackson (D-N.C.) on Jackson's U.S. Senate campaign and worked as the statewide campaigns coordinator for the North Carolina Democratic House Caucus.
McEachern has worked in other positions managing multiple campaigns and organizing for his hometown member of Congress, U.S. Rep. Seth Moulton (D-Mass.). He holds a degree in political science from Roanoke.
Gaston Ocampo '20 traveled to Buenos Aires in October for the C40 World Mayors Summit, a gathering of mayors, business leaders, philanthropists, campaigners and youth leaders that aims to promote local solutions to world problems. Ocampo works in the president's office of the Inter-American Dialogue, an international affairs think tank based in Washington, D.C. Ocampo, a native of Argentina, is helping lead the organization's new Cities Initiative, which tests and scales solutions to Latin America's most difficult problems from the perspective of cities and subnational entities.
He earned degrees in international relations and business administration at Roanoke College. In addition to his work for the Inter-American Dialogue, he directs the IPDAL Academy for Instituto para a Promoção da América Latina e Caraíbas (Institute for the Promotion of Latin America and the Caribbean), a diplomatic institute based in Lisbon, Portugal.
Nick Price '22 returned to Roanoke College as an assistant coach of the men's basketball team for the 2022-23 season. Price holds a degree in health and exercise science from Roanoke, where he played all four years on the basketball team. He finished his career with 331 points, 245 assists, 188 rebounds, 90 steals and 25 blocks.
Help us stay abreast of alumni accomplishments! Share your news or news about fellow Roanoke College alumni by sending an email to rcmagazine@roanoke.edu.