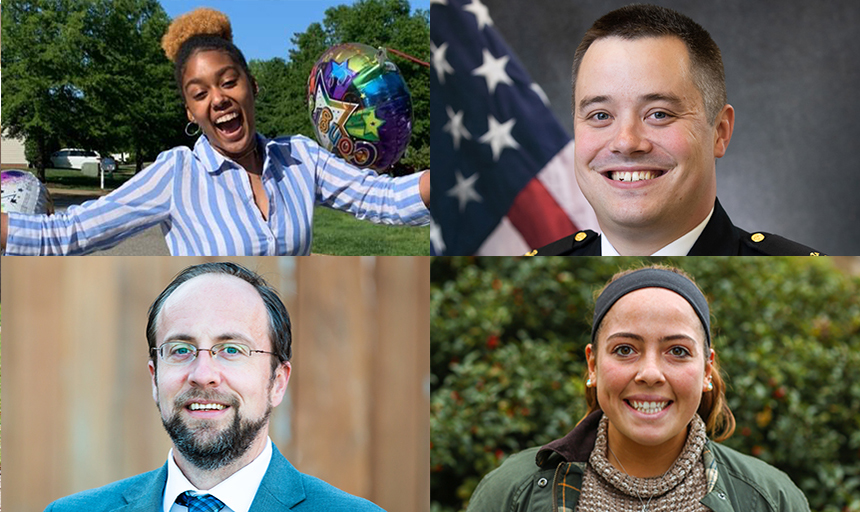 Clockwise from upper left: Kayla Capehart '20, David Guynn '13, Briana Nardone '19, and John Hull '04.
Alumni News - January 2021
John Hull '04 has been named executive director of the Roanoke Regional Partnership, a public-private economic development marketing and strategy organization in Roanoke, Virginia.
Hull served in several roles at the Partnership — as director of marketing intelligence since 2010, and more recently as acting director of business investment — and as executive director of the Western Virginia Regional Industrial Facility Authority. He served as regional economic development manager with the Roanoke Valley Alleghany Regional Commission from 2003-2010.
"I appreciate the confidence of the Partnership's leadership and am honored to have the opportunity to lead this strong team at a pivotal time in our region and nation," Hull said in a Jan. 5 news release. "I am eager to work with our public and private partners to grow the regional economy."
Hull holds a B.A. in political science from Roanoke and is a graduate of the University of Oklahoma's Economic Development Institute and the Roanoke College Management Institute. He also earned the certified economic research professional designation from the Council for Community and Economic Research.
Other alumni news:

David Guynn '13 has been promoted to Deputy Chief of the Roanoke Fire-EMS. Guynn is a Roanoke, Virginia, native who started in the Fire-EMS field in 2004 as a volunteer for the Back Creek Fire & Rescue in Roanoke County. He began working for the city of Roanoke in 2005 as a telecommunicator trainee in the city's E-911 Center. Two years later, Guynn joined Roanoke Fire-EMS. In 2010, Guynn left the department to return to school, obtaining a B.S. in physics at Roanoke, and an M.S. in physics at the University of North Carolina at Chapel Hill. In 2018, Guynn rejoined the Roanoke Fire-EMS as the fire marshal for the City of Roanoke.
Three members of the Class of 2020 received the Maxine Fitzgerald Trailblazer Award, named for the first African American to enroll at Roanoke College as a full-time student. The recipients are: Kayla Capehart (B.A. Health and Exercise Science); Brianna Manigault-King (B.S. biochemistry) and Mya Virdi (B.B.A.). The award, created by the Roanoke College Office of Multicultural Affairs, recognizes individuals who "blaze a trail for others to follow." Fitzgerald, of Vinton, Virginia, graduated from Roanoke in 1969 and went on to earn a master's degree from Radford University in 1975.
Briana Nardone '19 is pursuing a Master of Science in Sport Management at The George Washington University. Most recently, Nardone worked as a women's empowerment marketing intern for the Washington Football Team, during which she assisted with event planning, developed social media campaigns and arranged special guest appearances that addressed women's empowerment and football. Nardone holds a B.S. in Sport Management from Roanoke.
Two Roanoke alumni have been elected to the Vinton (Virginia) Chamber of Commerce. Jason M. Bishop '99 is vice president and human resources officer for Bank of Botetourt. He holds a B.B.A. from Roanoke and holds two Human Resources professional designations – the Professional in Human Resources (PHR) and the Society of Human Resources Management Certified Professional (SHRM-CP). John Conner '13 is partner with the Conner Group, and Financial Advisor with Eagle Strategies, LLC. He holds a B.B.A with a concentration in finance from Roanoke.
The Atlanta Alumni Chapter hosted a virtual scavenger hunt on Nov. 23, 2020 for chapter alumni and friends. It was a fast-paced game during which participants found household items from a list cleverly created by chapter leadership. Winners were Adam Wojtysiak '14 and his fiancé Kari Spitler '16. They received an NFL football, autographed by NFL great Peyton Manning. The football was donated by Craig Schisler '76.
Have news to share? Send it to us at rcmagazine@roanoke.edu.