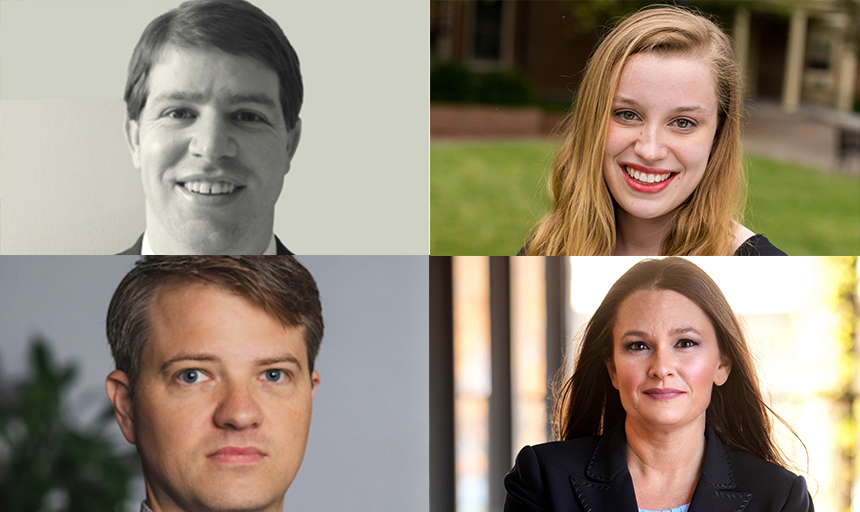 Clockwise from upper left: Andy Bonasera, Bekah Carey, Ann Thayer and Justin Sheldon.
7.17.2020
By Roanoke College News
Alumni News July 2020
Bekah Carey '19 is in rare company — a group that includes a former president, numerous Supreme Court justices, and some of the most influential legal experts in the country's history.
Carey, a student at Harvard Law School, was selected to serve as an editor of the Harvard Law Review, a publication that is regarded as a leading publication on legal scholarship. Former President Barack Obama, current U.S. Supreme Court Chief Justice John Roberts and Associate Justice Ruth Bader Ginsburg are among the Harvard Law Review's alumni.
Carey, who graduated with degrees in political science and criminal justice from Roanoke, is one of 48 people in her class of 565 who earned a spot on the Harvard Law Review. She said about 200 students each year complete an arduous editing and writing competition in an attempt to be selected.
Carey, who was notified on July 16, said she's ecstatic about having a chance to be part of the student-run organization.
"It's an opportunity to spend two years immersed with brilliant people who are thinking really deeply about the legal questions of our time and be a part of shaping legal scholarship," Carey said.
Each issue of the Harvard Law Review, which is published each month between November and June, is about 2,500 pages. It will be a major time commitment, one Carey says she's ready to tackle.
More news about Roanoke alumni:

Justin Sheldon '05 has joined the Richmond, Virginia law firm of Breit Cantor Grana Buckner as an associate. Justin, who holds a B.A. in Spanish from Roanoke, graduated cum laude from the University of Richmond School of Law.
Andy Bonasera '03 has been selected for induction into the US Lacrosse Ohio Chapter Hall of Fame. The induction ceremony is scheduled for Oct. 17. Andy, a native of Columbus, Ohio, finished his Roanoke career as the program's all-time leading scorer. He ranks in the top-five, all-time at Roanoke in seven statistical categories, and was inducted into the Roanoke College Athletic Hall of Fame in 2014. Since graduating from Roanoke, Andy has held several coaching positions, most recently as head varsity boy's lacrosse coach at Notre Dame High School in Sherman Oaks, California. Andy, who holds a B.B.A from Roanoke, lives in Glendale, California.
Ann Thayer '00, a criminal defense attorney, has opened a law firm in Fairfax, Virginia. The firm defends adults and juveniles charged with criminal, traffic and DUI offenses, and helps victims obtain civil protective orders or defends those served with protective orders. Thayer graduated from Roanoke with a B.A. in criminal justice and Spanish, and holds a J.D. from the Widener University School of Law.
Jay Middleton '76 has joined Lokken Investment Group LLC, an independent investment firm in Lewes, Delaware, as senior advisor and portfolio manager. Jay, who holds a B.B.A. from Roanoke, was conferred as Chartered Financial Consultant by the American College, in Byrn Mawr, Pennsylvania, in 1985. Jay lives in Dagsboro, Delaware with his wife, Linda. They have five children and eight grandchildren.
Have news to share? Send it to rcmagazine@roanoke.edu.