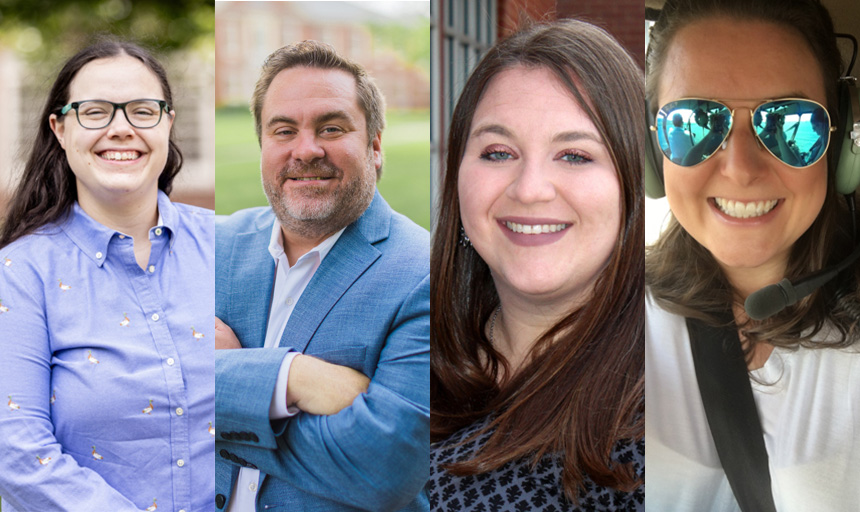 From left to right: Taylor Briese '17, Chris Kilcoyne '02, Kendra Fagg '08 and Phoebe Madden '13. Photo credits: Griffin Pivarunas '16; Hollins University; City of Salem; Phoebe Madden.
Alumni News - June 2022
Taylor Briese '17, a teacher and co-coordinator of the middle school program at Noel C. Taylor Learning Academy in Roanoke, Virginia, has been selected as a National Endowment for the Humanities Summer Scholar.
Briese will participate in an NEH Summer Teacher Institute titled "Common Ground: Americans and their land during the Gilded Age and Progressive Era." The two-week program will be held July 11-23, with the first week in Manhattan, New York City, and the second week at SUNY Cortland's Camp Huntington in the Adirondacks, New York.
Briese, who holds a B.A. in history from Roanoke, is one of 25 teachers selected from a national applicant pool to participate in the program. Each summer scholar will receive a stipend of $2,200 to cover their travel, study and living expenses.
More Alumni News
Chris Kilcoyne '02 has been appointed director of athletics at Hollins University. Kilcoyne has served as interim director since December. Kilcoyne joined the Hollins staff in 2021 as director of athletic communications, after serving for five years at Roanoke College as director of athletic communications. Prior to his work at Roanoke, Kilcoyne served as associate director of communications for the Atlantic 10 Conference, assistant athletic director and sports information director at Randolph-Macon College, and sports information director for the Old Dominion Athletic Conference. He holds a B.A. in sociology from Roanoke and an M.S. in sports leadership from Northeastern University.
Kendra Fagg '08 has been appointed assistant principal at South Salem Elementary School in Salem, Virginia. Fagg joined the South Salem staff in 2018 and has taught fourth grade and served as a reading specialist during her tenure at the school. "I am incredibly thankful to be part of the South Salem family and have the chance to lead in the same school division I was part of as a student," says Fagg, a graduate of Salem High School. Fagg holds a B.A. in psychology with a minor in elementary education and an M.A. in reading education from Virginia Tech and is completing her certification in educational leadership and Administration through James Madison University.
Phoebe Madden '13 has launched African Tails, a luxury travel company she describes as "a bespoke travel agency bringing people to Africa." Madden says she acquired a passion for travel within southern Africa after moving to Lusaka, Zambia in 2015. She invites members of the Roanoke College family to discover South Africa, "a beautiful country with lots of things to do" – from Cape Town tours to safaris explorations to witnessing the mighty Victoria Falls. Madden holds a B.A. in communication studies from Roanoke.
Have news to share? Send it to us at rcmagazine@roanoke.