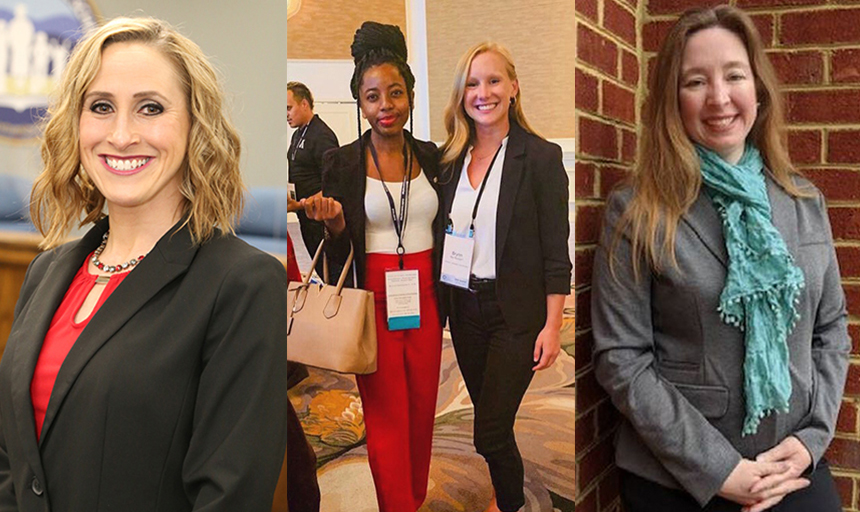 From left to right: Haley Deeds '04; Brynn MacDougall '17 (at right) with Temwa Chirembo; and Kimberly Halterman '01.
Alumni News - March 2021
Brynn MacDougall '17 has received a U.S. Department of State Citizen Diplomacy Action Fund grant award to conduct a program this spring that focuses on preventing pregnancy, sexually transmitted diseases and COVID-19 among teenage girls in the southeastern African country of Malawi.
The Citizen Diplomacy Action Fund is sponsored by the State Department's Bureau of Educational and Cultural Affairs. The most recent competition provided small grants to teams of U.S. citizen alumni of U.S. government-sponsored exchange programs to carry out public service projects that addressed the themes of media literacy education, building community resilience and fostering alumni network development.
MacDougall, a former Mandela Washington Fellowship Reciprocal Exchange Awardee, is a member of one of 38 teams that were awarded grants. She and Temwa Chirembo, a Mandela Washington Fellow who is based in Malawi, will co-conduct "Reducing Adolescent Pregnancy (RAP) in the Era of COVID-19" with teenage girls in the Malawi city of Blantyre and township of Balaka. They will also collaborate with TraumaVenture, a Philadelphia-based social impact organization to engage participants in trauma-informed discussions about mental health.
MacDougall, who works as director of programs and operations of the Philadelphia-based Women's Campaign International, and Chirembo will "seek to educate 90 teenage girls on how to prevent pregnancy, STDs (primarily HIV] and COVID-19 to ensure that more girls remain in school after the COVID-19 pandemic," according to the news release issued by the Citizen Diplomacy Action Fund.
"I am so grateful that we now have the opportunity to bring some extra joy into the lives of these girls in what has been a difficult year," MacDougall, who helped create the RAP program, shared in an email. "Not only will we teach them how to prevent pregnancy, STDs, and COVID-19, but we will also discuss the importance of mental health and setting boundaries — topics that many of them have not discussed before."
MacDougall holds a B.A. in International Relations, with a concentration in Peace and Justice Studies, from Roanoke.
Other Alumni News:
Kimberly (Kidd) Halterman '01 has been appointed superintendent of Alleghany County (Virginia) Public Schools.
Halterman, an Alleghany County native, has 19 years of experience working in public education in Virginia, having working as a teacher in Botetourt County and as an assistant principal and principal in Bedford County.
Halterman holds a B.A. in sociology and psychology from Roanoke, and earned a Master of Arts in Education Leadership and Policy Studies from Virginia Tech. She also holds two graduate certificates from the University of Virginia — one in human resources leadership and one in health care administration.
"I am honored to be entrusted with the leadership of Alleghany County Public Schools," Halterman said when interviewed by WDBJ7 News. "This is a once-in-a-lifetime opportunity to work collaboratively with the school board, staff and the community of the Alleghany Highlands. Having been raised here, I am quite blessed to have the opportunity to give back."
Haley (LaBrie) Deeds '04 has been named principal of Cave Spring High School in Roanoke County, Virginia.
Deeds comes to her new position after serving as the school's assistant principal. She joined Roanoke County Public Schools in 2004 as a physical education teacher and later became a testing coordinator. She has taught at three elementary schools and one middle school, served as the assistant principal for the (Roanoke County) Burton Center for Arts & Technology from 2015 to 2017, and moved to Cave Spring High in 2017.
Deeds has been praised for her leadership throughout the COVID-19 pandemic, and during a recent renovation and expansion at Cave Spring High School.
Deeds holds a bachelor's degree in Health and Human Performance from Roanoke and a master's degree from the American College of Education.