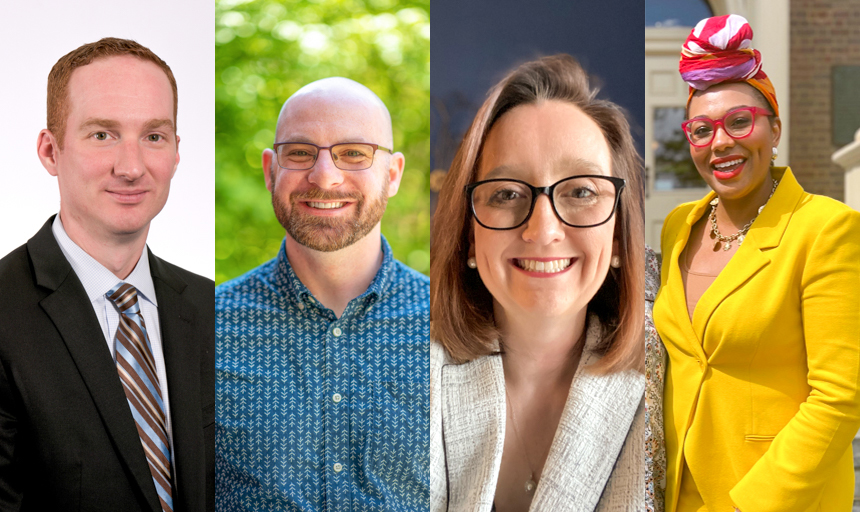 Darren Griffis '00, Steven Cody '07, Crystal Gibson '00 and L. Renée '07
Alumni News - May
Two members of Roanoke College's Class of 2007 returned to campus last month to give talks and discuss their journeys from the college classroom to … well, the college classroom!
L. Renée '07, who earned a B.A. in English and a minor in creative writing at Roanoke, is now an assistant professor of English at James Madison University, where she is also assistant director of the Furious Flower Poetry Center, the nation's first academic center for Black poetry. Steven Cody '07 holds degrees in both art history and philosophy from Roanoke, and he is an associate professor of art history in the Department of Art and Design at Purdue University Fort Wayne.
At Roanoke, Renée was a member of Phi Beta Kappa and graduated magna cum laude with honors. Following graduation, she earned a Master of Science in journalism at Columbia University, where she was a Joseph Pulitzer II and Edith Moore Fellow, and a Master of Fine Arts in creative writing from Indiana University, Bloomington. In addition to teaching, she is a poet and nonfiction writer whose work has been published in Obsidian, Tin House Online, Poetry Northwest and elsewhere. Her honors include the international 2022 Rattle Poetry Prize and Appalachian Review's Denny C. Platter Award, and she has been nominated for Best New Poets, Best of the Net and two Pushcart Prizes. In addition, she is the recipient of fellowships from the Cave Canem Foundation and the Watering Hole.
Renée was invited back to her alma mater by the English Department, which hosted a lunch with students on April 12 and sponsored a reading and reception on April 13.
Renée said she enjoyed returning to Roanoke College, where she discovered the purpose that would drive her successful career.
"It's wonderful to return to the place where I grew as a writer and learned the art of creative research as a scholar," she said. "I had the great fortune to learn from and alongside tremendous teachers: Dr. Virginia Stewart, Dr. Melanie Almeder, Dr. Dana-Linn Whiteside. Their care, dedication to their students, and encouragement were instrumental in my becoming, in my believing that my own words could impact the hearts and minds of readers."
"...what I want now is to be the type of professor that lives up to remarkable exemplars I encountered at Roanoke College."
~ Steven Cody '00
Cody received a master's degree and a doctorate in art history at the University of Maryland, College Park. At Roanoke, he was a resident advisor and a member of Pi Kappa Phi.
At Purdue University Fort Wayne, he has received a number of recent honors. These include the university's Featured Faculty for Excellence in Research Award, two Excellence in Teaching Awards, and election to the Faculty Academy on Excellence in Teaching (FACET), an Indiana state-level recognition for achievements in the classroom.
On April 10, Cody presented a lecture at Roanoke College, "The Splendor of Andrea del Sarto," sponsored by the Art History Program and the Donald L. Jordan Endowment for the Humanities. The lecture drew from research published in his 2020 book, "Andrea del Sarto: Splendor and Renewal in the Renaissance Altarpiece."
Cody stayed for lunch the following day with Roanoke College art history students, who asked him questions about graduate school and career paths in art history.
He said Roanoke College instilled in him a deep love of learning and intellectual exchange, and he was shaped indelibly by the people he encountered during his time as a student, particularly faculty such as his mentor and academic advisor in fine arts, Professor Jane Long, and Brent Adkins, professor of religion and philosophy.
"Professors Long and Adkins spent so much time helping me become the person I am today – the teacher, the scholar, the father, the friend," Cody said. "They invested so much of their time and energy in me, mentoring me. These are gifts that can never be properly repaid. They can only be paid forward. And what I want now is to be the type of professor that lives up to remarkable exemplars I encountered at Roanoke College."
Crystal Gibson '00 has joined Cardinal News as its new director of development. Cardinal News is a Roanoke-based independent, nonprofit, nonpartisan news site that serves Southwest and Southside Virginia. Previously, Gibson held positions in development at Ferrum College, Virginia Military Institute, Virginia Tech and Hollins University. Prior to working in higher education fundraising, she was an advertising account executive at The Roanoke Times.
Gibson holds a BA in political science with a minor in American politics from Roanoke, as well as a MALS in social science/political science from Hollins University.
Darren Griffis '00 was recently featured on an episode of "48 Hours." Griffis, a partner at the law firm of Murphy & Rudolf, LLP, in Worcester, Massachusetts, was featured for his work on a homicide case. The episode, titled "What Angelina Saw," provides a narrative account of the case and focuses on the abusive relationship that resulted in a death and murder charges against a woman who was a victim of domestic violence. This episode can be streamed on Paramount+, HULU and YouTube TV.
Griffis majored in English and American literature at Roanoke, then earned an M.A. in the subject at University of Massachusetts Amherst, followed by a law degree from Boston University School of Law.