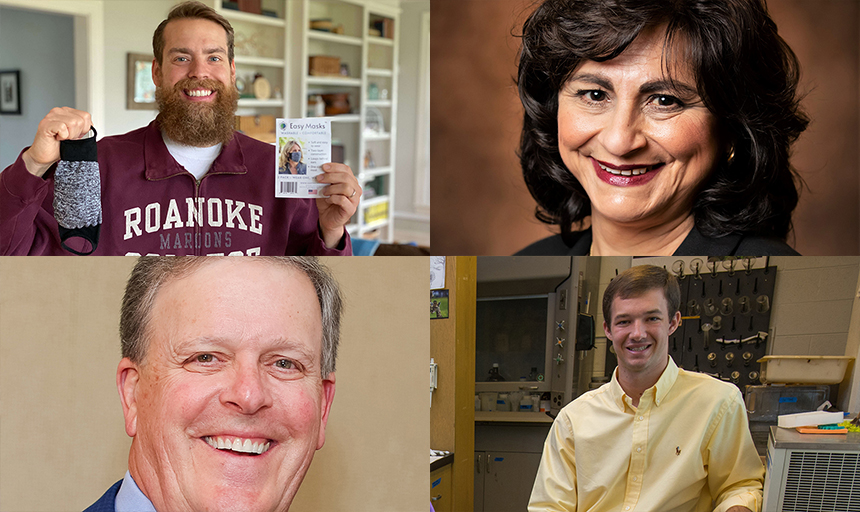 Maroon alumni pictured are, clockwise from upper left, Justin Thomas '06, Renée Turk '77, Ben Walker '16 and Andy Teeter '71.
5.22.2020
By Roanoke College News
Alumni News May 2020
Justin Thomas '06 is helping a health coaching company, a hosiery mill and a grocery co-op work together to make reusable face masks that are now being worn by people nationwide.
Thomas is the chief operating officer of EHOP Health, a chronic disease reversal company based in Apex, North Carolina. He's working with one of EHOP's clients — Harriss & Covington, a High Point, North Carolina hosiery mill — to deliver face masks around the country amid the COVID-19 pandemic. Another of EHOP's clients, Weaver Street Market, is helping distribute them.
The partnership, called Easy Masks, creates non-medical face masks for people who need protection on their essential trips. More information can be found at EasyMasks.com.
---
Ben Walker '16 graduated from Virginia Tech Carilion School of Medicine and landed a residency at Carilion Clinic. Walker, a 2012 Cave Spring High School graduate, will begin his residency this summer.
Walker attended Roanoke on a full academic scholarship and majored in biology. He graduated summa cum laude and entered the VTC School of Medicine in the summer of 2016. In an article on the Virginia Tech website, Walker said he wants to stay in Roanoke after his residency and practice medicine in his hometown.
---
Andy Teeter '71 will receive the Sigma Chi Seven Lights Alumni Award, which is presented to alumni members who have demonstrated significant service to the Fraternity. Only 28 of these awards are given out annually.
Teeter earned a Bachelor of Arts degree in psychology at Roanoke, and now lives in Charleston, West Virginia, where he is the senior vice president at USI Insurance. He has held that position since 2014.
---
Renée Turk '77 won election to Salem City Council on May 19. Turk and one other candidate were the top vote-getters in a five-person field for three seats. An incumbent won re-election to the third seat.
Turk, a retired account executive at Q99 radio, graduated from Roanoke with a degree in business, economics and education. She was a teacher for 10 years and helped the Salem school system develop its data processing program.