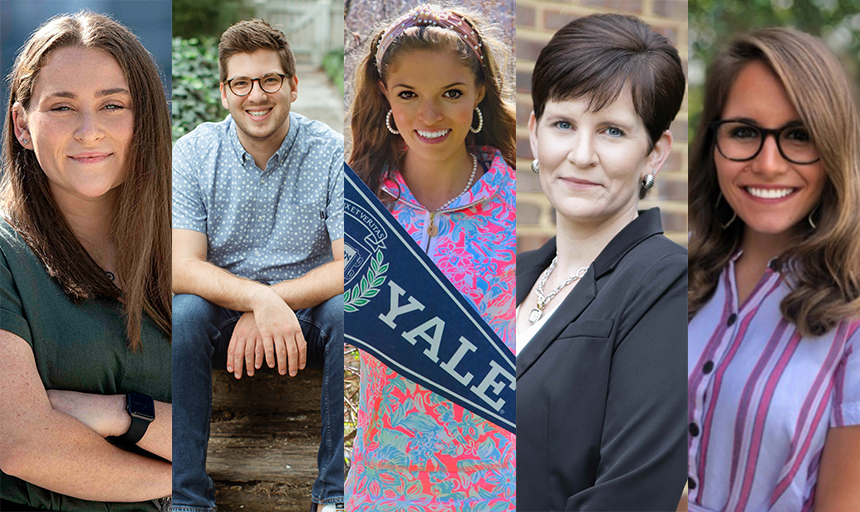 From left to right: Zoe Krut '20, Damian Ream '18, Emma Kessler '16, Shannon Boothe '98 and Conner Hill '16.
Photo credits: Cedars-Sinai; Ronald McDonald House Charities of Southwest Virginia
Alumni News - May 2021
Emma Kessler '16 has been named a Yale National Fellow, one of 54 public school teachers selected to participate in national seminars and a two-week Intensive Session as part of the Yale National Initiative to strengthen teaching in public schools.
The 2021 seminars began on April 30 and will conclude in mid-August.
The Yale National Initiative builds upon the success of the Yale-New Haven Teachers Institute, a partnership established in 1978 between Yale University and New Haven (Connecticut) Public Schools. The Initiative is a long-term endeavor to influence public policy on teacher professional development, in part by establishing Teachers Institutes for high-poverty, high-minority schools in states around the country. These institutes focus on the academic preparation of schoolteachers and on their application of what they study in the institute in their own classrooms.
According to a Yale National Initiative news release issued April 1, the seminars in which Kessler will participate provide public school teachers with deeper knowledge of the subjects they teach and firsthand experience with the Teachers Institute approach to high-quality professional development. This is intended to foster their leadership in an existing Teachers Institute or prepare them to lead the development of a new Teachers Institute.
Each teacher — including Kessler, a fourth-grade teacher in Roanoke County (Virginia) Public Schools — will write a curriculum unit to teach their students and to share with other teachers in their school district and elsewhere through teachers.yale.edu.
Kessler holds a B.A. in Communication Studies from Roanoke.
"I will be creating a curriculum that will be taught to my students and published on the Yale website for teachers anywhere to access and teach."
Emma Kessler '16
Other alumni news:
Shannon (Clasbey) Boothe '98 has been promoted to Executive Director of Ronald McDonald House Charities of Southwest Virginia (RMHC of SWVA), a nonprofit that provides the Ronald McDonald House with a supportive home-away-from-home for the families of sick and injured children who come to the Roanoke, Virginia area for medical treatment.
Boothe joined the organization in 1998 and quickly rose to House Operations Director, according to a news release issued May 5. She has been an integral part of the success and growth of the Ronald McDonald House, overseeing the large renovation and addition to the House in 2006, and assisting in the addition of a Family Room program at Carilion Clinic Children's Hospital in 2007. Boothe also has been guiding the RMHC of SWVA through the COVID-19 pandemic, devising reinstatement plans and working diligently to ensure the House is prepared to reopen its doors to families and volunteers.
Boothe holds a B.S. in biology with a concentration in health care delivery from Roanoke.
Zoe Krut,'20 is a student in the Cedars-Sinai Master's Degree in Health Delivery Science (MHDS) program. The program prepares graduates for careers in emerging health-care fields, such as digital health science, mobile health and health economics. A research associate in the Cedars-Sinai Department of Surgery, Krut is also a lifeguard and swim instructor, a former EMT, and was a pre-med volunteer at Cedars-Sinai hospital before obtaining a research job in the Gazit Research Laboratory at Cedars-Sinai. Cedars-Sinai Medical Center is a leading hospital and multispecialty academic health science center in Los Angeles, California. Krut holds a B.S. in biochemistry and public health studies from Roanoke.
Damian Ream '18 will enter the Master of Science in Medical Physics program at Georgia Tech this fall, while continuing his work at the University of Virginia's Department of Environmental Quality, where he a member of the radiation safety team. "Our main duty within the university community is to protect researchers and students from receiving excess exposure to radiation," Ream said. "One of the coolest things about my position is working with various doctors and researchers and getting to learn about the cutting-edge research they're doing." Ream holds a B.S. in mathematics and physics from Roanoke. He is the brother of soon-to-be alumnus Sam Ream '21, a sociology major.
Conner (Sprinkle) Hill '16 has been named the new assistant principal at W.E. Cundiff Elementary School, one of 16 elementary schools in the Roanoke County (Virginia) Public Schools system. Hill comes to her new position with several years of teaching experience in the Botetourt County (Virginia) Public Schools system. Hill holds a bachelor's degree in sociology from Roanoke College, as well as a master's degree in educational leadership and administration from Virginia Tech.
Cross Country and Track & Field Alumni Meetup

A group of Maroons Cross Country and Track & Field alumni gathered in Richmond, Virginia, the weekend of March 20. Pictured in front row, left to right, are: Claire Brooks '17, Caity Ashley '17, Hannah (Bridges) Horn '16. Back row, left to right, are: Melissa Bauerle '16, Ellen Bauer '18, Margot (Warner) Fintel '17 and Hannah (Cline) Curtis '15.