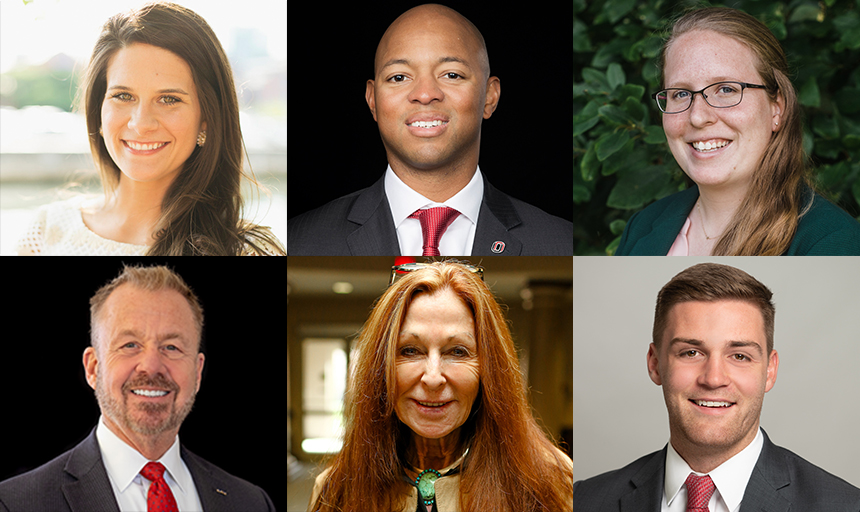 Featured alumni this month include, top row, left to right: Casey Fletcher '10, Adrian Dowell '08 and Ashley Briggs '13. Bottom row, left to right: Larry Carlson '74, Pamela Pierce '72 and Sam Rauf '18. Photo credits: Adrian Dowell - University of Nebraska at Omaha; Sam Rauf - Chatham County Economic Development Corporation.
Alumni News - November 2021
Adrian Dowell '08 has been named athletic director at the University of Nebraska at Omaha.
Dowell moves to the position — officially titled vice chancellor of athletics — having served since 2014 in various positions at Creighton University, most recently as assistant vice president and associate athletic director. He was selected for the University of Nebraska position after a national search.
Dowell will have direct responsibility for the University of Nebraska's NCAA Division I Intercollegiate Athletics Program, including 16 varsity sports and over 300 student-athletes. The position supervises a staff of approximately 75, and represents the university nationally and within the National Collegiate Hockey Conference and Summit League.
"It is an incredible honor and a privilege to lead this athletic department, and I am grateful to the search committee for this opportunity," Dowell said during a Nov. 15 news conference announcing his appointment. "Greatness is the collective goal at UNO and I believe there is a strong foundation in place that we can build on together to achieve that goal. I couldn't be more excited to get started."
Dowell holds a B.S. in health and human performance - sport management from Roanoke, where he served as captain of the Maroons men's basketball team. He earned a M.B.A and a master's degree in sport administration from West Virginia University.
More alumni news
A documentary produced by Pamela Pierce '72, aired Nov. 4 on New Mexico PBS stations. "However Wide the Sky: Places of Power" explores the history and spirituality of Indigenous people and places of the American Southwest, and takes viewers on a journey to eight locations to explore connections between land and people. The film, which has received considerable media attention in New Mexico, was produced through the Santa Fe-based Silver Bullet Productions, of which Pierce is CEO and president. "The Native Americans in the film talk about the difference between being from a place and of a place," Pierce told the Santa Fe New Mexican newspaper. "I hope that leaders start to recognize that it is a Native story, because the cultural perspective is one that goes back time immemorial, but the burden of protecting the land can't be only on Native Americans. That is our burden. It speaks to the kind of people we are, and who we want to be." To watch a trailer of the movie, click here.

Sam Rauf '18 was recognized as one of Business North Carolina magazine's 21 "Trailblazers" for 2021. The magazine annually publishes a Trailblazers feature to highlight business owners and professionals under the age of 40 who work in North Carolina towns with fewer than 100,000 residents. The magazine, according to its website, focuses on people under age 40 "because of their commitment to small communities when they could pursue excellent opportunities in bigger cities." As project manager for the Chatham County (N.C.) Economic Development Corporation, Rauf leads its business retention and expansion program, and supports new business recruitment for the county. He holds a B.A. in economics from Roanoke, where he was a member of the men's soccer team. "Economic development is also a team sport where, thankfully, I can lean on my experiences playing sports," Rauf told Business North Carolina. "Any success our organization has had is also a direct result from the work of our state, workforce, utilities, real estate and private partners."
Ashley Briggs '13 is serving as public health director of the New River Valley Regional Commission's Business Continuity Team. In August, Briggs and her team — who provide technical resources necessary for business owners to operate in the COVID-19 environment — were awarded a 2021 Aliceann Wohlbruck Impact Award from the National Association of Development Organizations (NADO). The Impact Awards program honors NADO members for their creative approaches to advancing regional economic development and improved quality of life. The 2021 class of awardees consists of 102 projects from 70 organizations spanning 24 states. Briggs holds a B.S. in biology from Roanoke and an M.A. in public health from Virginia Tech.
Larry Carlson '74 is president and CEO of United Methodist Communities, overseeing a large, statewide operation of nursing homes and elder care facilities. Under his leadership, the New Jersey-based senior care provider in October received a Silver Award from McKnight's 2021 Excellence in Technology Awards program. The organization was recognized in the Skilled Nursing division, Innovator of the Year category, for successfully implementing VirtuSense remote resident monitoring devices during the height of the COVID-19 pandemic. The McKnight's Excellence in Technology Awards — a joint initiative of McKnight's Long-Term Care News, McKnight's Senior Living, and McKnight's Home Care — celebrate providers' use of technology in all facets of senior living, including skilled nursing and homecare.
Casey Fletcher '10 serves as president of the Virginia Volunteer Board of Conquering CHD-Virginia, the nonprofit state chapter of a national organization that provides support to patients with congenital heart disease and their families. "One in 100 babies are born with congenital heart disease, my son Hugh included," Fletcher shared in an email. "I personally became involved in the organization after my son was born with an undiagnosed heart defect and underwent heart surgery at 4 days old." Support from the volunteer-led organization covers the lifespan of CHD from prenatal diagnosis through adults living with CHD, as well as bereaved loved ones. When not volunteering for Conquering CHD-Virginia, Fletcher is a vice president, commercial lending for Virginia National Bank in Charlottesville, Virginia.
Above: Barb (Dudeck) Nocera '77 shared this photo of a "mini reunion" of 1977 and 1978 alumni, held in September. From left to right: Theo (Barnes) Dierks '78, Shelley (Kyle) Morris '78, Blaire (McDonnel) White '78, Dubhe Beinhorn '78, Lisa (Burke) Coder '78 and Nocera.
Have news to share? Send it to us at rcmagazine@roanoke.