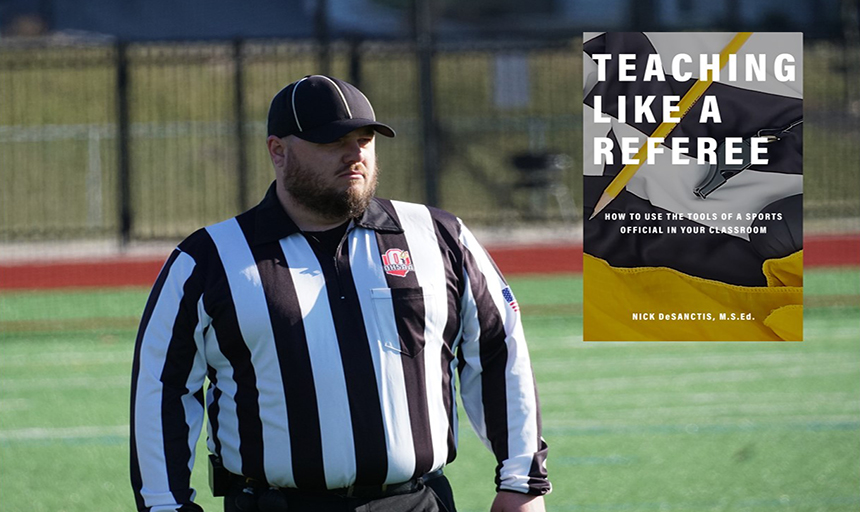 Nick DeSanctis '12, who in his new book, shares how he applied his skills as a referee to managing a classroom and becoming an effective teacher.
Alumni News - November 2020
During his years at Roanoke College, Nick DeSanctis '12 worked for the Athletics Department. As a play-by-play announcer, he was known as the "Voice of the Maroons," and co-hosted "Maroons Tuesday Night Live," a sports talk show that broadcast from Mac and Bob's restaurant.
After graduation, DeSanctis worked for athletics departments at the U.S. Military Academy at West Point, the University of Dayton and Appalachian State University. But the long days required of that work were wearing on him, and he was pondering a career change.
Partially inspired by a class he'd taught at Dayton, DeSanctis decided he wanted to become a teacher. As he was earning his teaching license, he found that the training program wasn't translating to the classroom as much as he liked.
So he took a different angle and approached the job like something he knew very well — refereeing.
"I found myself leaning on my skills as a referee to manage a classroom and be an effective teacher," DeSanctis said.
After posting an article on LinkedIn about this approach, DeSanctis decided to expand it into a full-length book. This summer, he published "Teaching Like a Referee," based on his experience transitioning from a career in athletics to a career as a teacher.
"If you are a new teacher looking for some input, or if you are an experienced teacher who needs a fresh lens, I think my book can provide that," DeSanctis said. "My book started as a LinkedIn article that got some good feedback and evolved into a first-year teacher memoir, classroom management guide, and motivational speech all rolled into one package."
DeSanctis' book can be found here.
Kasey Hall '12 is a Virtual Student Foreign Service eIntern at the U.S. Department of State. Currently, she is working with the Office of the Science and Technology Adviser to the Secretary to examine the geopolitical impacts of COVID-19. Hall, who graduated from Roanoke with a B.A. in International Relations, recently entered the Masters of Public Policy program at Georgetown University's McCourt School of Public Policy.
Samantha Baldwin '18 has been named head coach of the varsity softball program at Liberty High School in Bedford, Virginia. Baldwin, a standout member of the Maroons softball team during her years at Roanoke, returns to the dugout of her high school alma mater. A 2014 graduate of Liberty High, she moves to her new position after leading the junior varsity team at Liberty for a little more than a year.
Baldwin, who holds a B.A. in psychology from Roanoke, told the Lynchburg News and Advance that she's "a little nervous" but excited about the head coaching position. "I have some pretty big shoes to fill," she said.
Under Baldwin's predecessor, the team had a 56-14 record from 2016 to 2019 and captured the Class 3 state title in 2019, the first state championship for a girls team in Liberty High School history.
Charlotte Alumni Chapter sponsors Halloween Costume Contest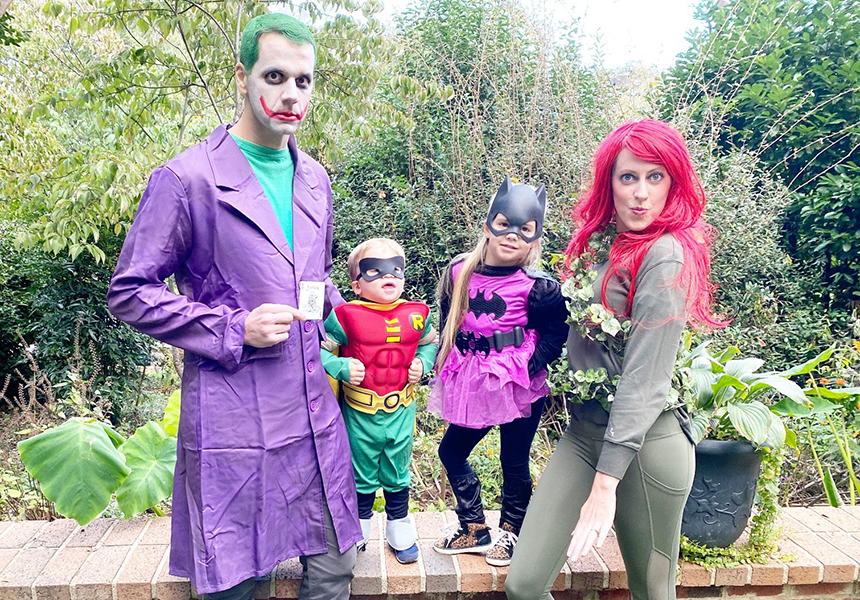 The Charlotte Alumni Chapter held its first Halloween Costume Contest in October. Prizes were awarded in several categories. The Best Family Themed Costumes prize went to the Batman-themed family of Crystal (Gilbert) Thomann '05. Pictured from left to right: Matthew Thomann (the Joker); 3-year-old William Thomann ('muscle' Robin); 4-year-old Lillian Thomann (Batgirl); and Crystal Thomann (Poison Ivy).