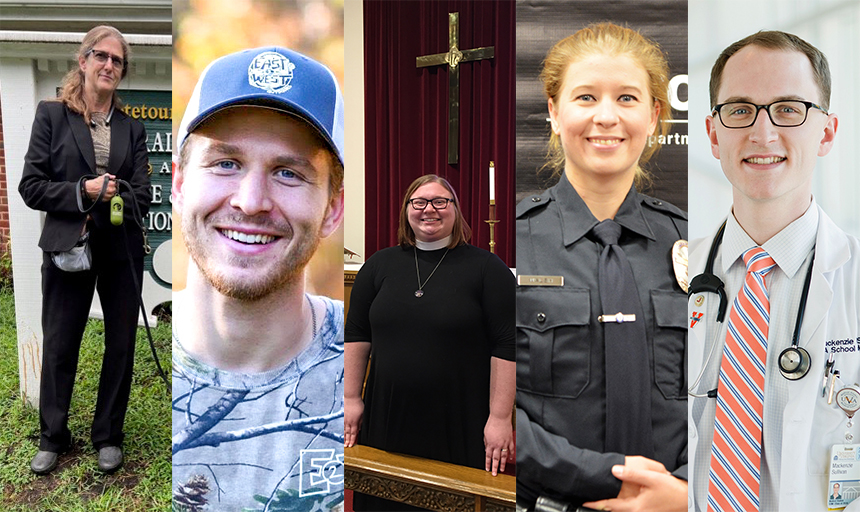 Gillian Deegan '88, Josef Simme '18, the Rev. Kayla (Edmonds) Keilholtz '15, Stephanie Walsh '14 and Dr. Mackenzie Sullivan '15
Alumni News - November
Dr. Mackenzie Sullivan '15 has been matched for a four-year fellowship in gynecologic oncology at Memorial Sloan Kettering Cancer Center in New York City. Sullivan is currently chief resident in the Harvard Integrated Residency in Obstetrics and Gynecology, which is shared between Brigham and Women's Hospital and Massachusetts General Hospital. He will begin his fellowship next year.
Sullivan earned a B.S. in biochemistry and a B.A. in music, both with honors, from Roanoke College. He went on to obtain his medical degree from the University of Virginia, then completed his OB/GYN residency at Harvard Medical School.
In a 2019 Q&A on Roanoke College's Health Professions Advisory Group blog, Sullivan talked about why he chose to focus on gynecologic oncology:
"Gynecologic oncology is particularly special because we have the opportunity to take care of women in some of the most trying times of their lives, from diagnosis to end," he said. "We have longitudinal relationships with our patients, providing both their surgical and chemotherapeutic care, in addition to seeing them in follow-up for surveillance."
Sullivan added that undergraduate research at Roanoke made a difference in his career because it helped with his application to medical school and gave him the confidence and independence to pursue research as a graduate student without a lot of guidance.
Stephanie Walsh '14 has been sworn in as a police officer in the town of Vinton, Virginia.
Walsh received a degree in psychology from Roanoke with a concentration in East Asian studies. She worked as a 911 dispatcher in the Roanoke County/Vinton emergency communications center for several years before deciding to pursue work as a police officer. She graduated in October from Cardinal Criminal Justice Academy in Salem and was sworn in on Nov. 1. During the swearing-in ceremony, she was pinned by her mom, Kelly Walsh.
Walsh told The Vinton Messenger that she does not expect to change the world as a police officer, but she hopes that she'll be able to teach life lessons to some of the people she encounters on the job.
Josef Simme '18 recently accepted a new position as senior NEPA environmental specialist at Nakupuna Companies, a private contractor that assists USDA Rural Development with National Environmental Policy Act (NEPA) project compliance review and consulting.
Prior to working for Nakupuna Companies, he was an environmental compliance review specialist and an environmental protection specialist at the Federal Emergency Management Agency (FEMA).
Simme earned a biology degree at Roanoke, where he conducted undergraduate research at both Carvins Cove and the Mill Mountain Zoo.
"In the almost 19 years I've been out here, to just be able to watch that difference has made me feel like I've done my job, I've done something good and I've contributed to what's happening in this community, making it better going forward."
~ Gillian Deegan '88
Gillian Deegan '88, a deputy commonwealth's attorney in Botetourt County, Virginia, was recently profiled by The Roanoke Times for her work as an animal welfare advocate. Also featured in the article was her standard poodle, Seamus, who is currently in training to be an emotional support animal for victims and witnesses in Botetourt County's General District and Circuit courts
Deegan prosecutes all kinds of criminal cases in Botetourt, but she said she's most passionate about animal welfare cases. She serves as a consultant on animal welfare cases across the country and is on the National Animal Cruelty Advisory Committee under the Association of Prosecuting Attorneys.
In addition, Deegan's office established an unofficial partnership with Angels of Assisi in 2009 that helps educate owners and care for seized or neglected pets.
"In the almost 19 years I've been out here, to just be able to watch that difference has made me feel like I've done my job, I've done something good and I've contributed to what's happening in this community, making it better going forward," Deegan told The Roanoke Times.
Deegan earned an English degree at Roanoke, where her father, William Deegan, was an English professor. She then worked as a probation and parole officer in Roanoke city before attending law school. She had a private practice for five years before going to work for the Botetourt County Commonwealth's Attorney's Office.
The Rev. Kayla (Edmonds) Keilholtz '15 was recently featured in the Smyth County News & Messenger for being the first woman pastor installed at Ebenezer Lutheran Church in Marion, Virginia. Keilholtz's installation ceremony was led by the Rev. Jonathan Hamman '97, a pastor at Holy Trinity Lutheran Church in Wytheville and a member of the Highlands Conference of the Virginia Synod.
Keilholtz, who grew up in Rural Retreat, Virginia, received an associate's degree from Wytheville Community College before transferring to Roanoke, where she earned a B.A. in criminal justice. She said she felt a calling to ministry at Roanoke, so she went on to attend Gettysburg Lutheran Seminary, where she received a Master of Divinity.
Keilholtz told the News & Messenger that she wants to bring more young families into the congregation; welcome Appalachian Trail hikers to dinner events at the church; collect school supplies for the church daycare program; resume Sunday school programming; and conduct weddings within the community, including for LGBTQ couples.
Keilholtz's younger sister, Emily Edmonds '15, is a chaplain with Centra Virginia Baptist Hospital in Lynchburg, where she works primarily with patients in the drug addiction and mental health area.