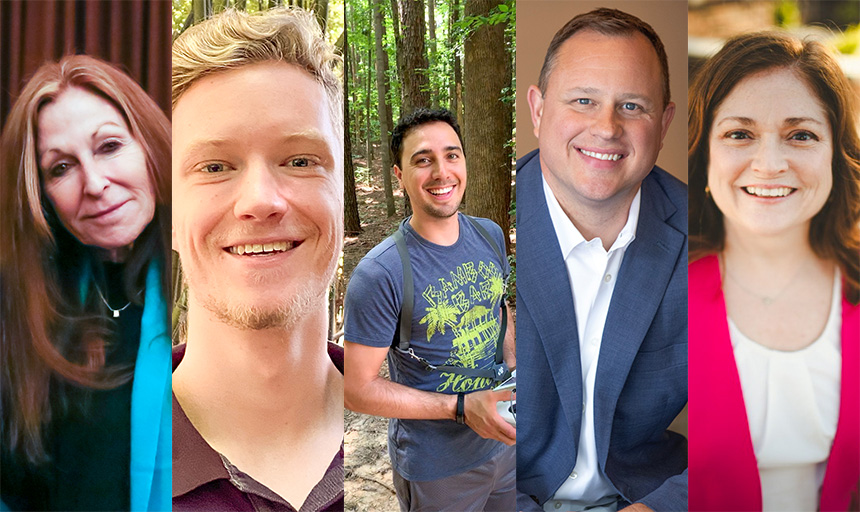 (L-R): Pamela Pierce '72, Ben Nelson '21, Matt Rose '07, Will Farmer '02, and Christy Clark '93
Alumni News - October 2022
Pamela Pierce '72 has won a regional Emmy Award from the Rocky Mountain Southwest Chapter of the National Academy of Television Arts and Sciences for a film she executive produced. "However Wide the Sky: Places of Power" is a beautifully filmed documentary that celebrates the connection between the spirituality and land of the Indigenous people of the American Southwest.
Pierce is CEO of the Santa Fe, New Mexico-based nonprofit Silver Bullet Productions. The documentary originally aired on the New Mexico Public Broadcasting Station (PBS) in October 2021. It has also been screened through Roanoke College's Elderscholar Program, after which Pierce held a virtual discussion with the group.
Pierce, who grew up in Alexandria, Virginia, earned a degree in sociology at Roanoke. She is not a Native American herself but is passionate about Native American people, history and culture. Half of Silver Bullet Productions' Board of Directors are Native American, and "However Wide the Sky" was guided by 26 Native American advisors.
This is not the first time Silver Bullet Productions has addressed Native American topics, nor the first time its films have been awarded a regional Emmy. The company has created a number of educational films, including the award-winning "Defending the Fire," "Canes of Power" and "A Thousand Voices." Silver Bullet Productions also teaches filmmaking on tribal lands in New Mexico.
"The need to protect the land and resources shouldn't be on one people," Pierce said. "The way we treat land becomes a reflection on us."
To learn more about Pierce's films, visit silverbulletproductions.com.
Will Farmer '02, who earned a B.B.A. from Roanoke College and a master's in business administration from the Pamplin College of Business at Virginia Tech, is now vice president of revenue operations and a member of the executive leadership team for Traxero, a software company in the towing industry. Previously, Farmer served as vice president of sales for KAR Global. "I am excited to be heading up several new business units that are looking to grow," he said.
"I had a lot of good communications classes at Roanoke that really helped build the business communication background that has been so important to me..."
~ Matt Rose '07
Matt Rose '07 is a population health manager for Evolent Health in Roanoke, but he has launched a new side business that is spicing up lives– and plates – across the Roanoke Valley.
Spice Titan is a line of fresh, bold seasoning blends created and mixed by Rose, who credits his mom and the time they've spent in the kitchen together for instilling in him a love of food and cooking.
Rose mixed his first blend for friends and family, but it was so popular that he decided during the pandemic to create additional varieties and launch Spice Titan. So far, he has created more than 25 blends, including Italian, Malabar Pepper, Taco Night, Home Base and Added Heat. He buys the freshest raw spices and mixes the blends himself in the Local Environmental Agriculture Project (LEAP) Kitchen in Roanoke, which provides a space for start-up food businesses to produce their product in a Virginia Department of Agriculture-licensed facility. Spice Titan products contain no fillers, anti-caking agents or MSG.
Rose sells his blends at the Grandin Village Farmers Market and LEAP's Mobile Market. They can also be purchased on his company's website at spicetitan.com. He also plans to set up a booth at The Stocked Market, which takes place at Roanoke's Berglund Center Nov. 11-13, 2022.
Rose, who earned a degree in English from Roanoke, said "I had a lot of good communications classes at Roanoke that really helped build the business communication background that has been so important to me, not only in my corporate career but for Spice Titan."
Ben Nelson '21, who graduated from Roanoke College with a degree in environmental science, is now completing a master's in sustainable development in Amsterdam. The Master of Science in Metropolitan, Analysis, Design and Engineering (MSc MADE) program is an interdisciplinary offering of the Delft University of Technology and Wageningen University and Research.
The program combines a number of themes, including urban planning, environmental science, business, architecture, participatory processes, engineering, data analysis and creative design to prepare graduates for innovative problem-solving of the complex challenges deriving from urbanization.
Now in his second year of the two-year program, Nelson is immersed in a Living Lab where students practice real-life problem-solving. He is working with three other students on a project that involves redevelopment of a 1904 Dutch fort (a UNESCO World Heritage site) into a climate-neutral cultural, hospitality, restaurant, educational and nautical hub.
"I decided to pursue this program because I felt it had the potential to combine my passion with the best elements of environmental science, sustainable development, innovation, science and entrepreneurialism," Nelson said. "To me, learning about the program presented a unique opportunity to contribute to bridges between academic, business and public worlds in pursuit of engineering better outcomes for future generations."
Christy Clark '93 is running for General Assembly in North Carolina. Clark, who graduated from Roanoke with a degree in English, is running for the 98th House district against Republican incumbent John Bradford III. Clark, a Democrat, won the seat in 2018 but lost her reelection campaign to Bradford in 2020.
Clark's top political priorities are fully funding public education, funding the North Carolina Department of Transportation and alternate modes of transportation, and addressing gun violence by requiring background checks on every gun sold in North Carolina.
"As a product of public schools, I was the first person in my immediate family to get a college degree," she said. "My English degree from Roanoke College allowed me to have jobs ranging from secretary to logistics engineer to educator. I'm running for the North Carolina General Assembly again to advocate for fully funding our public schools, so the children in our community can have a healthier, stronger and more prosperous future."