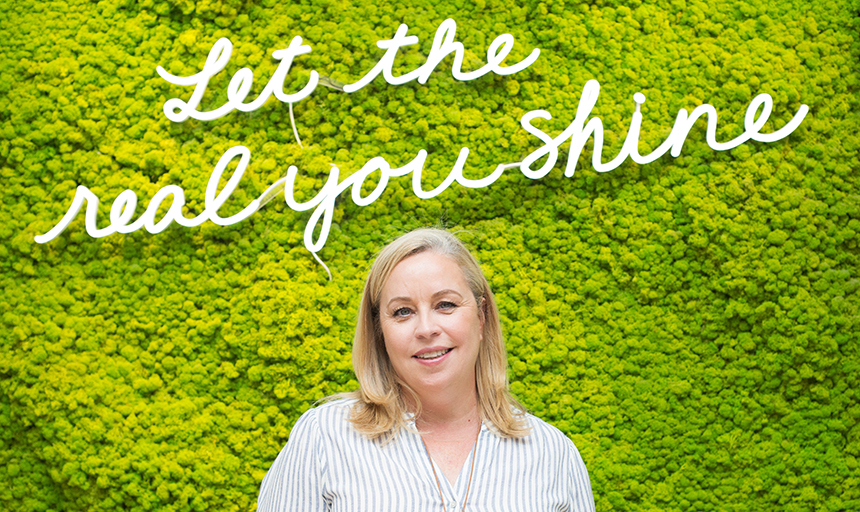 Jennifer Foyle '88, the new chief creative officer at global specialty retailer American Eagle Outfitters, Inc.
Photo courtesy of AEO, Inc.
Alumni News - September 2020
Jennifer Foyle '88 has been named chief creative officer of American Eagle Outfitters, Inc., a global specialty retailer that offers clothing, accessories and personal care products under its American Eagle and Aerie brands. In her new position, Foyle, who has been serving as Aerie's global brand president, expands her responsibilities to include oversight of merchandising, design and marketing for the American Eagle Brand.
Foyle has more than 26 years of experience in the apparel retail industry. In 2014, she gained international recognition for revolutionizing the intimate apparel industry by bringing body positivity and inclusivity to the forefront with the #AerieREAL campaign. "The movement has been a game-changer for millions of women and girls who have been empowered to love their real selves inside and out," according to an AEO news release. In 2018, Foyle was honored by AdWeek with a prestigious Brand Genius award, which recognizes exceptional talent, insight, creativity and bravery in business.
Foyle began her career at Bloomingdale's and has held positions at Gap Inc. and J.Crew. She is a member of the boards of LIM (Laboratory Institute of Merchandising) Fashion Education Foundation and the thrift shops of Housing Works, a nonprofit combating the dual crisis of AIDS and homelessness, and is involved in the volunteer management nonprofit, NY Cares. Foyle holds a B.A. in sociology from Roanoke.
Adam Rutledge '04, singer, songwriter and guitarist, had a new album, "Don't Stop," ready to release. Typically that means touring to support the album; that's tough during a pandemic when most concerts and venues are shut down.
So Rutledge held a CD release show — drive-in style — on Sept. 19, in the parking lot of the Salem Civic Center in Salem, Virginia. Concertgoers enjoyed the music from their socially distanced parked cars. "As a proud Roanoke College alumni, I'm stoked to be playing my album release party in Roanoke's back yard," Rutledge said before the show.

Rutledge, who performed at a drive-in show in Salem earlier this summer, talked to The Roanoke Times' music writer Tad Dickens about his album and the new drive-in show model. A Salem native, Rutledge is the son of Melissa Rutledge, Roanoke College's Campus Store Manager. He holds a bachelor's degree in business administration from Roanoke.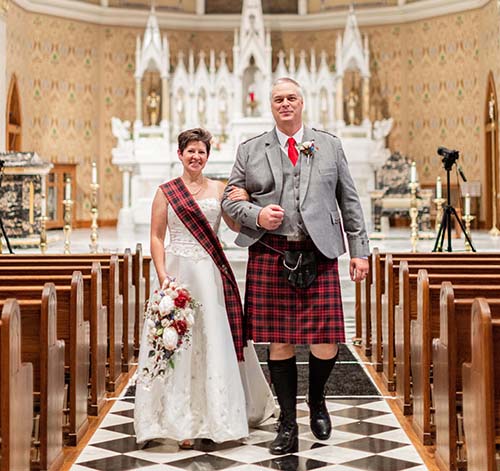 David McCutcheon '97 and Frances Bosch '99, are happy to announce their marriage on Aug. 1, 2020 at St. Andrew's Catholic Church in Roanoke. The COVID-impacted "micro-wedding," says Bosch, was attended by the McCutcheon children and Damon Daniels, former Roanoke College Student Veterans president, and his family. Ryan Hunt '18 was the wedding photographer. "Life goes on, even if modified by masks and social distancing," says Bosch, a teaching associate and faculty lecturer of biology at Roanoke, and founder of the College's "Toy Like Me" program. "We had many alumni join us on Zoom and Facebook. Roanoke remains strong in our hearts, and if we can encourage people at this time, please share our news." Bosch holds a B.S. in biology from Roanoke and an M.S. in biology from Fordham University. McCutcheon, who holds a B.S. in biology from Roanoke, is a nuclear medicine technologist at Carilion Clinic Roanoke Memorial Hospital. The couple met on their first night of classes at Roanoke, 25 years ago.
John Scherer IV '62, celebrated his 80th birthday and the release of his new book with a Zoom celebration with family and friends on Sept. 5. Scherer is the founder and president of the Scherer Leadership Center, an international consulting firm, and splits his time between Seattle, Washington, and Krakow, Poland. His latest book is "Facing The Tiger: Five Questions That Change Everything." Scherer holds a B.A. in history from Roanoke, and a Master of Divinity from Lutheran Theological Seminary.
Have news to share? Send it to rcmagazine@roanoke.edu.