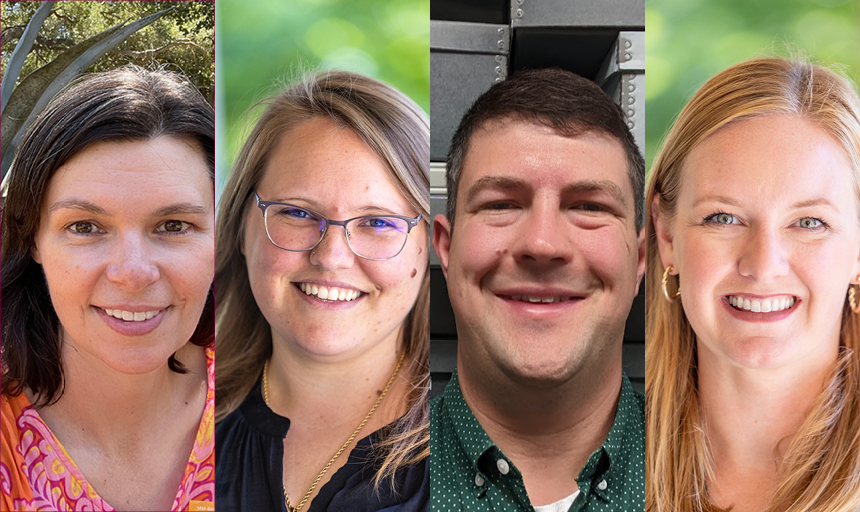 Alumni News – September 2022
Zachary Hottel '12 has been elected Virginia Caucus Representative of the Mid-Atlantic Regional Archives Conference (MARAC), an organization that supports professional archivists in the mid-Atlantic region. Hottel is a full-time archivist for the Shenandoah County Library near Woodstock, Virginia. As caucus representative for MARAC, he will represent the interests of archivists throughout Virginia, plan educational opportunities for MARAC members, and strengthen the bond within the state's archival community.
Following graduation from Roanoke, where he earned a B.A. in history with honors, Hottel attended Appalachian State University and received an M.A. in history with a concentration in public history. He will serve in the MARAC role until 2024.
Hilary (Tulloch) Ambroziak '01 just started her 21st year of teaching at Mapleton Montessori School in Boulder, Colorado, where she works with children ages 3-6 and leads the Spanish program. Ambroziak was instrumental in the school's recent certification as a "Bee-Safe" school, which means the school only uses organic gardening practices on its campus. No pesticides or herbicides are used, and only certified organic perennials and vegetables are grown. The school received its certification with help from the Living Systems Institute.
In addition, Ambroziak had a photograph included in this summer's "Art Inspired by the Land" exhibition at Canyon Gallery at the Main Boulder Public Library. Artwork in that show was inspired by the city's Open Space and Mountain Parks. She also recently participated, along with her chocolate Labrador, Bella, in a human/canine chemical exposure study coordinated by the University of Colorado-Boulder and Yale University.
"I'm really looking forward to involving Roanoke College students in my research program, and to learning from them in both the classroom and the lab."
~ Lauren Kennedy Metz
Two Roanoke College alumni have returned to their alma mater, but this time they'll be in front of the class as faculty members.
Lauren Kennedy-Metz '14 received a B.S. in psychology with a minor in creative writing and a concentration in neuroscience. She went on to earn a Ph.D. in translational biology, medicine and health with a concentration in neuroscience from Virginia Tech. She has joined Roanoke's Psychology Department as an assistant professor. This term, she's teaching two sections of Introduction to Psychology and one section of Cognitive Psychology.
"'I'm really looking forward to involving Roanoke College students in my research program, and to learning from them in both the classroom and the lab," she said. "Also, I'm super excited to be back in the area and to continue to build relationships with folks and institutions in the surrounding community."
Taylor Rowley '10, an assistant professor of health and human performance, graduated from Roanoke with a B.S. in health and human performance. She went on to James Madison University, where she earned an M.S. in kinesiology, then received a Ph.D. in kinesiology at University of Wisconsin-Milwaukee.
Rowley, who is teaching three courses this semester, is passionate about her chosen profession. "I think students should study health and exercise science because good health is fundamental to our quality of life," she said, "and physical activity are simple ways to improve both. Plus, we get to practice what we preach! So many of our courses have a movement element built into them, so it's a fun way to learn!"
Maroons are well-represented in Vinton, Virginia, where five alumni were welcomed to the faculty at William Byrd Middle School and William Byrd High School this year. Claire Eisenhart '22, who graduated with degrees in education professional studies and math education, is teaching geometry and AFDA (algebra, functions and data analysis) at the high school. Grace Johnson '22, who earned a degree in history with a minor in secondary education, is teaching 9th grade world history. Johnson participated in the Teachers for Tomorrow program while she was a student at William Byrd High School.
Just next door, at the middle school, Laura Baldwin '18 is teaching 7th grade special education. Baldwin earned a B.A. in fine arts and a minor in education at Roanoke, and she is working toward her master's degree in education at Radford University. Annette Gilmore '92, who majored in psychology and received her PK-8 teaching certification at Roanoke, has been hired as a reading specialist/literacy coach. She also has a master's in literacy education from Radford. Codé Sizemore '02, who is teaching 6th grade English, earned a degree in psychology from Roanoke College and received a teacher certification from University of Virginia. Gilmore and Sizemore each have been teaching for 20 years.