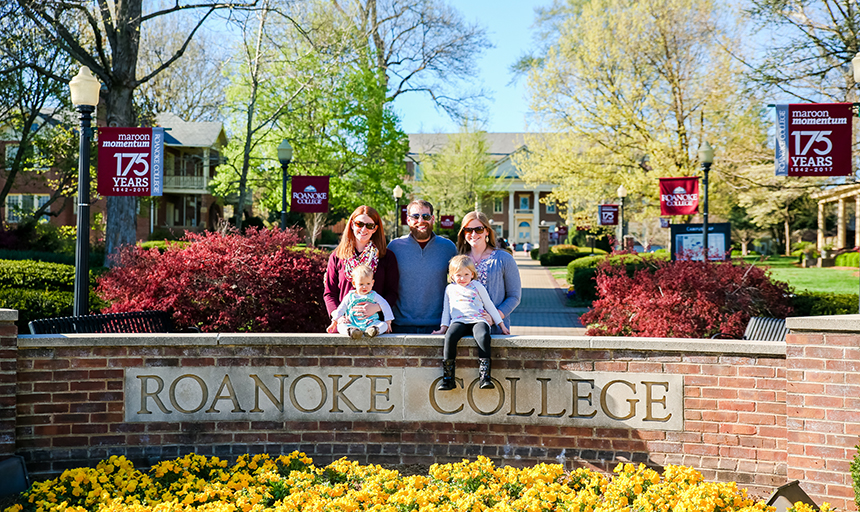 Alumni Weekend coming up April 4-7
Alumni Weekend is almost here! Make plans now to return to sunny Salem to relive your Roanoke days, visit with friends and see how much dear ol' Roanoke has changed! Events begin Thursday, April 4 through Sunday, April 7.
Come early to connect with other alumni at the Maroon Connections Alumni Career Fair on Thursday, April 4.
On Friday, the Society of 1842 Luncheon again honors those who have included Roanoke on their estate plan. At the luncheon, Ms. Carole Crotts Rich '78 will receive the Roanoke College Medal, the highest honor for a Roanoke graduate.
Catch up on Roanoke College happenings at Friday on the Quad, cheer for the Maroons or catch up with professors at an academic department reception. Get out and enjoy the beautiful Blue Ridge Mountains hiking with Outdoor Adventures. Or see what students are working on at the Showcase of Research and Creativity on Friday evening.
Relax and enjoy brunch in the Commons with your friends on Saturday and Sunday this year.
Last year's popular Noke Hour returns with stories from Hall of Fame inductee and avid multi-sport athlete, Anne Turner Lawler '79; world class jump roper and chief medical resident of pediatrics at Baylor College of Medicine Kirby Davis Deshotels '12; current senior and world traveler, Gabe Umland '19; and retired Chaplain Rev. Paul Henrickson (a late addition to the program).
Several new events have been added to the weekend. The Festival of Cultures Fashion show is happening on Saturday and WRKE Radio is having an open station. Everyone is invited to the All Alumni Dance Party on Saturday night, featuring the Dominos Band. A Capella Carnivella concert is on Friday.
Karaoke is on in the Cavern on Friday evening. On Saturday, the fraternities and sororities have their traditional gatherings as well.
Saturday's Bloodies and Bagels has a new twist to it – mimosas and a new location! The expanded event will be on the new Maroon Athletic Quad and is open to all alumni. Special spaces will be available or the reunions of the Classes of 1969, 1974, 1979, 1994, 1999, 2004, 2009, 2014 and the Honor Guard.
Celebrate Roanoke Athletics at a number of events on campus. The 2019 inductees in the Roanoke College Athletic Hall of Fame are Jonathan "JJ" Blatt '97, Harold McConnell III '03, Robert Pridgen Jr. '03, and Meredith Withers '08.
Maroons take the field Saturday when women's lacrosse plays Bridgewater. Men's lacrosse plays at Lynchburg University Friday evening. A shuttle will be offered or the game can be viewed on live stream in Cregger Center. Alumni games for men's soccer, women's soccer, field hockey and men's lacrosse are scheduled too so get ready to hit the field again.
All the details and the registration link are at Roanoke.edu/alumniweekend.